Open Home App for Droid: Beta 6 Guide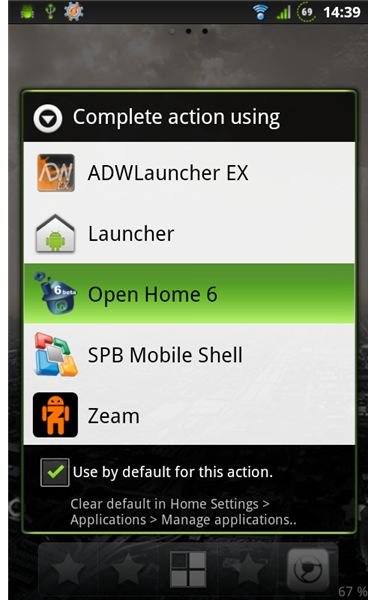 Open Home - What is it?
Open Home replaces your current home screens and application drawer and comes with a variety of options to help customise your Android phone to make it look just the way you want it to. There's currently a full version available on the market, but after trying it, I noticed there was a new beta version available, and as this seems to include a lot more features, I thought I'd try that one out instead.
Getting Started
Once you've downloaded the Android Open Home app which is available from the Android Market (Download Link), press the home button on your Android phone, and it should pop up a box asking you which application to use. Tick the box at the bottom and then click on Open Home to use it as your default launcher. Open Home will then replace your current launcher, adding a few of its own widgets to your home screen, but they can be deleted and moved as with your current launcher, (your shortcuts and widgets are stored in your previous launcher, so you'll have to arrange everything again, but if you choose to go back to your old launcher everything will be as you left it). The application drawer opens nice and fast (after an initial load of your apps), and each home screen has some more information and shortcuts overlayed onto it. The magnifying glass opens a search box and the star pops up some more shortcuts (which we'll look at customising later on). There's also a battery indicator, and something to tell you which home screen you're on at the top of the screen as well as a customizable dock at the bottom. This beta version features a lot more options than the current full version, so let's take a look at them.
Open Home Options
Press your menu button on the Open Home screen (you'll probably find you have to click on 'more' to see everything) , and you'll see you've got a lot more options to play with. The first thing we'll do is click on Edit, which allows you to change the number of homescreens, rearrange their order and set which one you want as your Open Home app default.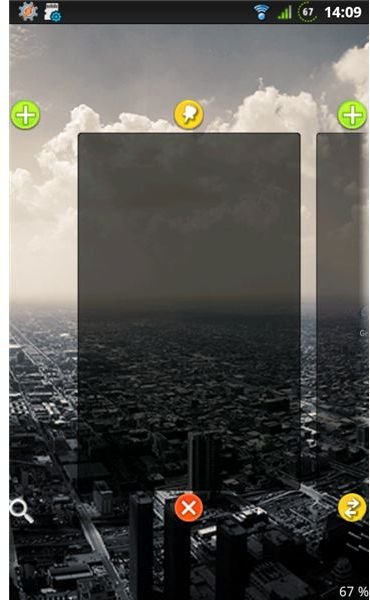 The Open Home Settings screen allows you to configure almost every other aspect of your homescreen and launcher. The General Behavior section allows you to set actions for your home button, and swiping the screen up and down.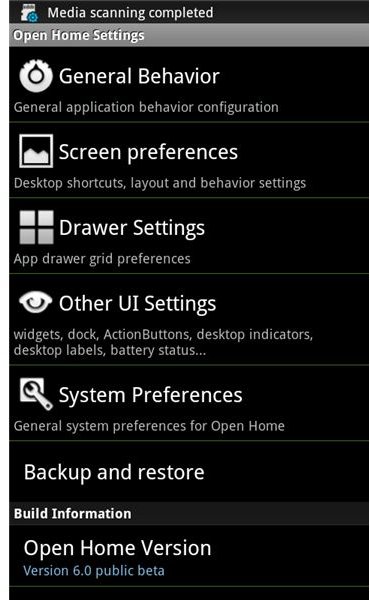 Screen Preferences allows you to change the number of icons you can fit on a home screen (from the default 4x4 (or 3x3 if you'd like bigger icons) up to 8x8). Drawer settings allows you to set the number of icons you can see on screen when you open your application drawer (strangely only up to 6x6 here), and you can also switch between the standard scrolling drawer and an iPhone/Galaxy S style side-scrolling drawer.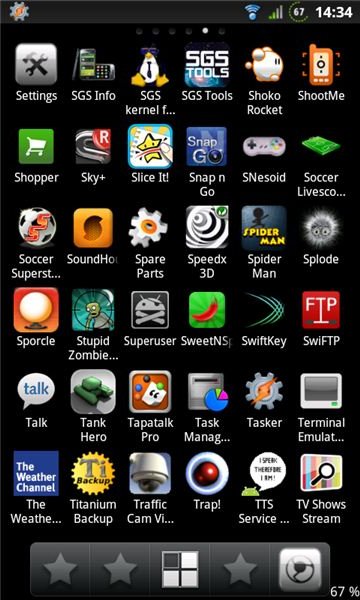 Other UI Settings allows you to turn off most of the overlays that appear on the home screens and finally the System Preferences section enables support for scrolling widgets and wallpaper.
Theming
Other options to personalize your Android Open Home app include skins and icons. Both options will allow you to search the market for new themes (which can include icons) and icon packs to help improve the look and feel of the Open Home app, but you will need to have the full paid version of the app installed, so unless you like icons, you're probably better off finding and installing your own wallpaper.
Having said that though, it really looks like the wealth of options in Open Home mean that it more than holds its own against the other launcher apps, such as GO Launcher EX, that are out there.
References and Images
Android Market, https://market.android.com/details?id=com.betterandroid.openhome6
Android Market, https://market.android.com/details?id=com.betterandroid.openhome2