Best Taxi Software: Android Applications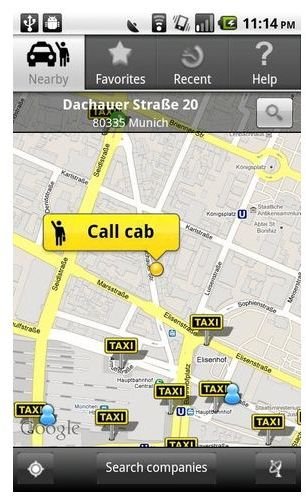 Taxi Software: Android Application
Android taxi apps are great for finding cabs without the hassle of flipping through a telephone directory to find the taxi company's phone number, or waiting outside for an extended period to get a cab.
Though most of the apps that are covered here use GPS to determine your current location in order to find the closest cab, in some cases the feature doesn't work well. To be fair though, in some cases it's a fault with the user's phone. Even so, the best solutions will allow you to manually enter a pickup location. Here are some of the best Android taxi applications.
cab4me Taxi Finder

This app is based on Google Maps, so the map feature is clean and easy to use. Once you launch the app it will try to establish your current location and find taxis that are close to you. You can also forgo finding a cab based on your current location and manually enter a new location, or have the app pull a location from your address book. This is a great feature for calling a cab for someone else.
Once you confirm the pick location, cab4me will show a list of all the cab companies in that area that you can call. The app will also give you a link to the company's websites, show recent service reviews and the kinds of payment that the taxi company accepts, among other things. The app is free to download and use.
Taxi Magic by RideCharge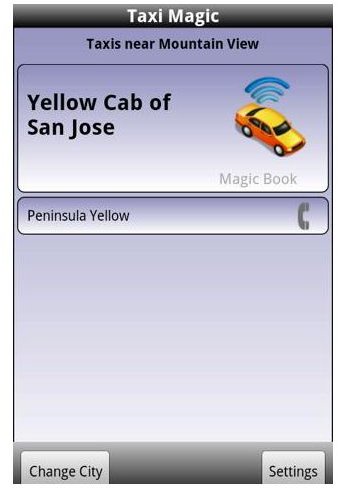 This Android taxi application allows you to find a cab on a map, hail it and watch it as it finds its way to you. Once you arrive at your destination you can save your cash and pay using the app. If you decide to do so, RideCharge will bill your credit card for the fare plus a small service fee (we understand that it is $1.50 per transaction).
The service works well in large cities such as Chicago, but in others you only have the option to call the taxi company's dispatch service instead of directly hailing a cab. To be fair, this usually happens in places where there aren't a large number of operators subscribing to the service and primarily in instances when the cabs are off duty.
CabSense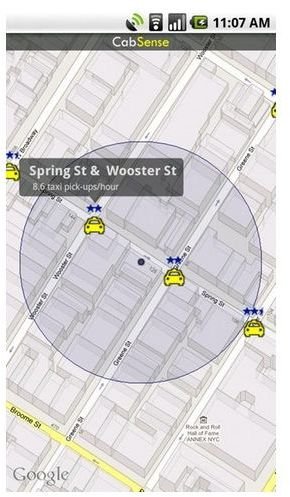 This taxi app was developed by Network Sense. The company analyses data from cell phones, GPS devices and other data points to identify consumer patterns in order to provide information and services such as is available in the CabSense taxi app. CabSense helps its users to find the best corner from which to hail a cab (available only in New York); the app has three basic views through which users can do so:
Map View: Shows the best street corner from which to hail a taxi, relative to your current location.
Radar View: Points you in the right direction in order to find the best cab hailing spot.
Time Slider: Analyses data to determine where is the best place to get a cab at some time in the future.
Once you have visual contact with a cab you can hail the taxi with your cell phone by simply shaking the phone. Shaking the phone with the app open will cause it to whistle and blink in order get the cab driver's attention.
Many CabSense users complain about the fact that the app runs constantly, an issue that really saps battery life. However, owing to the fact that Network Sense is in the business of collecting data on network usage and cell phone movement patterns, it shouldn't be difficult to figure out why they insist on having the app run constantly.
IQ Taxi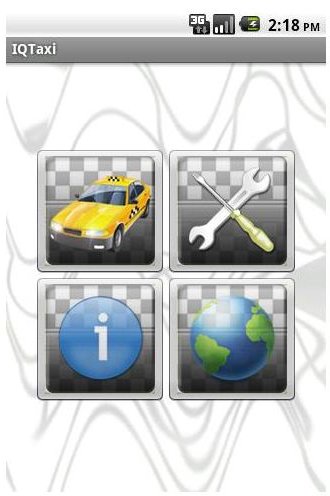 IQ Taxi is a fairly good app, but it has a limited feature set. In fact, all it allows you to do is have quick access to the telephone numbers of taxis companies that service your area. If that's all you need then that app will serve you well. It is free to download and use though.
References:
Cabsense.com, Cabsense Features
Cab4me.com, cab4me - The Mobile Cab Finder
Image Credits: Each image is the property of the respective app developer
"Taxi Software: Android Application - cab4me"
"Taxi Service Software - IQ Taxi"
"Taxi Software: Android Application – Taxi Magic"
"NYC Taxi App - Find a Cab in New York:Cabsense NYC"