Mobipocket for Android: An eReader Review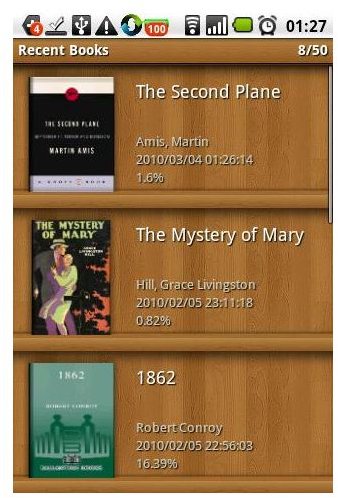 It is apparent that Amazon wants to kill the Mobipocket format. So it is no wonder that those who own scores, and even hundreds of Mobipocket e-books feel bitter for the dearth of Mobipocket readers, especially ones for Android devices. One would expect that the Kindle app would support the format, owing to the fact that Kindle and Mobipocket are essentially owned by the same company and especially since Kindle and Mobipocket e-books are virtually the same file format.
If you want to read a Mobipocket e-book on your Android phone or tablet, forget trying to use the Kindle for Android app, it won't read
encrypted Mobipocket books. If you do own Mobipocket books, you can use iReader to read those e-books.
iReader allows you to enter your Mobipocket and eReader PID to unlock the Mobipocket books that you already own. This Android e-book reader supports CHM, TXT, PDB, Mobipocket, Ereader and UMD (a popular Chinese e-book format) books. However, to read Mobipocket-formatted books, including those with DRM, you will have to purchase the full version of iReader.
Overall, iReader works well and supports popular features you would expect from a good electronic book reader including:
Backup and restore of your e-books.

Icon, font, background image and style settings.

Page turning effect.

Automatic bookmarking of where you were last reading.

Mobipocket DRM support (full version only).
While iReader supports Mobipocket books, it doesn't support some other popular standards such as Zip files, Epub, Lit and FB2 formats, but owing to the fact that there are other e-book readers that support these, we figure most consumers will be happy to just have iReader as a dedicated Mobipocket reader and use other mainstream Android e-book readers such as Nook or Kindle for Android to handle their other e-books.
Conclusion
In any case, it seems as if iReader was developed primarily to serve Android users who previously didn't have an option to read their Mobipocket books. We think it is a good solution and while we don't expect many developers to spend their resources to develop a product to support a format that is essentially dead, some competition would be good.

So while Amazon seems determined to kill off Mobipocket and lockout their legacy users, iReader gives owners of Mobipocket books an option to access and read the books that they already have, providing that they have an Android phone of course.
You can download this free Mobipocket for Android app by scanning the QR code with a barcode scanner app.
Reference: