What is the Best Office Communicator App for Android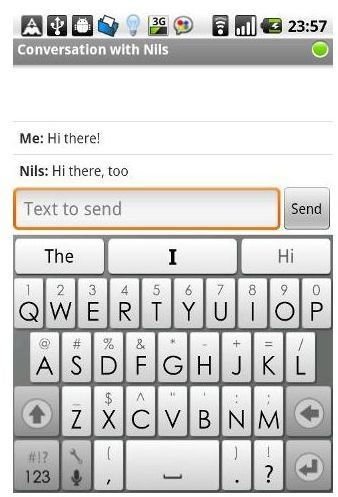 Office Talk
Office Talk, by Nils Meier is an instant messaging app that can be used in a corporate setting. Besides instant messaging, it offers support for external groups and e-mail lists. Note, however, this app works only with Communicator 2007.
Microsoft's Office Communicator 2007 R2 provides a connection for users no matter what communications method they choose. It has software-powered voice capabilities, including instant messaging (IM), multi-party audio, video and desktop sharing. Price: €2.99.
See Also: How To Install and Remove Apps on Android Phones
OmniEX
This app uses basic features of the Alcatel-Lucent Office on your Android. Alcatel makes communication devices, and added an Android phone to its list of products with the Alcatel software. With OmniEX you can dial through your office or mobile. You can pick a contact from your Address Book. This app conveniently lets you take your office with you. Here are some of its basic features: Dual Ringing on/off, Answer Parked Call, Call Attendant, Call Voice mail, Call Forwarding (No Answer/Busy/Voice mail), and Address Book. Price €3.99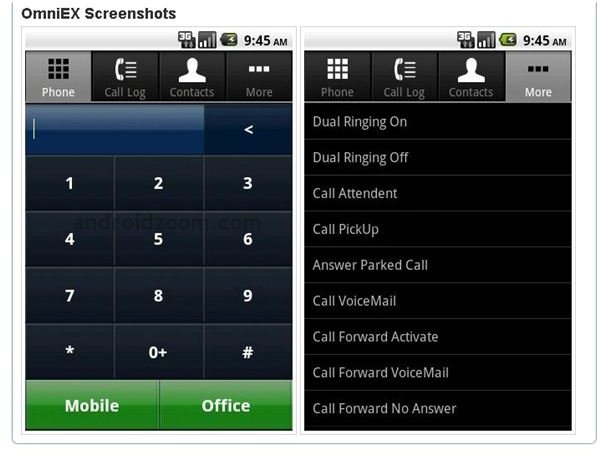 .
aMOC Pro
This app uses the Office Communications Server 2007 to run on Android phones. You can do instant messaging, SMS, or e-mail. Some of its other features include, the buddy list, search contact, contact card (to support offline browsing), custom contact's photo, contact management, integrated with cell phone address book, IM message management, support multi language (English, traditional Chinese), support for multitasking (to run as background task), presence setting, group management, and software settings. To run this app you need Office Communications Server 2007, and a Communicator Web Access (CWA) Server. Price €9.99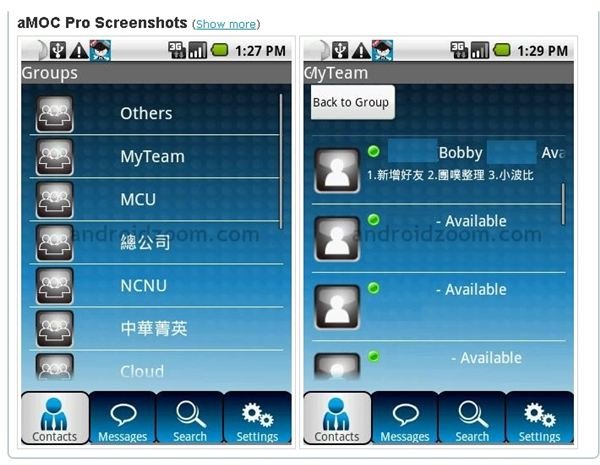 GeoLives
Here is a different kind of office communication app. It will tell you what your GPS coordinates are to locate you. Not only that, but you can also download maps from many places around the world. Special services are available to tourist offices and publishers that want to use the system and guarantee the accuracy of the published information. In this way it can be made available to customers or clients. Price: Free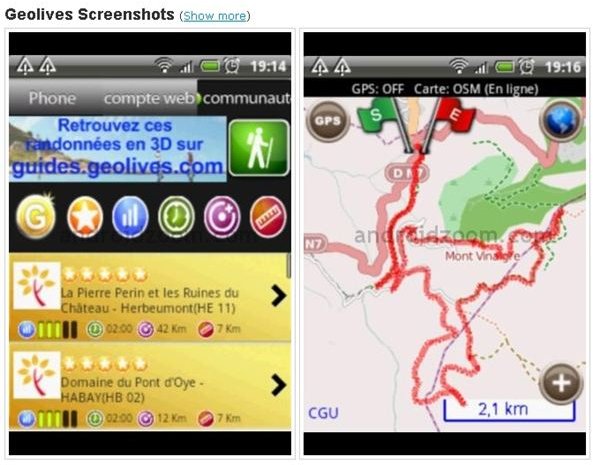 R.OrgaMan
This app is a daily organization manager. This is especially helpful if you are in sales, or perform work functions outside of the office, like a field representative or service engineer. Here are some of its features. It has a one-touch direct contact for phone, SMS, and e-mail, plus a voice recorder with direct e-mail dispatch. It provides an event protocol that keeps track of daily work, for private field service and businessmen, and photo documentation with geo reference for expense report documentation. It is also ISO 9241-10 certified, having received the certification because it is ergonomically feasible, especially when working in an environment far from the home office. Price: Free.
Furthermore, of the five office communicator apps for Android listed here, the R.Orgaman is the best of the lot, followed by aMOC Pro.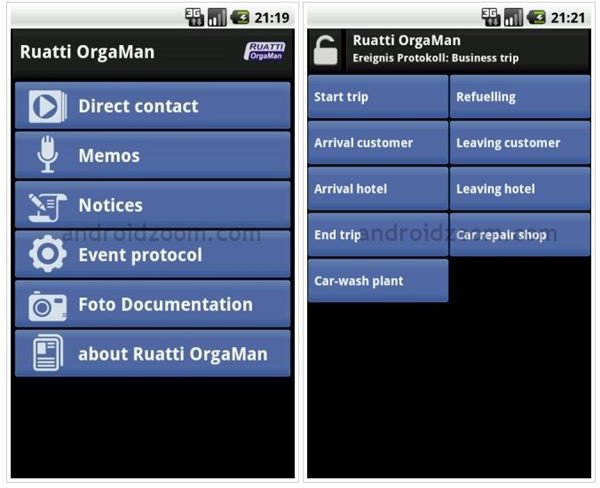 See Also: 20 Best Free Android Apps
References