The Best Android Apps: 2011

2011 Android Apps
With many new, novel and interesting apps being added to the Android Market everyday and some duds too, there is an overwhelming number of apps to choose from. Whether you are searching for Samsung Fascinate or HTC Thunderbolt apps, we have combed through the databases to find the best Android apps for 2011.
GasBuddy – Find Cheap Gas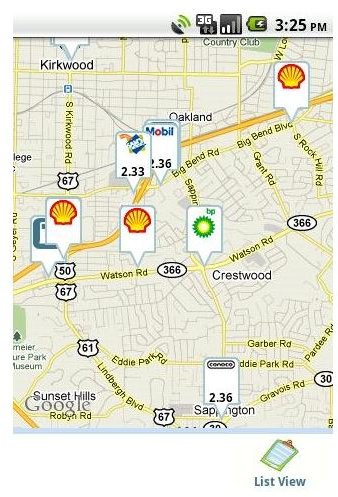 If ever there was an app that was made for our time, it is GasBuddy. GasBuddy helps it users to find the cheapest gas prices from the best gas stations around the country. Using the phone's GPS, the app lists gas stations that are closest to the user's current location, and list the prices at which the stations are currently selling fuel. The prices are actually updated by members of the user community, so it is not uncommon to see the prices, at one station, being updated several times during the day.
GasBuddy makes it convenient and easy to find the best prices by including features to sort by fuel type (premium, regular and diesel); gas stations can be sorted by distance from the current location as well. GasBuddy is a free app. Check out our Gas Buddy Android app review to learn more.
SoundHound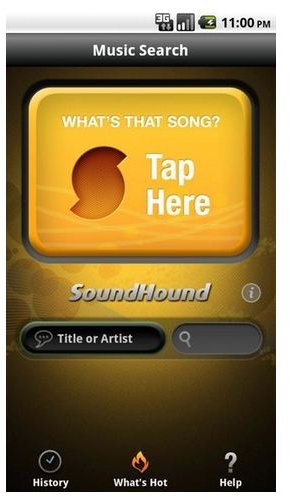 Sound is similar to Shazam in use and purpose. In essence, this app is song and lyric recognition software. If you hear a song or tune you don't quite recognize, or you simply need more information on, you can use the app to do some quick research. After listening to a short clip of the song/tune SoundHound will show you the name of the artist, the lyrics of the song, links to YouTube videos etc. What is most impressive about this app is that it can recognize a song/tune from even a bad attempt to hum or sing it. The full version or this music recognition app costs $4.99, while the free version limits users to 5 recognitions per month.
Angry Birds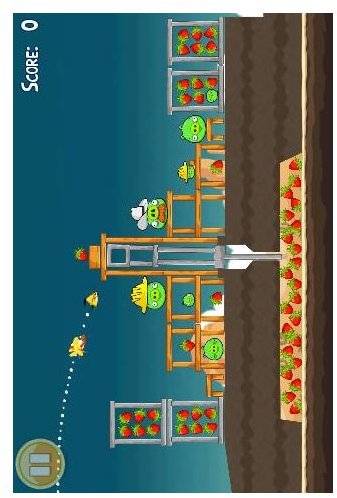 This app is for those who like exploding things and adventures involving the good versus the bad. Angry Birds is a game about some crazy birds that set out to take revenge against the pigs that had stolen their eggs. The bird's offensive is a kamikaze style attack on the pig's stronghold. The birds have special powers, from a boomerang type flank attack, to a high-flying nosedive into the pig's fortifications. The Angry Birds go about their task with zeal, and gusto, which makes the gameplay very addictive and fun, to say the least. Angry Birds for Android is free. Check out our review of Angry Birds for Android to learn more.
Calorie Counter - MyFitnessPal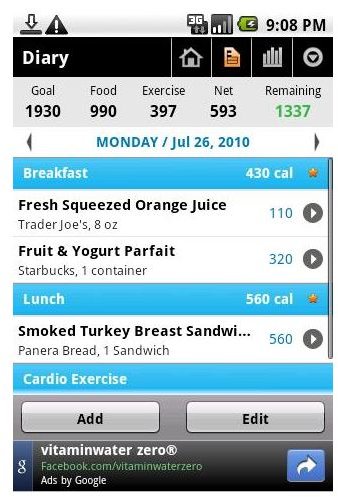 If you spend lots of time playing games such as Angry Birds the chances are that you aren't getting as much exercise, as you should. They say that the formula for effective weight management is simply not eating more than you burn off during your daily activities. Calorie Counter helps you to track the number of calories you are eating as well as the amount you are burning during exercise and other activities. This calorie counter app has a database of over 60,000 foods (process and raw) to help you track the major nutrients: fat, protein, carbohydrates, calories, sugar, fiber, and cholesterol.
Use the app to track what you have eaten, as well as your exercise routine, and view reports to see how you are progressing. Making food and exercise entries is super simple, especially since the app now has a barcode scanner that can be used to access reviews and additional information on food items before you put them into your food basket.
Our review list of the best Android apps for 2011 continues on the next page.
WeatherBug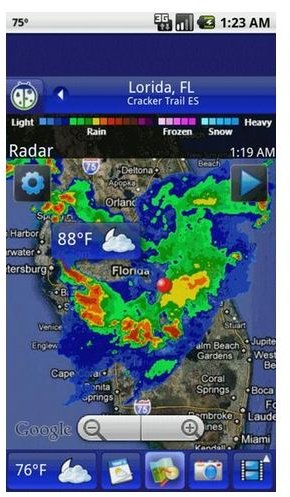 It seems as if we have been experiencing more extremes in weather conditions as the years go by, which makes it important to have the latest weather information on hand. WeatherBug provides information on the latest weather conditions, both locally and for thousands of cities around the world. For some areas, WeatherBug even has live images from some weather stations, which can be great for seeing how conditions are in your area, or at a location you are traveling to. Nevertheless, the app does provided a 7-day extended forecast for those who are concerned that the weather could spoil their outdoor event.
Lookout Mobile Security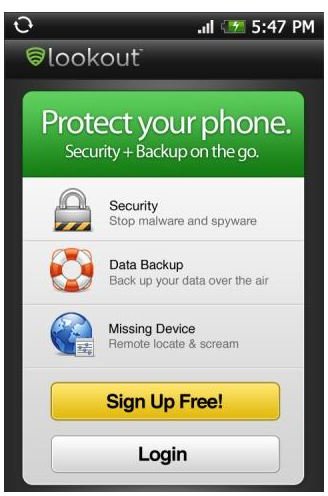 Not even cell phones are immune to malware. Ensure that your Android is fully protected against viruses, malware and spyware by installing a good antivirus application. Lookout is much more than an antivirus application though; in fact, it is a complete mobile security solution. You can also use the app to find your phone should you lose or misplace it. While Lookout is a free app, it still includes some standout features, including:
Secure backup and restore.
Lost phone map locator feature.
Loud alarm to locate a misplaced phone.
Check out the best Antivirus apps for Android for more options.
Slice It!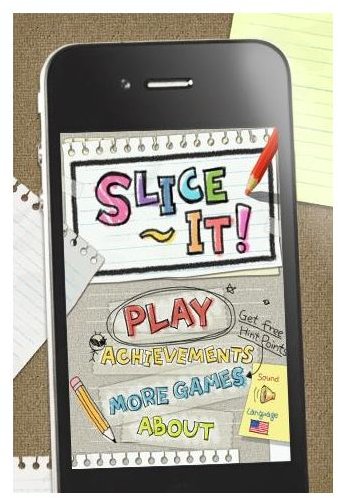 This neat little Android game challenges you to cut various shapes into equal parts using as few cuts as possible. Each level/stage gets progressively more difficult as the user is presented with more complex shapes, and obstacles that must be worked around. For the times you may get stuck trying to figure out a puzzle, you can use one of the hints to help you figure it out.
On the next page we look at the last 3 apps in our roundup of the Best Android Apps for 2011. They include a SMS messaging client, a Facebook app and a popular GPS navigation solution.
Facebook for Android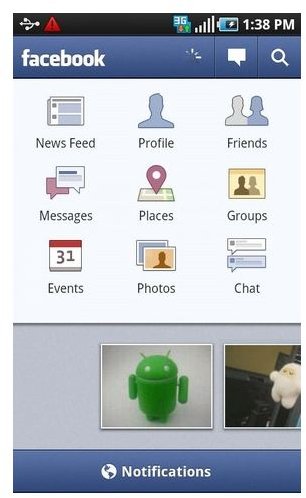 This app is the official Facebook app for Android devices. The app has a clean and easy to use interface that allow users to access their news feeds, messages, photos, notifications, and friend's profiles. Users can also post comments, search the entire Facebook community and easily update their status. A feature that many users find useful is how easy it is to take and upload a photo to their profile. Simply use the little camera icon, to take a photo and upload it with just a few steps. You can also customize how often the app receives Facebook updates and notifications. The app also has a home screen widget that can be used to quickly update your status or see what your friends are up to.
Google Maps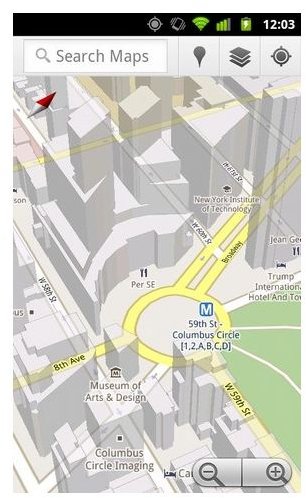 Use this app to get free voice-guided GPS navigation, right from your Android. Google Maps earns its place on our list of top 10 Android apps for 2011 because of its ease of use and resourcefulness as a mobile navigation solution. You can interact with Google Maps using natural gestures such as a pinch to zoom and a two-finger swipe to change the tilt of the map. All the while the app will keep the map correctly oriented so you know the correct direction to head toward. The latest version of Google Maps now has caching, which means that you will have access to the portions of the map that were previously downloaded even if data connection is lost. This is a great feature for times when you enter a tunnel or when you need to turn off the GPS to save power.
While you can use Google Maps to get directions to a particular destination, you can also use it to identify places of interest (banks, restaurants, and gas stations) along that route as well, without asking the app for new navigation instructions. Google Maps also has layers you can apply to get traffic information, view the terrain, and interface with Google's Buzz and Latitude services. This application is also free.
Handcent SMS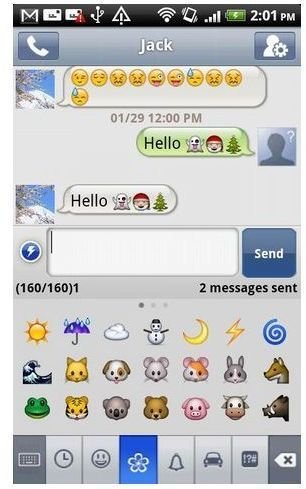 This app is a free SMS handling application for Android phones. Handcent SMS sets itself apart from the other SMS apps by allowing for the customization of nearly all features of the application. From notification settings, to background images, and the color of message bubbles (be it for all users or an individual), Hancent SMS is a canvas on which you can paint your own style. A feature that most users appreciate very much is how the app handles notifications and new messages. Using other messaging apps you would need to exit the app to access your messages, not so with Handcent; the app shows a popup text box from where you can respond to the message, all without exiting the application that you are using.
References:
Appbrain.com
Best Android Apps: https://bestandroidappsfor.com/games-2/the-best-android-tablet-game-apps
Image Credits: Each image is the property of the respective app developer