Android Office Suites: OfficeSuite Pro Versus Documents to Go for Android Review

Office Suite vs. Documents to Go on the Android Platform
There are many applications available for Android that can handle office documents such as Word, Excel or PowerPoint and often even PDF files. These office suites are true power apps that are trying to imitate a desktop feature that once seemed impossible for a mobile device. As these applications are usually fairly expensive, especially considering the mobile nature of them, it is important to make a good decision before purchase. Two of the biggest players on the Android Market are compared here, namely OfficeSuite Pro and Documents to Go.
OfficeSuite Pro
The OfficeSuite Pro application is focusing its efforts on cramming in as many features as possible. This may sound negative but it certainly isn't as the advertised feature-set is quite impressive. Besides the usual file support for older and new office standards (DOC and DOCX, etc.) the application supports TXT, CVS, PDF and even ZIP file types as well. The app also plugs into your Google account so it is easy to edit files in the cloud.
OfficeSuite Pro also has a considerable range of editing options, which differs per file type. The downside is that only Docs and Spreadsheets can be edited and Presentations and PDF files are view-only. Editing options that do exist are available in numbers but some essential ones seem to be missing. For instance, the spreadsheet part of the app seems to be missing a feature to give a value to a cell.
On the usability side of things the application scores very high. The application looks good and is easy to work with. Files are quickly loaded and do not stutter too much when you are browsing around, even for bigger files. Editing options are easy to apply and the application is very good at what it does. As such, OfficeSuite Pro for Android is definitely recommendable.
OfficeSuite Pro is free to try and $14.99 to buy.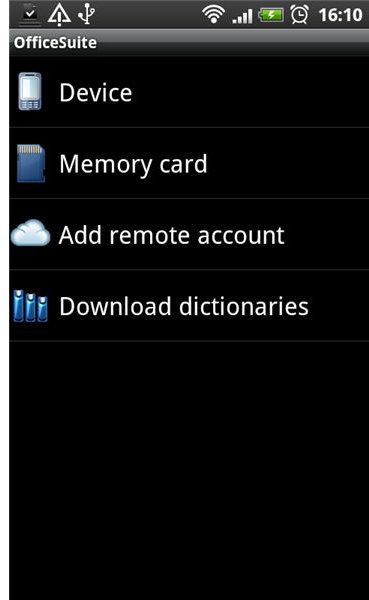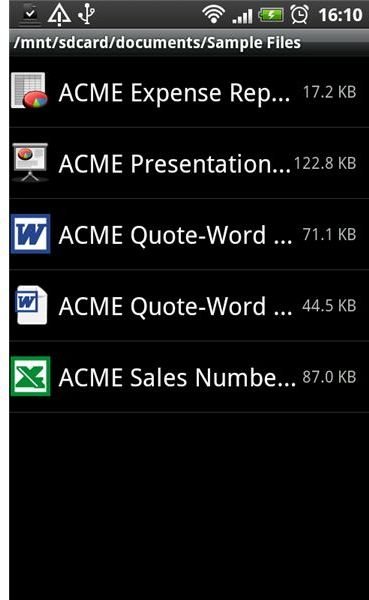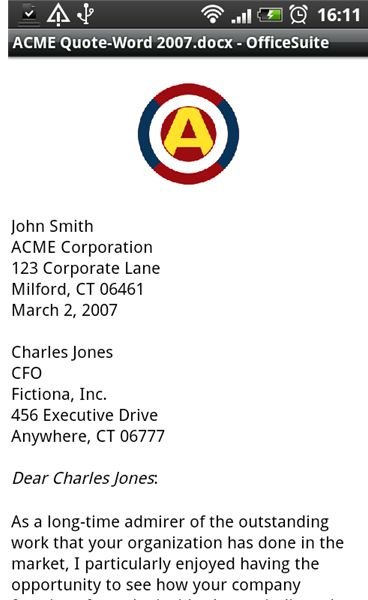 Documents to Go

Documents to Go is probably the most well-known office application on Android. This may also be because of the fact that Documents to Go is available on most mobile platforms, and that makes it easier for users to make the switch. Just like OfficeSuite Pro, Documents to Go also supports the old and new versions of Word, Excel and PowerPoint. A PDF viewer is also included to finish off the suite. However, Documents to Go does not support CVS, TXT or ZIP files like OfficeSuite Pro does.
Where it lacks in file format support, Documents to Go greatly makes up for in editing options. Not only does it support presentation sheet editing, the overall editing options are more impressive. Documents to Go is probably the closest you will get to a real desktop office suite in terms of functionality.
Documents to Go is also more complete as a suite, especially with its latest 3.0 release. The suite now has a desktop synchronization option as well as Google Docs integration. Usability is very good although OfficeSuite Pro has done a slightly better job on this end. Documents to Go is a safe choice as an Android Office suite, one you will certainly not come to regret.
Documents to Go is $14.99 in the Android Market.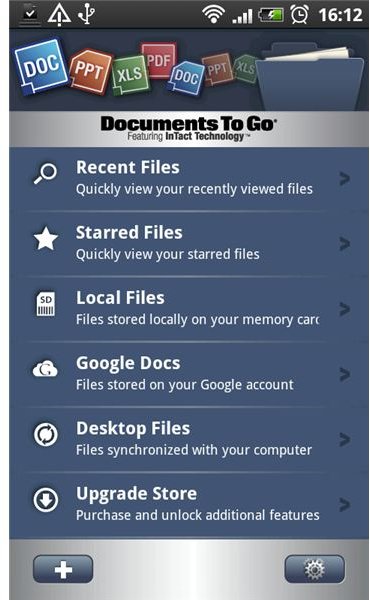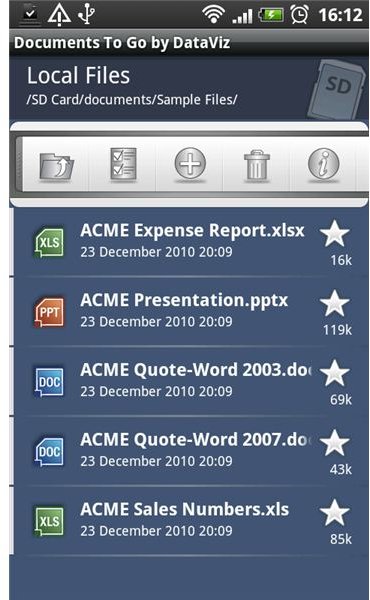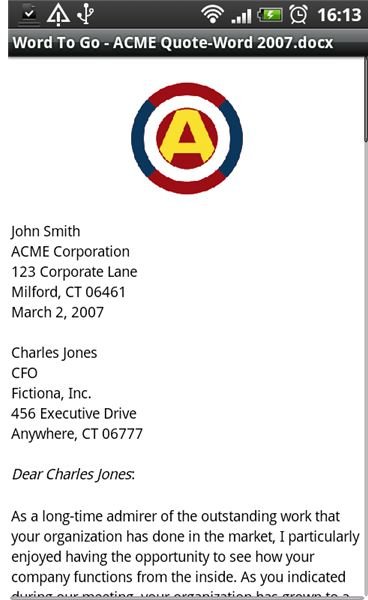 And the Best Office Suite Between Documents to Go and OfficeSuite Pro Is?
So who comes out as a winner in this OfficeSuite versus Documents to Go for Android review? Although both suites are not too different and both do a fine job it is Documents to Go that is currently the best of the two. With more options in the editing area the overall package, as an office suite, leaves OfficeSuite Pro behind. If the latter could find a way to improve its editing options and add the creation and editing of PowerPoint files it would be a stronger contender, certainly as the app is a bit easier to handle on your Android phone. Nevertheless Documents to Go is the clear winner right now.
References