Troubleshooting Android: Can't Log on to Facebook - Why?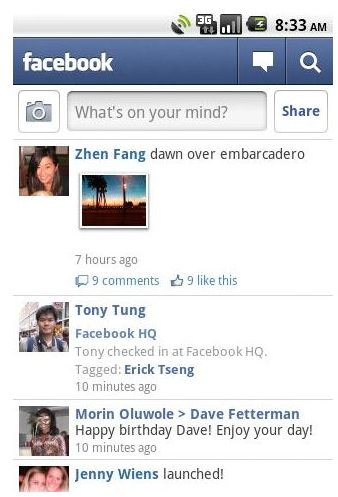 Facebook for Android
The world's most popular social networking tool, Facebook, is available as an app for Android – and it's quite widely used! Offering full-screen access to your friends' status updates (also available via the app's widget) and full profile information as well as messages and pictures, the app is a suitable mobile alternative to the full version. In fact mobile versions of Facebook seem to get as much (if not more!) use out of them than the full desktop browser version, so problems with the app can cause some frustration.
From time to time you might find that Android can't log on to Facebook. What could be the cause of this, and how might this problem be resolved?
How the Problem Appears
If you're experiencing a problem when Android can't log on to Facebook, and an error message is generated, the chances are that the logon has worked previously, and that you're entering the correct details – inputting an incorrect username and password should result in an almost immediate response from the app informing you that the username and password are invalid.
With the correct details input, the app will inform you that it is "signing in" – but then nothing else will happen, and you will be unable to close the app without forcing it via a task manager utility.
In addition you will also find that reinstalling the Facebook app will not help. This is because the problem lies not with the app but with your Facebook account.
Logged in Elsewhere?
The first thing you need to check is whether or not you are logged in on another device, whether it's another mobile, a netbook or PC or even a games console. Problems with the mobile app sign-in procedure can either be caused or aggravated by being logged in to another device – as we'll see, the most common cause for this problem is related to your Facebook account.
Once you have logged out of any Facebook applications on other devices, return to your Android device and go to Settings > Applications > Manage Applications > Facebook > Clear Data in order to clear any cached data that might be preventing logon.
If Android Can't log on to Facebook – Try This!
Finally, if the previous steps have failed, you will need to return to Facebook via your desktop browser and start making some changes – namely to the Account > Privacy Settings screen, where at the bottom of the page you will see the Apps and websites heading. It seems that various apps and games that are commonly used on Facebook can be related to this problem.
Under this, click Edit your settings and use the Remove feature to delete applications one at a time, checking your phone to successfully login following each deletion.
Eventually you should find that you can login – and the main culprit will be one of the recently removed Facebook applications linked to your profile…
References
Sources: Author experience.
Image source: AppBrain, www.appbrain.com