The Best Android Recipe Apps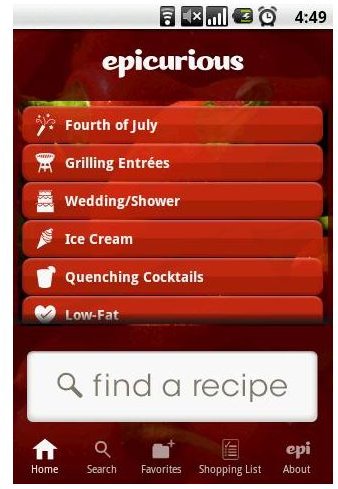 Epicurious Recipe
The Epicurious Recipe app features over 28,000 recipes designed by the finest chefs from around the world. The recipes listed in this app have been featured in critical food magazines such as Gourmet Magazine and Bon Appetit. You can search the app by typing in the search box or by speaking with the voice search feature. The app features a widget which displays the recipe of the day on the home screen of the phone. Epicurious Recipe is a free app available in the Android Market.
Recipe Search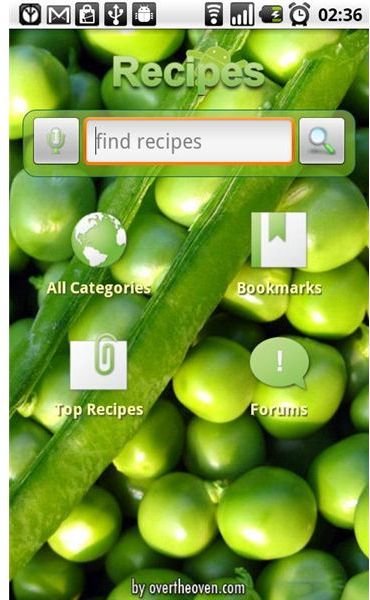 Prepare delicious meals from the ingredients in your cupboards and refrigerator with the Recipe Search app. Simply enter the ingredients you have into this Android recipe app, and it will recommend creative and mouth-watering meal ideas. There is a huge selection of recipes listed by category as well. The app lets you leave comments for each recipe and discuss recipes in a forum. Save your favorite recipes in your favorites list and send them to friends via email, text, Facebook, or Twitter. Recipe Search is a free app available in the Android Market.
BigOven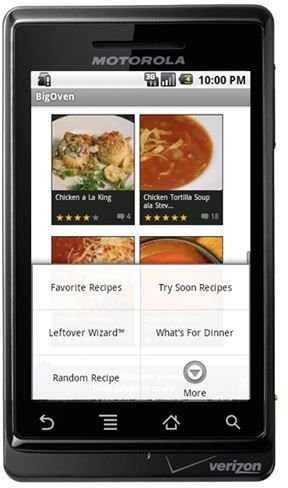 If you don't mind doing a little shopping before preparing a meal, then browse through over 170,000 recipes listed in the BigOven app. Each recipe contains a detailed list of the ingredients required to prepare the meal and simple directions. This recipe app for Android also provides suggestions with the BigOven Leftover Wizard. Type in a few items you have left over from previous meals and the app will list compatible recipes. BigOven is a free app available in the Android Market.
In the Kitchen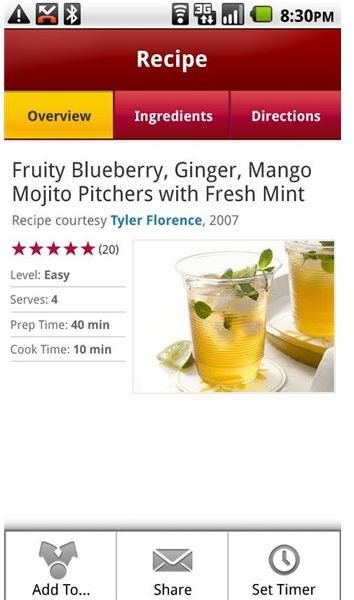 A great Android recipe app that turns your Android phone into an Android cookbook is the In the Kitchen app. Created with the help of the skillful chefs of the Food Network, this app contains great recipe ideas. Some of the chefs that have designed recipes for the app include Paula Deen, Guy Fieri, and Bobby Flay. The app features a Recipe Box which contains all your favorite recipes. Also, the app features a kitchen timer and a unit converter. There is a shopping list feature as well. The In the Kitchen app is available at the Android Market for $1.99.
Healthy Recipes by SparkRecipes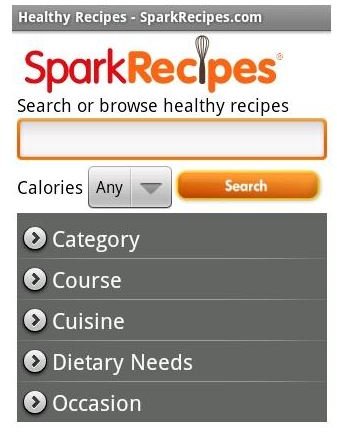 Another recipe app for Android phones worth checking out is the Healthy Recipes app by SparkRecipes. This app provides recipes for healthy foods. It is ideal for those on a diet or those looking to improve their health by eating healthy foods. The app contains thousands of recipes that are searchable. Each recipe has an accompanying nutritional facts label that displays information such as calories, fat content, and sodium content. Healthy Recipes is a free app available in the Android Market.
For more recipe apps for Android, read this review of Cooking Capsules. Also, browse through the best cooking apps for Android phones.
References