Torrents on Google Android: A Round Up of the Platform's Best Torrent Clients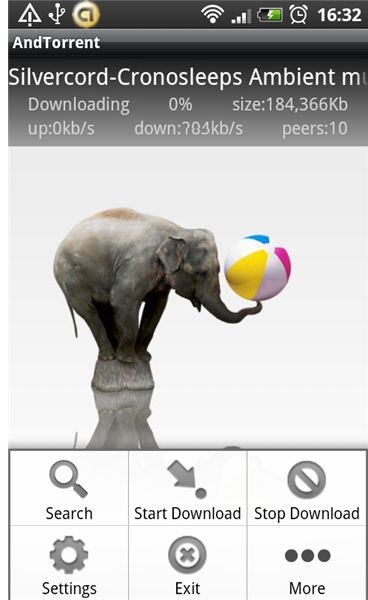 Downloading Torrents onto Your Android Phone
Mobile phones are starting to become more and more like 'real' computers. Many tasks you would only imagine doing on a desktop PC or laptop can often be done simply on your phone. However, there is a limit to this and many will agree that some tasks can never be replaced, such as image editing or word processing.
Using BitTorrent is also one of these things that no one would ever imagine doing on a phone. In the case of the Android platform, however, it is very possible to use torrents and in a few cases will even be beneficial for the user. There are a lot of apps in the market for this purpose but the majority just serve as remotes for desktop apps. Read on for a roundup of the best true dedicated torrent software options on Android.
AndTorrent
AndTorrent is a simple, yet effective torrent client on the Android phone. The application really isn't for power users but for those that frequently use torrents the familiar options are there. The menu is simple and you can't really go wrong with it. The various downloads stack up in the screen as you would expect and the screen shows downloading percentage, size, uploaded size, download speed and number of peers directly. Unfortunately no progress bar is available, which is a bit odd to leave out.
On the settings side, users can alter the maximum connections and leechers, set the default torrent search, select to start download on load or auto stop the download, and set the default download directory. The app is handy to have but slow to download torrents. On principle this is to be expected, but over Wi-Fi downloads should be able to speed up a little bit. The app is also just a bit too minimalistic, as a simple option to the turn off the app when switching from Wi-Fi to mobile data could be a lifesaver for those on a limit. Therefore the app sits somewhere between a really useful app and more of a novelty.
AndTorrent is available for $1.00.

tTorrent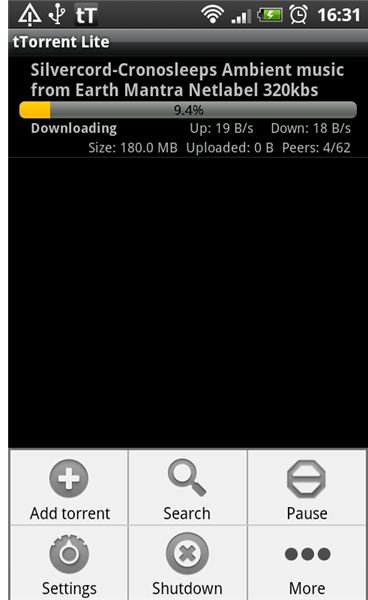 In short, tTorrent is like AndTorrent but better. The setup is as minimalistic as AndTorrent and the layout of the app is therefore quite similar. However, there are a few features added that make tTorrent just a better torrent client for your Android phone. First of all it does have a progress bar, which is nice for a quick glance. Furthermore, settings options are similar with the exception of a few additions in the case of tTorrent. First of all it is possible to select the download port, which AndTorrent isn't able to do. Secondly, it is possible to select an 'only Wi-Fi' option to protect your data plan.
tTorrent is a bit nicer to use as well and downloading starts immediately. I dare to say that overall download speeds are similar to desktop clients, although this will differ per torrent.
tTorrent has a free version in the Android Market and paid, $2.49 version in the SlideMe alternative Android Market.

aBTC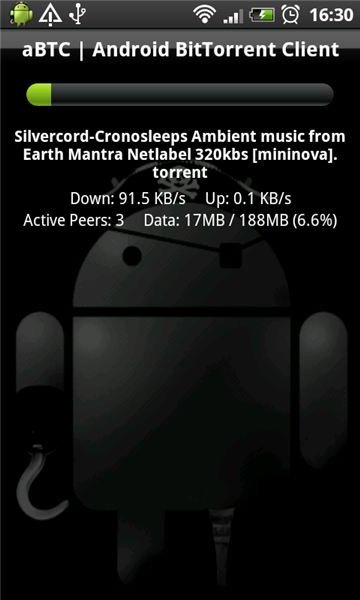 aBTC stands for Android BitTorrent Client and is the most costly option of the three mentioned here. Unfortunately, the price of $4.99 does not reflect in the quality of the app. The app is actually the worst one out of all the options here, which makes the purchasing price even more peculiar. The only good thing is that it will start downloading the torrent faster than the before-mentioned AndTorrent.
The bad parts are plentiful. The download is not selectable and therefore individual files cannot be interacted with. There are very few settings options available. The app also doesn't seem to take itself serious as legal information is labeled as 'The blah blah'. The app will get your files downloaded, but that is all there is to say about it really. Go for one of the other options.

Torrents on Android
Although nowhere near the quality of their desktop counterparts, there are options for those that want torrent access on their Android cell phones. Although the options are limited, in the end you will get your file downloaded. For a bit more luxury in options, however, you will have to revert to your desktop, as minimalism is the keyword in all of the above-mentioned apps.
And remember, only download legit torrent files!