Find the Best Dual SIM Android Phone With This Purchasing Guide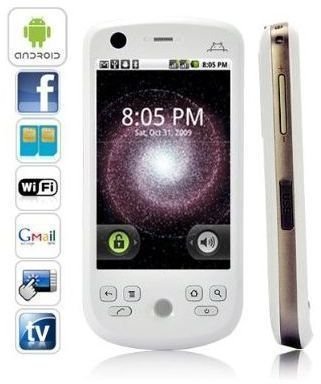 What is Dual SIM?
Dual SIM phones are quite popular in Asia and other developing countries where consumers are particularly price sensitive and therefore seek ways and means to cut their phone bills. They often do so by carrying two phones to take advantage of the various pricing policies; dual SIM phones give consumers the option to have two numbers but carry one phone.
Despite having a seemingly longer list of features (Wi-Fi, TV, radio etc), these phones tend to be less expensive. Reasons for this may include:
Lower batter life – due to the burden placed on the power supply to run multiple SIMs.
Lower quality – Though this isn't always the case, these phones often use inferior components.
Knock offs – While it is true that trusted brands such as Samsung and Nokia are now offering dual SIM phones, the market is primarily flooded with knock-offs of many popular models of the iPhone, Blackberry and Android smartphones.
The greatest annoyance consumers will face while shopping for multi SIM phones is the dearth of reviews and reliable information on the products. Nevertheless these phones are available. Here are some of the best Android dual SIM phones.
Eclipse - Dual-SIM Android 2.2 Smartphone
This phone looks a lot like the HTC Magic. The phone comes with a 3.2-inch 480x320 resistive touch display. You can use the display to watch Analog TV (PAL and NTSC) in addition to viewing videos, pictures and the general interface duties that touchscreen interfaces are used for. The phone comes with a 1.9 megapixel camera that can capture pictures at 1600x1200 resolution; and save those images in JPEG, PNG, and GIF formats. The camera can also shoot video. Unfortunately, we couldn't find any information on the frames per second that is supported.
Other notable features include:
Android 2.2/Froyo (please note that upgrading the OS voids the warranty on this device)

GSM Quad band support (GSM frequencies 850MHz, 900MHz, 1800MHz, 1900MHz)

3.5mm headphone Jack

460MHz CPU

256MB RAM and 512MB ROM

180 - 300 minutes talk time, and 180 - 300 hours stand-by time

Dual sim card slots

Micro SD slot (up to 8GB supported storage)
As at the writing of this article, the Eclipse Dual SIM Android was available at Amazon as a fully unlocked GSM phone in black and fully white exterior.
ENJOY I9000 MINI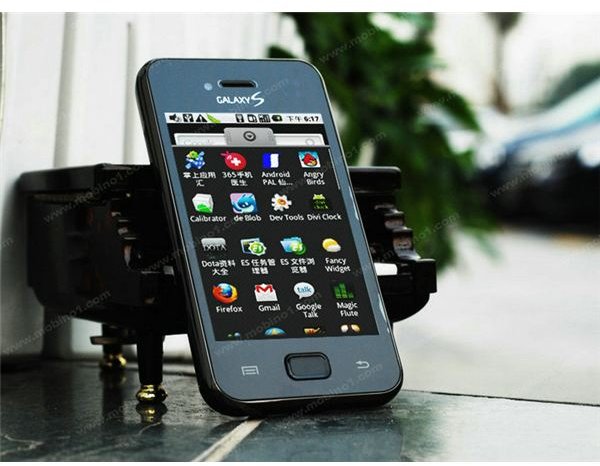 Though listed as the ENJOY I9000 MINI, this phone is labeled as a Google Android Samsung Galaxy S phone. Despite the fact that this is not an original, it does have a fairly impressive list of features. The phone runs Android 2.2; has a 3.5-inch Capacitive multi-touch screen (HVGA 320x480) and is powered by a 460MHZ (MTK 6516) CPU; therefore, you shouldn't expect blazingly fast performance.
The phone boasts the following features:
512M of RAM, 512M of ROM (expandable up to 16 GB)
Built in GPS and support for voice navigation
Quadband GSM (850/900/1800/1900 MHZ)
WIFI
JAVA 2.0
Light sensor
Dual sim Dual Standby
5.0 Mega pixel camera (Picture & Video capability) w/flash and AF
GPRS & WAP connectivity
About 300-400 Hours standby time
About 3-4Hours talk time
Bluetooth A2DP
You can buy the phone from this www.Mobino1.com link.
F003 Dual-sim Google Android Phone
This iPhone wannabe is designed to look like one of the earlier versions of the iPhone, and even brandishes the iPhone name and logo. If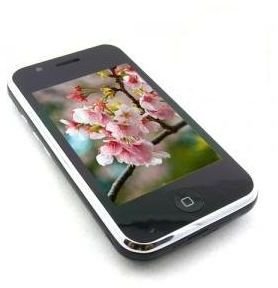 you don't mind the way that the F003 emulates the iPhone, and you always wanted an Android in an Apple costume, then this phone should tickle your fancy.
As can be expected from knockoffs, the phone's performance is less than impressive (overall snappiness, and touchscreen responsiveness). If you buy a F300, you should be aware that the charger is not UL compliant, so there is no guarantee that the phone will stop charging when the battery is fully charged, which could be a fire hazard.
What you won't be disappointed in is the number of features that the device has; they may not be top-rate but the list is extensive. For example, the phone has an Analog TV tuner; you may need to spend an inordinate amount of time trying to get a good reception, but at least you can see something. It is a feature that only serves to further reduce the battery life, a fact the developers try to compensate for with twice the battery storage. Even so, the claimed battery performance is 180-250 hours in stand by mode, and 2-4 hours of talk time.
Other features include:
Quad Band (GSM850 900 18001900Mhz)
Dual sim Dual Standby
260K 3.2 Inch Touch Screen display (1280x960)
Analog TV (SECAM, PAL, NTSC)
1.3M Camera
WIFI
Bluetooth 2.0
FM
Android Operation Interface
EDGE/GPRS 2.75G
Free 2GB Memory Card, expandable up to 8GB
You can also find this phone on Amazon.
Conclusion
The major manufacturers have stayed away from the dual-SIM phone market, primarily because telecoms companies had demanded exclusivity, and the ability to lock phones to their networks. Until that practice is abandoned, Android users are limited to a few options if they want a good dual-SIM phone. Even though dual-SIM phones for Android are available, purchasing most of these will present a moral dilemma to those opposed to buying knockoffs. If buying knockoffs doesn't bother you, you will still have to contend with lackluster performance and other some quirks.
In any case, we trolled the net in search of the best dual SIM Android phones and we came up with this list. If you know of any other decent dual-SIM Android smartphones, please let us know about them in the comment section below.
Image Credits:
F003 Dual-sim Google Android Phone
Eclipse - Dual SIM Android 2.2 Smartphone
ENJOY I9000 MINI - Best Android Dual Sim Phone