Edit Pictures with These Android Photo Apps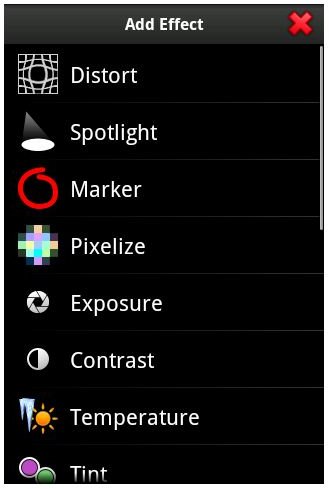 PicSay
One of the Android photo apps with a lot of features is PicSay. It allows easy photo editing right on the Android phone. It features a red-eye removal tool, sharpen tool, and color correction. The app also features a selective desaturation tool, which lets you highlight certain parts of a picture by reducing the saturation of the background. Along with the standard photo editing features, you can also personalize pictures by adding fun images, such as word balloons, stickers, and paint. For more information about the app, visit the official site of PicSay.
Adobe Photoshop Express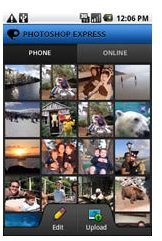 Another great photo editing app for Android phones is Adobe Photoshop Express. With this app, you can crop an image, change it to a black and white image, or add a sepia tint. In addition, you can also add one-touch effects by simply touching the touchscreen. Pictures can be set as the phone's background image from within the app, and pictures can be uploaded from the app to a photoshop account. For more information about this app, visit the official site of Adobe Photoshop Express.
Photo BURST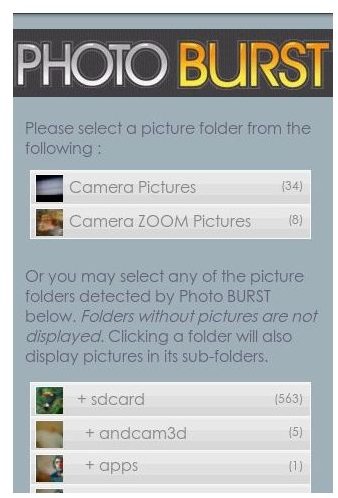 Another one of the Android photo apps that features a lot of options is Photo BURST. The app lets you view all your photos in a tree folder view, which makes it easy to browse each photo. You can also view each photo in a slideshow with multiple options, including collage mode and pan and zoom mode. You can zoom in on a selected picture by using the circular zoom feature. You can also move from one picture to the next by flicking the touchscreen. For more information about this app, visit the official site of Photo BURST.
Camera Zoom FX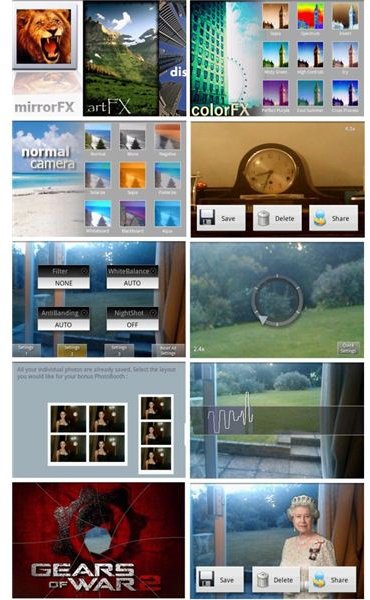 Camera Zoom FX is another photo app for Android phones. It features one-click upload to Facebook, Twitter, and FlickR. Another innovative feature is the circular zoom wheel, which lets you zoom in on a picture up to 6x by simply tracing over the onscreen zoom wheel. The app adds functionality to the camera with features such as auto focus, sound effects, and sound activation. Burst mode lets you take 16 shots in succession. For more information about this app, visit the official site of Camera Zoom FX.
Retro Camera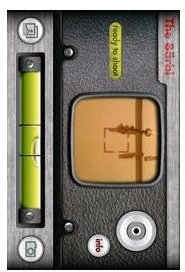 Retro Camera is an Android photo app that lets you take pictures with a retro style. It features five different camera modes including The Bärbl, The Little Orange Box, Xolaroid 2000, The Pinhole Camera, and The FudgeCan. Each one produces an image that is naturally faded, cross processed, or scratched. Other photo techniques utilized by these modes include medium and strong vignetting. For more information about this app, visit the official site of Retro Camera.