Best Android Phone Call Recorder App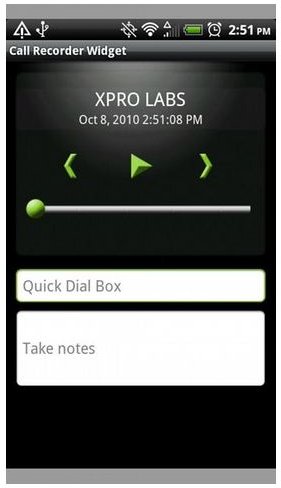 An Android phone call recorder app allows you to record an ongoing conversation and save the audio file to the phone. There are several good potential uses for a voice recorder app. Not least among which is recording the details of a conference call, recording an interview, or storing evidence of abusive calls.
HTC Call Recorder Widget
This is a call screen widget that hovers in the center of the screen. The app can record both sides of the conversation, but only if you are using the speakerphone. The issue that some users have is the fact that the record button blocks the number five button on the keypad, owing to the fact that it hovers in the center of the screen. Nevertheless, it can be moved around with a long press, if it gets in the way.
Once you have recorded a conversation you can even email it using the widget. As far as call limits are concerned, you can record a conversation for up to a 1-hour duration, depending on the capacity of the phone's SD card of course. There is a free version, but that has a 2-day limit, and was really designed as a trial version for this $0.99 full version. You can download the app from this link.
Record My Call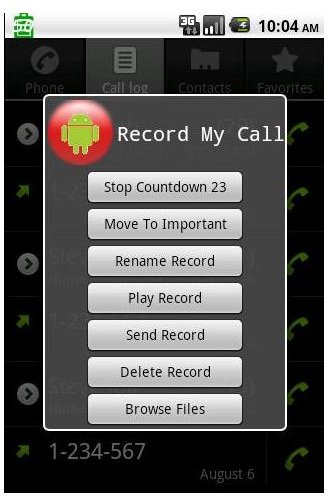 The basic purpose of this app is to record all incoming and outgoing calls. If you want a clear recording of the other side of the conversation you will have to turn on the loud speaker; this is a hardware and software limitation that the developer needs to resolve, perhaps by developing a rooted version. Once you have a conversation recorded you can apply basic operations to the file by renaming it, playing it or sending it via email. In fact, you can handle the file as you would others from the SD card (where the app stores its recordings). You can download a free copy of this app from here.
Audio Recorder
Audio Recorder for Android simply records anything that passes through the microphone, so you can record a conversation if you have the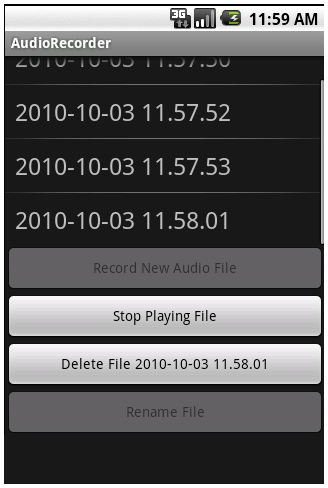 phone on speakerphone. You can then replay, or otherwise manipulate the attributes of the audio file. Audio Recorder has a 24hr record limit, depending on storage capacity. You can even run the recorder in the background while you complete other tasks. The app is free and can be downloaded from this link.
Call Recorder
This app was also developed by the Audio Recorder app developer. The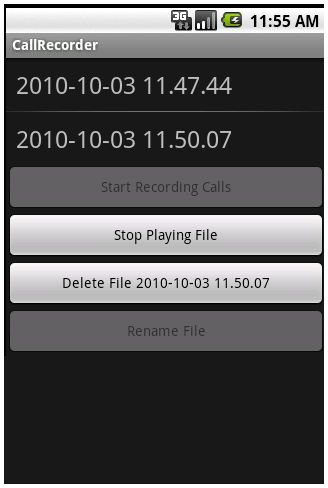 app automatically records all calls and saves them to the SD card. It has similar functions to Audio Recorder but this Android call recorder app was specifically developed for Sony Ericsson phones, so don't bother trying to get it working on other brands. You can get a copy of this free app from this link.
Honorable Mention: DroidRecord Pro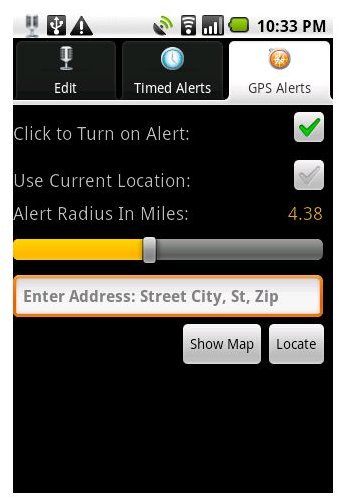 Note: This app does not record phone calls! But if you are looking for an audio recorder for meetings, lectures, conversations, or audio from your surroundings this could be the app for you.
The app does have a unique alert feature that can be triggered when you arrive at a specific location, or at a preset time. There are cheaper Android audio recorders, but DroidRecord Pro does a better job of delivering on its developer's claims, and at $1.99 it is an affordable option. You can download a copy of the app from this location.
Conclusion
There are quite a few Android call recorder apps, but not many are worth the effort it takes to download and try them. In any case, if you need to record a phone conversation, we think that DroidRecord Pro is the best choice of this lot.
Image Credits: Each image is the property of the respective app developer
DroidRecord PRO - Best Android phone call recorder app
HTC Call Recorder Widget
Record My Call - Android Audio Recorder
Audio Recorder - Android Phone Call Recording App
Call Recorder - Droid App