The Top 10 Funniest Android Apps for Your Android Device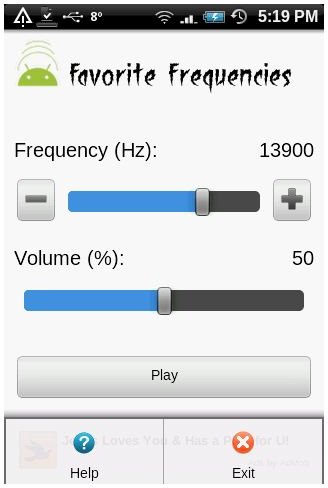 Love to play pranks on your friends and amaze them with your sense of wit and humor? Want to become the funniest stand-up comedian in your school or college? Well, you can turn a boring situation into something hilarious by playing some funny apps on your Android cell phone. Gone are the days of joy buzzers and silly prank toys. With the funniest Android apps, you can turn your Android into a prank machine as well as a treasure trove of jokes and hilarious one-liners. Here's a rundown of the best apps that guarantee a laugh riot:
Favorite Frequencies
You will really want to install this app on your Android device for the sake of annoying friends with some truly weird sounds. The app can generate a variety of audio frequencies ranging from 0 to 2000 Hz. You can play pranks on your friends by tweaking the frequency range bar and volume. Surprise them or simply amaze them by turning this app into a dog whistle. You can also tweak the frequency level to turn the application into a mosquito repellent, although studies have proven that there isn't any audio frequency that can repel mosquitoes away. Well, this application is developed purely for fun, so use it to surprise your near and dear ones only and watch how they react to some really strange noises.
Funny Zingers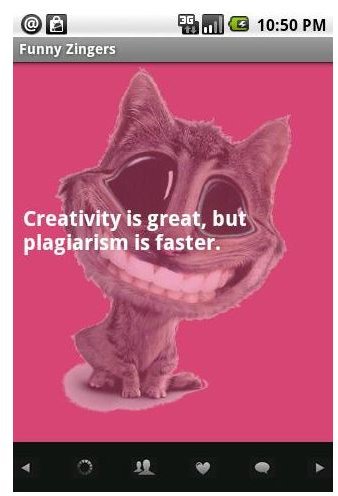 All you Russell Peters wannabes out there; grab this app to get some funny one-liners, comical sayings, zingers and quips. With Funny Zingers, you can surely impress your classmates and friends in a special school or college event. There are thousands of funny one-liners like "I am one of those bad things that happen to good people" and quotes that can surely guarantee a laugh riot.
The app constantly updates itself with new jokes and quips (needs an Internet connection) and lets you save your favorite one-liners. You can share them via SMS, Facebook or Twitter or search any new jokes by keyword via the search bar. With a variety of jokes and one-liners, Funny Zingers is a handy reference app for those who want to be the next big standup comedian.
Applause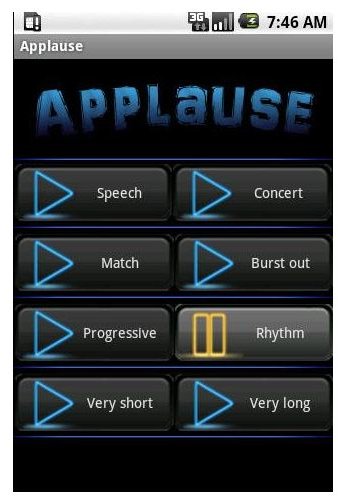 Harmless classroom pranks can be quite humorous, and from time immemorial, whoopee cushions have always been the favorite weapon of choice to play a prank in a classroom. Now with the advent of technology, new funniest Android apps are being developed to create a laugh riot. For your Android phone, Applause is a little fun app that can play a variety of applause sounds. Use it during a boring classroom session, and just watch the reaction of your classmates. But don't blame me if you get a detention for your prank!
Applause app can play up to 8 different sounds, from sounds that mimic the sound of applause after a speech to cool rhythmic applause sounds. The application is available free and requires little space on your Android device.
Tongue Twisters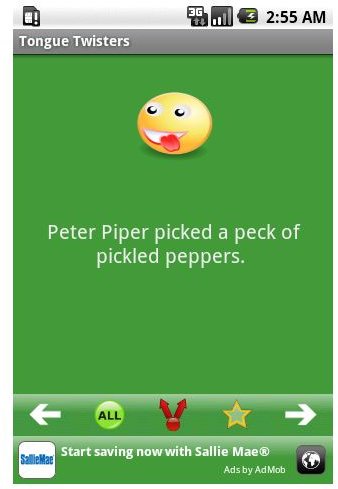 If troublesome tongue twisters like "Cedar shingles should be saved and shaved" really tangles your tongue, then do install Tongue Twisters. The app has hundreds of one-line tongue twisters that you can recite or challenge your friends to recite aloud. There's a difficulty level for each tongue twister, ranging from easy to impossible. Get this fun app for free and be ready to tangle and twist your tongue!
Epic Vibrator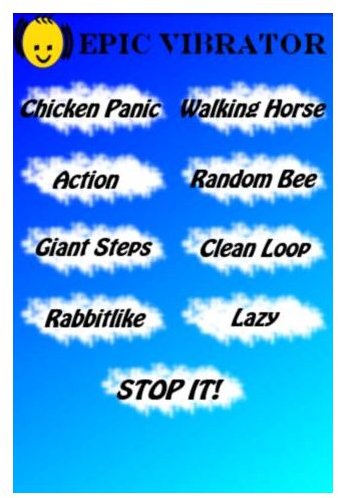 Your mobile phone's vibrator mode helps you in situations where you have to keep your phone in silent mode. But now, the phone's vibrator can play some funny vibrating patterns, thanks to Epic Vibrator. Using this application, you can switch to different vibrating patterns that feel quite like the sounds emanated from a walking horse, or buzzing bee. With 9 different vibrating patterns to play, Epic Vibrator is one of the best funniest Android apps on your phone.
Funny Face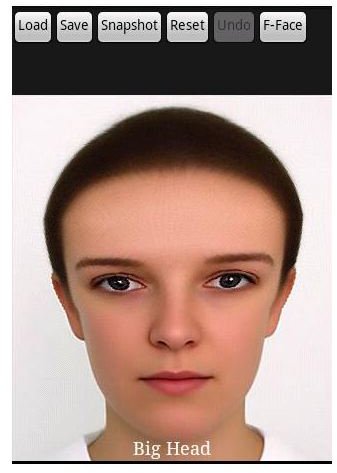 This is one of the funniest Android apps for your mobile phone. As the name suggests, the app lets you distort the image and change it to a funny photo. All you need to do is snap a photo and touch the screen to distort the photo. You can add special effects by scrolling an effect bar to change a plain photograph into something quite hilarious and downright cute. You can then save the distorted image and mail it to your friends to share the laugh riot. Funny Face is available free at the Android Market, but is ad-supported.
FaceIT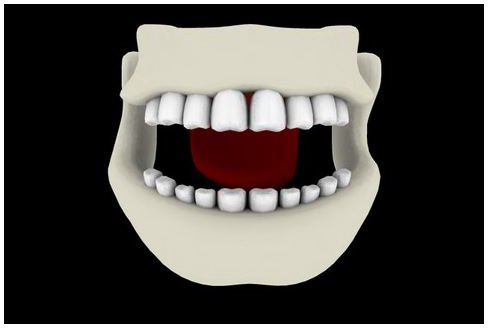 This is a great app for those who want to show off their Android devices and at the same time amuse their friends and relatives. FaceIT is an animated face that mimics your lip movements when you hold your Android phone over your mouth. There are a variety of cartoony animated voice-responding faces, including joker, devil's face and many others. Well, this is the best way to show off your latest Gphone or Droid in a unique and humorous way. The app is priced at $0.99, which is relatively cheaper than other funny apps.
iBlood Test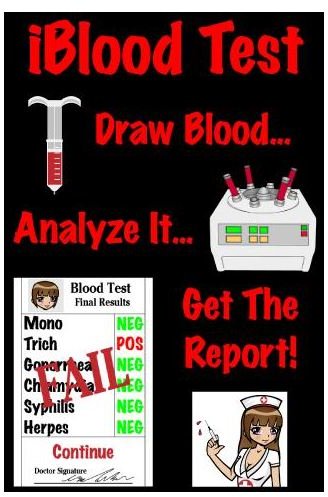 The best and funniest Android apps are the ones that allow you to play harmless practical jokes on your friends and relatives. iBlood Test is one of those funny prank apps. Using this fun app, you can play a naughty prank by giving a fake blood test to your friends and family. Just press your Android mobile phone against your arm and tap the screen. The app will draw animated blood and then provide a fake blood report after testing the (fake) blood sample. The funniest part of the app is the blood report, which may show some quirky data. If you are really looking for a prank app, then do download iBlood Test.
Funny Ringtones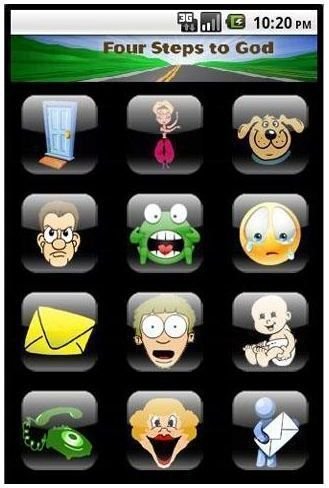 There are several free funny ringtone apps to be installed, but this app has some very good features and some truly hilarious funny ringtones. There are over 10 funny ringtones; each can be set as an alarm or a notification besides setting it as a ringtone. You just have to press and hold on the ringtone icon to set it as an alarm or ringtone.
Funny Ringtones has a nice compilation of funny sounds and voices. Impress your friends, but just make sure nobody calls you during a busy meeting.
Cracked Screen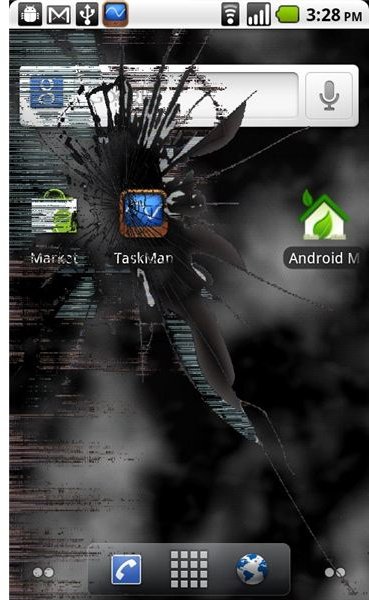 This is one of my favorite practical joke apps for Android. This app shows a realistically looking cracked screen on your home screen. This nifty little prank app is different from other fake cracked screen apps. Instead of using a fake screenshot, it puts in a cracked screen special effect on your home screen. There are also special sound effects to make the cracked screen visual effect more realistic. The app has got multiple cracked screen visual and sound effects to add and is available free of charge.