Rise in Android Phone Sales Backed by Market Research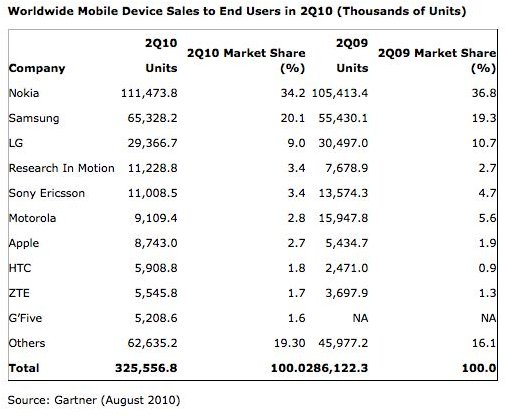 There has been plenty of hype to trumpet the growth of Android over the past year. However, there is also no mistaking the rapid growth that the Android operating system has experienced over the past year. Smartphones alone are growing their market share at a healthy rate, but defections of other smartphone users to Android still appear to be minimal. People aren't switching from an iPhone to Android as often as Google's operating system is winning the battle to upgrade users from older mobile phones to smartphones. It appears Android is primarily eroding the market share of Nokia as their existing base upgrade to an Android smartphone.
The NPD Group - Top Selling Android Phones
The NPD Group is a leading wireless market research company. They delivered numbers in early August that revealed Android accounted for 33 percent of all smartphone purchases in Q2, ahead of RIM (28 percent) and Apple (22 percent). Apparently this is the first time RIM has occupied second place in their analysis, since the fourth quarter of 2007.
In an NPD Group Press Release, Ross Rubin, executive director of wireless industry analysis, stated, "For the second consecutive quarter, Android handsets have shown strong but slowing sell-through market share gains among U.S. consumers."
According to NPD, the top-selling Android phones in the second quarter, based on U.S. consumer purchases were:
Gartner - Growth of Android Market Share
Trusted research firm Gartner also released numbers in early August that revealed smartphone sales are up 50 percent year-over-year.
Sales of Android phones showed explosive uptake, with year-over-year growth pushing an amazing 850 percent. A year prior, Android only accounted for 1.8 percent of the market. The current survey accounts for Android with 17.2 percent. Total Android handsets sold in the quarter were 10.2 million, according to Gartner.
The big losers, according to Gartner's numbers are Nokia's Symbian OS (down from 51 to 41.2 percent), and Microsoft's Windows Mobile (down from 9.3 to 5 percent).
Canalys - Android Uptake Rising
Market research firm Canalys also provided meaningful data about Android uptake in early August. Their numbers reveal that the global smartphone market grew 64% annually in Q2 2010, and that the Android operating system grew by a blistering 886% in that same timeframe.
"The latest release of our detailed and complete country-level smart phone shipment data for Q2 2010 clearly reveals the impressive momentum Android is gaining in markets around the world," said Canalys VP and Principal Analyst, Chris Jones.
Canalys analyst Horace Dediu also offered perspective on the asymco.com blog regarding where Android growth is coming from.
"Android is mostly competing with non-consumption and not iPhone. Android buyers are not choosing between it and an iPhone but between it and a dumb phone."
Google - Android Phone Activations
A final perspective on the blistering growth of the Android phone sales comes directly from Google. CEO Eric Schmidt who said at the Technonomy conference in early August that the company believes 160,000 Android phones were activated each day of the second quarter, which is up significantly from 65,000 in the first quarter.
"The number was about 100,000 [a day] about two months ago," Schmidt said.