Apple vs Google vs Microsoft: Business War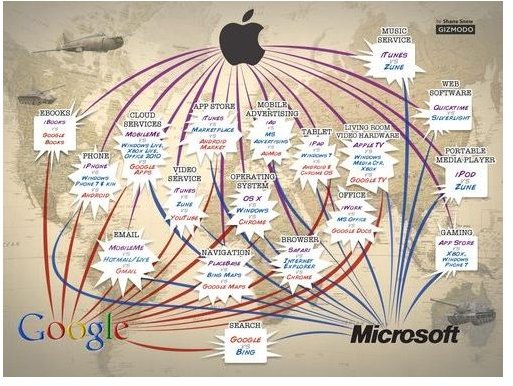 Introduction
Microsoft, Google, and Apple are the past, present and future of technology. They are the world's biggest technology companies responsible for 97% of the world's personal computers, hardware, operating systems, online searches, and entertainment technology from e-books to video games. Apple, Google, and Microsoft have locked horns with one another and each company is trying to encroach on the other's territory. They are competing to varying degrees on cell phones, entertainment, advertising, apps, searches, operating systems and more. Their areas of competition can be seen on this handy chart:
1. Personal Computing Platforms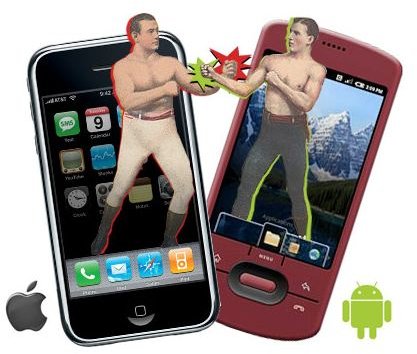 iPhone's launch was a breakthrough in mobile computing, setting the market on fire. Google was the fastest to respond with its Android OS. In early 2010, Android powered handsets started to outsell the iPhone in the United States. Microsoft's Windows Phone 7 needs to be extraordinary to compete with Apple and Google. But we'll have to wait till this holiday season for it.
Microsoft is riding high on Windows 7 success and it enjoys its near monopoly in the PC operating systems market. Google is waiting to turn the tables on Microsoft with its Chrome OS due to release later this year. And thanks to Mac's popularity, Apple has also been expanding its share in the market. Its touchscreen iPad has little competition so far but many hardware manufacturers are racing to bring out similar devices by the end of 2010.
2. Services
Microsoft's Internet Explorer dominates the web browser space holding 60% of the market share. Google Chrome comes third with Firefox taking the second position. Apple's Safari accounts for only 4.65% of the market share. But, Apple is the clear leader in the apps category with 225,000 apps to date. Its closest competitor is Google's Android market with 70,000 apps. In web mail, Google's Gmail is rapidly challenging Microsoft's Live Hotmail.
3. Search
With 63.7% of share in searches in the US and 90% share in Europe, Google is the hands down leader in web search. Microsoft's search engine Bing, has managed to raise Microsoft's market share to 12% over the last year.
4. Entertainment
Apple iTunes ignited the demand for its iPod turning it into an iconic gadget of all times. Microsoft's Zune player has earned some appreciation for its technology and design but cannot threaten Apple's dominance in this sector. Google became the leader in video services by purchasing Youtube in 2006.
In the video games console market, Microsoft has earned high profits from Xbox 360s. Apple revolutionised the mobile games market with its iPhone and iPod touch. It is now looking to strengthen its position with its iPad.
5. Advertising
Google accounts for nearly half of all online advertising. It's pushing hard into display advertising after its acquisition of DoubleClick. Google has also bought mobile advertising leader AdMob to set foot into this nascent market. Responding to these moves, Apple bought much smaller Quattro Wireless and launched its iAd network in early July. Apple has also been accused of barring Google's advertising services from its iPhone.
Comparing the Visions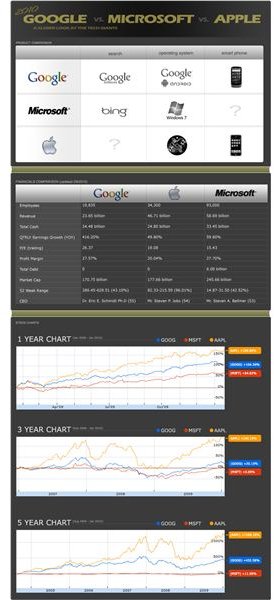 Apple is a product company that relies on the success of its lead offering. A sharp focus on a product is its strength as well as its weakness as it prevents Apple's growth outside its niche. Moreover, Apple is all about Steve Jobs; that's both the good and the bad news for Apple. Its success is built on the vision and talent of Steve Jobs making Apple the most vulnerable of the three. Jobs won't be Apple's CEO forever and there is no apparent heir who can match his vision.
Google is the newest superstar amongst the three companies that is best positioned to flourish in the future. Google has a limited offering – the Internet Search but that gives it both an excellent base to expand upon and funds for its new ventures. As Microsoft is trying to nick market share from Google's Internet position, Google must seek to branch out from the web.
Finally, Microsoft is an enterprise vendor falling between Google and Apple. It completely understands what it takes to move into areas where Google and Apple cannot. Microsoft is a highly diversified company that doesn't need big hits to expand. It has a stranglehold on Operating Systems and productivity applications. Unlike many past offerings, Microsoft's Windows 7 and soon to be launched Windows Phone 7 will keep existing Windows users loyal to Microsoft.
Conclusion
Today, Microsoft owns operating systems, Google owns Internet search and Apple owns high end hardware, and entertainment and media devices. This may well change because the market is dependant on many variables and random events. So, predicting a winner isn't easy. All we can do is sit back and watch things unfold. Post a comment and let us know who you are rooting for.