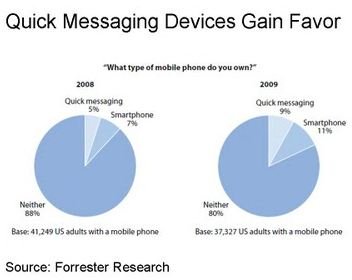 What are QMDs?
QMDs (quick messaging devices) usually called 'qwerty featured phones' are cell phones that have full QWERTY keyboards, either physical or virtual. These phones, with amped up messaging features, lack high level functionalities and advanced features such as corporate email access or the sophisticated apps found in most smartphones. But they do offer data services like messaging, email and web access. QMDs are value priced devices for message centric people who are not interested in complex features and interface design. These devices focus on providing consumers smartphone-like experiences at low costs. QMDs are the new cell phones with a focus on quick connections, low costs and style.
QMDs Gaining Favor
There is a market for these 'in between' cell phones and it is set to grow. Growing demand for quick messaging devices proves that there are users who want to do more with their cell phones than just making and receiving calls but don't need extra high end features. An IDC study states that the vendors shipped 38.2 million units of QMDs into the US in 2009 against the 12.5 million units in 2008. As a growing number of consumers are showing interest in buying a QMD, this segment may even usurp the feature phone market in the near future.
Although smartphones get every bit of the attention, quick messaging devices have been quietly accelerating their market share. At the beginning of 2008 only 5% of the total cell phone owners used QMDs, while a year later the use of QMDs nearly doubled, increasing their market share up to 9%.
Quick messaging devices have almost reached the level of smartphone penetration. Therefore, major operators like AT&T and Verizon Wireless are expanding their quick messaging line-up as this segment offers manifold growth prospects in the future. QMD owners are likely to demand lots of minutes and texts, they will typically subscribe to data plans and message plans that meet their needs, offering a large potential market for operators. Moreover, QMD users spend a much higher percentage of their income on mobile services than average subscribers.
Smartphones are more prevalent among 25 to 34 year old subscribers, while mobile subscribers from 18 to 24 years of age are more likely to own quick messaging devices. In terms of demographics, QMD users more closely resemble feature phone subscribers than smartphone users. While smartphone users are overwhelmingly the well educated males, quick messaging device users are likely to be average subscribers and more likely to be females.
Text messaging is the driver for nearly 70% of the QMD owners as they use messaging feature on a daily basis. More importantly, heavy texters are the fastest growing mobile user segment. Such growth in the QMD segment calls for more text centric integrated devices and carriers to meet user demands. Thus, QMDs are currently the most popular and fastest growing cell phones.