The Dell Squad is back, and They've got Android!

Dell? Back? When?!
For those of us who've been in the Mobility business for too long, you may know there was a time when smartphones weren't around. A
time before the iPhone, and other such phones. Instead, we had PDAs, devices with usually only Wi-Fi and Bluetooth, and no phone addition. These phones would be owned by the big business men to manage their appointments. Today though, things are different.
But that won't stop Dell! They're back, and they mean business. Despite being out of the game for a whole five years, they seem to be determined this time around and are diving back in without WIndows Mobile, choosing Android instead!
Dell, known for releasing the Axim series of devices, a long series of high end Dell PDAs, complete with everything, including Intel Processors (back in the day.) But now they have released a new GSM slate, the Dell Streak for the European market, and it's coming to the US this summer!
What's in store with this Slate?
First off, the Dell Streak is an Android 2.1 device, an interesting twist from Dell. One thing we can get used to with Dell is Windows, it being their OS of choice for all devices, desktop, laptop, and mobile, since their inception. The Streak is their first effort using Linux, in a new time period and new market.
In detail, the device sports a 5" WVGA Screen to watch the show on, a powerful 1GHZ Snapdragon processor, and the usual Wi-Fi, Bluetooth, and even 7Mbps capable HDSPA. Toss in a 5 Mega Pixel camera, GPS, and 16 GB of internal memory, and you have one versatile device!
Unlike the PDAs and previous devices of Dell's Business end. This open ended slate seems to be a hybrid device. Rather than a straightforward smartphone or a limited GPS device, it seems to do both. The 5" screen is massive, something you'd typically not expect for smartphones, and all that extra GPS may be overkill.
But, like any hybrid, it means versatility. it sounds to us like this Streak has got enough juice under the hood to do plenty of work.
Of course, there's just one small problem…
How's it going to work being 'Unlocked'?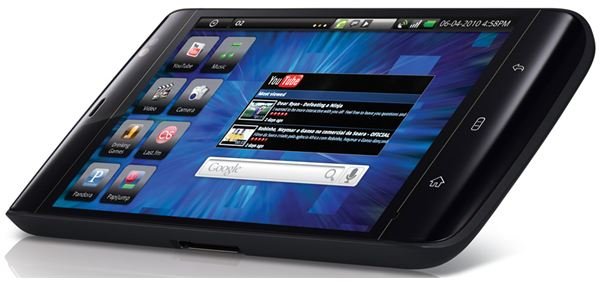 The Dell Streak is Unlocked, and this has its pros and cons.
For starters, let's explained 'Unlocked'
Typically, when you want to buy a smartphone or device with 3G capabilities, you buy it from a carrier. The carrier, enticing you to buy it, will offer a discounted purchase rate so long as you sign a contract. This forces you to buy it from that carrier at that price and rate with whatever fees may apply, usually a long term contract.
The streak will not be associated with a carrier, essentially meaning you can bring it to any GSM carrier (offering you AT&T and T-Mobile). But on the flip side, there are no contracts, and this means no subsidized rates. Dell will have to charge a rate that will pay for the device and make them money. How much? How about $500.
In comparison, this is about the same cost of an entry- level iPad. And you see where that brings a problem, while most smartphones won't go over $250, this one is double that.
But still, will it make an impact in the market?
What does this mean for the Market?
Despite a hefty cost, this device has promise written all over it.
For starters, this is Dell. Dell is renowned for the Axim series of devices and their reputation encourages people to expect great things. Dell is known in the mobile market for strong, well made devices, some of which are still on sale today! But the question arises, can the average consumer get over the $500 price tag?
$500 is still not an uncommon number. The high end Axims sold for just about the same, not to mention they were not including smartphone capabilities and such a large screen. On the other hand, those were for business people who could afford high end devices, and they were released before some of the worst economic times in U.S. history. The change in market, and the timing, may flip the tides on the possibilities
In the end however, the Dell Streak is sure to reach the market, and perhaps Dell will eventually move in and make a deal with some of the carrier companies. With such a beautiful looking slate for your daily needs, this device is sure to please the summer market, often a stale part of the year.