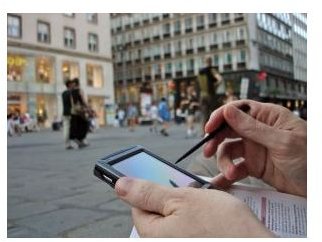 History of Mobile Phones
The evolution of mobile phones has been quite dramatic, leading to innovations that would have seemed practically impossible a few decades ago. The first truly mobile phone was carried around in a briefcase because it was so large. Phones slowly became smaller, but it was a while before they became smarter.
While the mobile revolution was taking place, the computer revolution was also gaining momentum. Portable computing also became a reality with PDAs, or personal digital assistants. These devices had operating systems and were able to do computing tasks like their bigger counterparts. There was no connection involved in these devices.
The first smartphone was conceived of as a combination between a mobile phone and a PDA, thereby harnessing their capabilities in one device. The frontrunners were Microsoft PocketPC Phones and Treos made by Palm, and thereafter mobile phones have never looked back.
Features of a Smartphone
There are a few characteristics that define a smartphone in the traditional sense, although they are essentially PDAs with connectivity.
Firstly, smartphones have elaborate operating systems installed on the device. This feature was handed down from the PDA, as mobile phones merely had the minimum software to run the hardware. There was no possibility of processing other applications. Although this is a type of operating system, it had nowhere near the capabilities of a computing device. Additionally, all smartphones have a number of applications for various productivity, entertainment and media tasks.
Secondly, there is always some sort of web access available on smartphones. Mobiles have always had voice connectivity for obvious reasons, but data connectivity was only possible with the software to harness it properly – which came from the PDA.
Thirdly, a smartphone is intended to enhance or replace, in dire circumstances, a fully fledged computer. That means, it has features that facilitate productivity – like document and presentation viewers; or media players – like music players and FM receivers.
Lastly, there is always a phone component. This point may seem very obvious, but the main difference between a PDA and a smartphone is the former's ability to make and receive calls, and send text messages – that is, connectivity.
The Future of Smartphones
As the genesis of smartphones took place, the emphasis was on reducing size for convenience and combining productivity and connectivity. The next step in the evolutionary process is smartbooks.
Smartbooks are devices that fall somewhere in the area between netbooks and smartphones. These devices are intended to offer the best of both worlds, much like their immediate predecessors. Smartphones are kept on at all times whereas netbooks are ordinarily turned off when not in use; and on the other hand, smartphones are quite small and currently do not possess the range of features of a computer.
There is certainly room for more innovation, however the area between each subsequent device is shrinking rapidly, as the distinctions become blurred.