Phones Should be Gender-Neutral: But HTC's Girly Phone Disagrees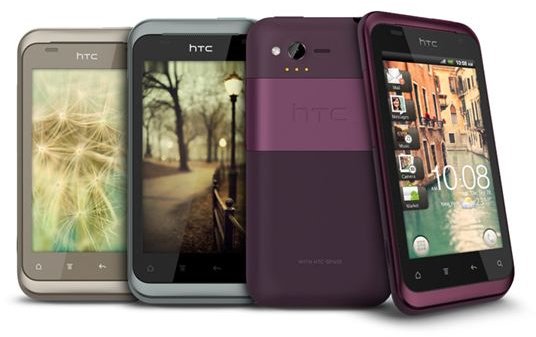 Hitting the Catwalk is the HTC Rhyme
Although HTC aren't the first manufacturer to try and make a phone more attractive to the female market, they have been a bit more clever about it than their sparkly pink predecessors. The HTC Rhyme isn't just your regular HTC design with a fluffy exterior, a lot of thought has been put into the design and marketing of the product. For a start they have gone for three different color choices, and none of them are a tacky pink hue. I'm not going to lie, it's a fine looking phone, but are we really suggesting that girls are only interested in what a phone looks like? I don't see sales of the iPhone or Galaxy S2 suffering from not offering a girly-looking option, but maybe HTC has uncovered a little-known gap in the market.
Apparently the Rhyme has been designed to be more fashionable than the competition. Yes, it does look pretty, but sticking the word 'fashionable' on something doesn't mean that girls are suddenly going to drop their shopping bags and come running – "oooh it's fashionable so I must have it." And hold on to your hats girls, cause there are also matching accessories available - woo hoo! The word patronizing springs to mind… several times.
The Need to be Different
Of course there is a need in certain situations for products between the fairer sex and the hairier sex to be different – underwear and shoes for example (not that a man-bra wouldn't be a good idea for some, but I digress). But is there really a need for a phone to be different to keep both sexes happy? Did I miss something along the way, in that our fingers to dial and our ears to listen are fundamentally different between a male and a female? Perhaps manufacturers should start making little indents in the side of phones for girls to make holding them easier for our long nails (painted pink of course).
To a certain extent I can understand what HTC is doing, as the world of tech and gadgets is still very much the domain of man. One look at the cover of gadget magazines on the newsstands is enough to prove this. Half-naked female models, posing with the latest smartphone or tablet in a provocative way are used on the covers to make which sex want to buy them I wonder? My mind has often boggled at this, not because I find it offensive, but it's just so unnecessary. I also subscribe to cooking magazines, but if one of them landed in my mailbox with a buff Chippendale-type holding a pie in place of his pants I'd think the editors had gone mad.
So I can appreciate that gadgets and smartphones can seem male-dominated and a bit scary to certain women, and I guess HTC is trying to make smartphones more accessible to females with the Rhyme. There is one thing that annoys me more than anything about this phone though… it seems more style than substance.
What About the Specs? (and I Don't Mean Glasses)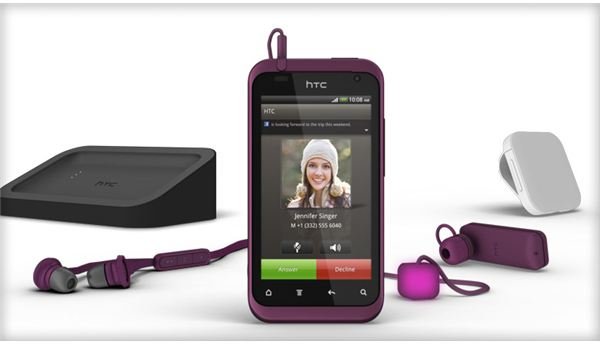 Compared to many of the phones out there, the Rhyme can still hold its touch screen high, but for a newly released HTC phone the technical specs are weak, and not comparable with similarly priced handsets recently released. The processor in the Rhyme is 1GHz with no dual core in sight – any smartphone worth its salt being released right now should be a dual core. And although the camera is a reasonable 5 MP you can only record in 720p, which again I have to question. Older phones can get away with this, but any new release has got to be looking at 1080p quality surely? And despite the plethora of phones now being released with 4G LTE, apparently that's not necessary for the fairer sex either. Why should girls have to settle for mid-range specs? Is this what the trade-off is for having a nice looking phone?
Perhaps the folk at HTC think that girls don't have a clue about the technical stuff and are just hoping to blind us with a nice outward design – what's on the inside counts too, no matter how shallow us females can be at times. I don't have to know the technical ins and outs about how everything works inside my gadgets, but I understand what does what and I don't think we should have to settle for second best. Oh but wait, we have forgotten the matching accessories…
Perhaps my favorite of the accessories is the charm that is designed to hang outside of your purse and lights up if you've missed a call – oh teenage excited screams!
Don't Think Pink
Of course there are certain gadgets that divide the sexes by their very nature, but smartphones should be gender-neutral. There is simply no need to make phones for boys and different phones for girls. Are BaByliss releasing an uber-heavy rough and tough hairdryer for boys? Are Oral B about to release a glittery electric toothbrush with a slightly less powerful motor for delicate lady teeth?
While I applaud HTC for trying to bring a decent smartphone to a corner of the market that might otherwise be overlooked, they are going about it the wrong way by not backing it up with the equivalent specs. Trying to win us over with a nice design and accessories is an attempt to blind us to the fact that actually this girly phone is a little bit weak. Sure us girls like a bit of style, but you need to match it with a bit of substance too.
Let us know what you think. Is the Rhyme a good idea for an area of the market that is overlooked, or is HTC trying to fob off a mid-spec phone with a well-designed shell over the top of it? Is there a need for gender specific phones? Leave a comment below.
References