Everyone Should Have the MiBudget BlackBerry App
MiBudget App for BlackBerry Smartphones

The MiBudget app is one of the best BlackBerry budgeting apps that I have come across and I have tried a few. Some of them are very confusing, limited or just not what you are looking for. The MiBudget app is exactly what I wanted; there is a suggestion that I would like to make to the developers of this app, but I will save that suggestion until I have finished detailing what makes this app so great.
How MiBudget Works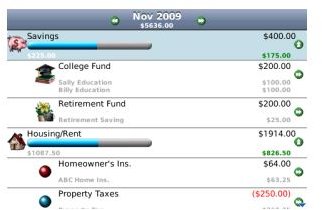 The MiBudget app allows you to budget your expenses in groups or categories as they are called in the app. Some ready made categories are already built in, such as Utilities (which is further broken down into the different types), Grocery, Personal, Debts (for credit cards, loans and such), Transportation (bus, taxi and even gas/fuel), Recreation and a host of others. While these categories come ready-made, you do not have to use them as is, or even at all. The app is completely customizable and you are able to add your own categories and also assign one of the built in picture symbols to the category for easy reference.
The budgets are created for the month and you can create a new budget for the month by modifying the budget or you can have the same budget rollover to the next month if your expenses are set and are the same amount each month. However, if something should change, you can still modify the budget to add or delete one of the categories or expenses.
MiBudget Interface (5 out of 5)
The MiBudget app (to me) is one of the easiest to use BlackBerry budgeting apps, because everything is so simple and straightforward. It as simple as selecting a month to budget, adding the categories into which your expenses will fall, adding the expenses and the amount for each expense and saving. The great thing about this app is that you can update it as you spend. For every bit of money you spend, you can go into the app and add an expense. Let's say for example that you paid the electricity bill; you simply go into the utility category, look for electricity and add an expense, you add the amount as well and when you look at the entire utility category, you will notice that the available balance to spend from that category has been reduced by the amount of money you entered in the expense. It may all sound confusing now, but I am about to run through a complete budgeting process with a category for you and the screenshots will help.
Making and Maintaining your Budget with MiBudget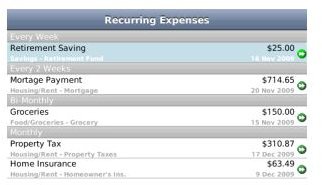 If you are using the app for the first time, it will ask you to set up an initial budget, in this initial budget, you will select categories and items that are a part of your expenses every month. This initial budget will be preloaded each month and then you can add and subtract from it as your lifestyle and budget changes.
For example, you are setting up a budget for December. After you have set up your initial budget, you can now add all the other items that are just for the month of December only, like gifts, Christmas decorations or a trip to relatives.
The month for the budget is at the top, you can scroll left or right to go to the next month or the previous one. So we scroll to December and the app will give you this message: "You do not currently have a budget setup for December (year). Would you like to create it now using your initial budget?"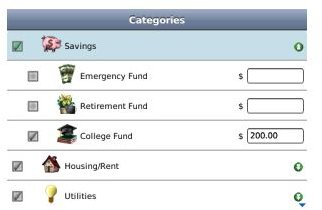 Scroll to yes and select it, the app will then generate your December budget with the basic every month items expenses that you had initially set up, now it's time to modify your budget to suit December. To do this, you will select the menu button, which will generate an options list with Modify Budget at the top, select it. You will then be greeted with the list of categories; from here you can add more of these categories to the budget by ticking the checkbox beside it or you can create a brand new category (I will teach you to create a new category in the next section). For now we are just going to modify the grocery list. You would already have grocery, but maybe you only had $300 for grocery for a regular month, but for December, you are going to buy lots of goodies and need to budget more money for it. To do this, you will scroll to Food/Grocery and select the arrow on the right of it; it will produce a drop down list of the sub-categories which generally include Grocery and Restaurants. Scroll to grocery and edit the amount of money in the field to the amount that you want, then press escape to save. That's it! You have just modified your budget to make more room for groceries. You can modify any other category that you want to and add any category by checking the box beside it.
Making and Adding a New Category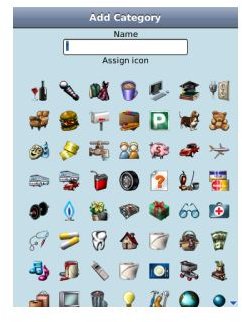 To make and add a new category, you will go back to Modify Budget and enter the categories list; from here, you will select the menu button which will generate some options including: Add Main category and Add Sub-Category. If you are creating a brand new category that has nothing to do with what is already there, then select Add Main Category, if your are creating a category that already relates to one of your other categories, then create a sub. After you make your selection, you will be given a field to name the category and just below that, you will be able to select an icon to represent your category.
Conclusion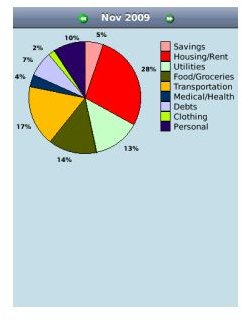 In closing, I am going to say once more that MiBudget is one of the best BlackBerry budgeting apps when compared with the others that I have seen and tried from BlackBerry App World. There are other BlackBerry Budgeting Apps that many people will think are superb and I would not like, because they seem to be more accounting apps than budgeting. I am not seeking something complex, I do not need generated reports, I only need somewhere to write down my expenses, see how much they add up to and remove them from the budget as they are cleared. If you over spend and you add the expense, it will show you a red progress bar which will indicate your over spending, and it will even provide you with the negative figure, so you will know how much you over spent by.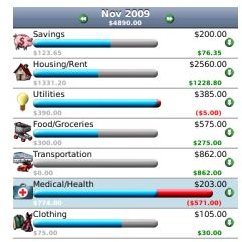 Beside each category, the budgeted amount is at the top in black numbers and then just below it, in green numbers is the amount of money that is left to spend in that category.
I have a suggestion for the developers of this app and that is to give the app the ability to show the overall amount that is left in the budget. It currently shows the available balance for each individual category, I would just like it to show a total at the top. Please consider it guys.