Watch Podcasts on your BlackBerry with the BlackBerry Podcast App
BlackBerry Podcasts (5 out of 5)

Wouldn't it be great if you could listen to podcasts on your BlackBerry while you are on the go? Well now you can with the use of the new BlackBerry Podcast App. The BlackBerry podcasts are free and the app will have them delivered right to your BlackBerry device. All you will have to do is to subscribe to your favorite podcasts or you even have the option of downloading new ones, and then viewing them whenever you want to on your BlackBerry smartphone. You can download the BlackBerry Podcast App through the browser on your BlackBerry or directly from BlackBerry App World.
BlackBerry Podcast app features
The Blackberry Podcast App has quite a few features that make it easier for you to get your BlackBerry podcasts and listen to them for free whenever you want. Here is a list of options that the BlackBerry Podcast app allows you to enjoy:
You are able to browse through a list of preloaded podcasts that are absolutely free or search for them by name if you know exactly what you are looking for. You can search or browse by category, because there is a categorized list of BlackBerry podcasts that include TV and Film, News, Arts, Business, Comedy and much more. There will definitely be something to suit your podcast taste.

After you have found the podcast that you are looking for, the next easy step is to subscribe to the podcasts, then download them and play them back on your designated BlackBerry smartphone. It's that easy, just a few simple steps and you can be watching or listening to your favourite podcasts. You can also choose what connection type you wish to use for your downloads; whether it be Wi-Fi or your mobile network, or both.

The good news is that once you have subscribed to a particular podcast, you do not have to always go back to check if they have something new. With your BlackBerry Podcast App, you can receive alerts whenever there is a new episode of your podcasts and you can download them automatically if you wish.
System Requirements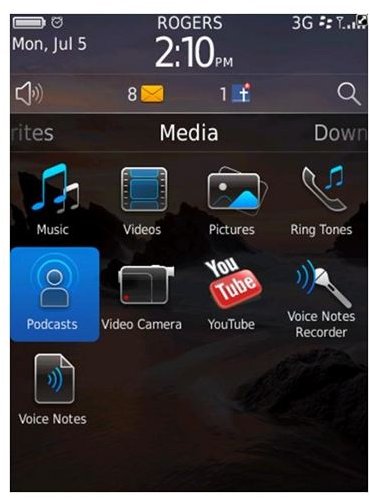 The BlackBerry Podcast App is basically available for all devices, but here is a list of devices and system requirements to ensure that you have no problems using this app.
Ensure that your BlackBerry smartphone is one of the following: BlackBerry Bold, BlackBerry Storm, BlackBerry Pearl, BlackBerry Curve, or BlackBerry Tour Smartphone. For the Blackberry Curve, Pearl and Tour users, you will need to ensure that a MicroSD card is installed in the phone before you can utilize the app. However, the Blackberry smartphones that are running BlackBerry 6 OS will have the BlackBerry Podcast App already included on the phone. You will of course need to have a BlackBerry Data Plan that includes internet browsing options.
Submit your podcast
If you have a podcast that you would like to be included in the BlackBerry Podcast App, then you can submit your Podcast to BlackBerry to be considered. The app supports all carriers and pretty much all devices, but is only available in two countries currently; these countries are the United States and Canada.
BlackBerry Podcast Version: 1.0.0.36 was released on August 10th, 2010 and carries a file size of approximately 1MB. Download the BlackBerry Podcast App from Blackberry App World and if you already have it, you can get support here.