eBay Wireless Application for BlackBerry Smatphone Devices
The Functions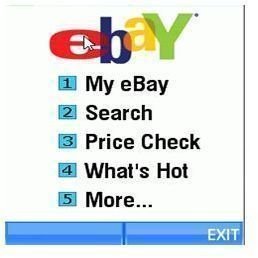 Using eBay Wireless users can easily bid on items they find on their device, they can use the buy now function that's become so popular on eBay, and they can even search for products directly from their BlackBerry smartphones, while also taking care of plenty of more popular eBay functions. Here's a list of the most popular functions offered on the BlackBerry app:
1. Shipping Costs - Using the online mobile tools users can easily find the approx. Shipping costs of items. I used this tool on several bigger and smaller items and the estimates booted up on my device quickly and in a form that was easy to read and manage.
2. Bid And Buy - Just as you can on eBay for your computer, you can easily bid on items that you find on the website and you can even use the "Buy Now" feature to win your bids automatically.
3. Search Function - Using the Ebay structure Ebay Wireless connects your Blackberry to the sites full range of products. After typing in a product for searching, in my case "HTC Touch Pro" the program quickly pulled up the listings for the product. The product listing shows the item and pricing, and a separate click on the product brings up the description and additional pics. Having the descriptions and pics show up separately definitely helps with search times and the streamlined layout that appears on the device.
4. Price Sorting -Trying to find a product at the best prices? This is one of the best features found on Ebay Wireless, by choosing this additional filter you can find the lowest pricing, the median pricing and the high pricing. Unlike the full eBay interface this is not a full list from low to high, but just the high, median, and low pricing which gives not only users a good idea of product pricing, but it also gives sellers the ability to determine the sell costs on items they may be buying via reseller channels.
More Functions
5. Hot Items - This may not be the most useful feature for finding your products, but its still pretty cool. The "Hot Items" list will display the Top 6 items found on eBay for that day, its neat if you want to find the cool new holiday gift for your kids or if you just want to see what other shoppers are looking for.
6. My eBay - The My eBay tab found on your eBay account allows you to "watch" auctions that are currently underway, check on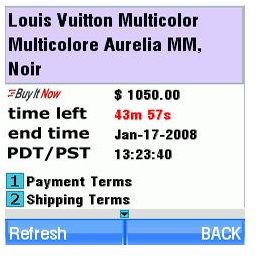 auctions you've already bid on, and it even allows sellers to watch their own auctions. Through this option users can again view pictures, picture galleries and the description for their items and items their watching.
7. Refresh Updates - once in a bid screen users can also choose to "Refresh" the screen, this is a great way to watch items as they get closer to closing, while also watching the time left for auctions, the current bidding prices, and more all with the click of a simple refresh option.
System Requirements
The Ebay BlackBerry app supports a handful of newer BlackBerry devices that include: BlackBerry 8100 Pearl, BlackBerry 8110 , BlackBerry 8120, Blackberry 8130, BlackBerry 8300, Blackberry 8310, BlackBerry 8320, BlackBerry 8330, BlackBerry 8705g, Blackberry 8707g, BlackBerry 8800 , BlackBerry 8820 and BlackBerry 8830.
The file is a simple download and outside of the devices listed below there's really nothing else to worry about. However, users do need to have a data connection, and given the amount of information that can pass through your device when using Ebay Wireless I would highly suggest an unlimited data plan from your Mobile Wireless provider.
Conclusion
Whether you simply want to search around eBay from your Blackberry smartphone, or watch, bid on, or sell items from your account, eBay Wireless offers an impressive set of functions that work quickly and flawlessly directly from your Blackberry. With user login privileges, an intuitive interface you'll never be outsmarted by other bidders, and you're online sales, including updated alerts sent directly to your phone will always be just a moments notice away.
References
BlackBerry App World, https://appworld.blackberry.com/webstore/content/4557