PowerBOSS Battery Manager App
PowerBOSS - Battery Manager

What you are probably not aware of, is the fact that your BlackBerry saves roughly 5% of energy and shuts down with it. But the phone is configured in a way that forces it to shutdown when it reaches that point because it is constantly searching for radio waves when it is on. It is very similar to the reserve gas tank in your car. You know that you have a little gas left to carry you to the gas station or maybe even carry you home, but the gas light will come on anyway and tell you that you are out of gas. The difference with your phone is that it will shutdown and keep its reserve all to itself unless of course you have the PowerBoss application installed.
PowerBOSS is a BlackBerry App that allows you to reclaim that 5% so that you may be able to make that short last minute phone call or even check a few of your messages. Even when your battery seems to be on its very last legs, this app will get you that little extra time that may just make all the difference.
Preserve Battery Life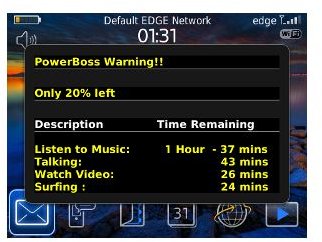 The PowerBOSS app also helps you to preserve your overall battery life by limiting the signal searches when you are not on the grid. The fact is that many people are under the impression that having your Bluetooth and your Wi-Fi on all the time will drain your battery, but that is not necessarily true. They may use up a very minute fraction of your battery's energy but nothing substantial to really affect the life of your battery. The thing that really eats up your battery's energy is the actual usage of the phone itself and the internet.
The PowerBOSS app will provide you with automatic updates on your current and available battery life for everything you do, from talking on your phone to watching a video or downloading a file.
Easy to use App with Great Support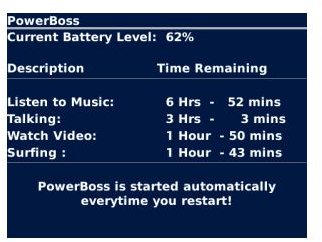 The user interface for this app is very friendly for even the most inexperienced BlackBerry user, anyone can utilize the battery control feature and the app is another great development from JaredCo.
Everyone knows how it feels to be completely left out when your phone battery is dead. You feel as if you are no longer in contact with the rest of the world and there is always this nagging feeling that you are missing out on something very important. The PowerBOSS app will allow you to jump back into the game, if only for a few minutes, so that you can read the messages that just came in or make a last minute phone call to let someone know that you are on your way or you are going to be late. Whatever your reason may be for needing that extra battery push, this app can help you achieve it.
Now you can even get more out of your battery by using the PowerBOSS Battery Manager App from JaredCo to manage and monitor usage of your battery's energy. If you have any issues with your app, you can be certain that you will have the support from JaredCo to get the most out of your PowerBoss experience.
Top Rated App (5 out of 5)
This is a great app that can be useful to everyone who owns a BlackBerry, this should be one of the first apps you download on your BlackBerry phone when you get it. If you've had your phone for a while already, then let this be the next app that you download. The best part is that this is a 5 star app and it is currently on sale, but only for a limited time, so get it now for only $0.99 USD at BlackBerry App World.