Top Ten Free BlackBerry Apps
1. Pandora (4 out of 5)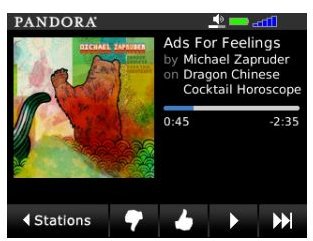 The Pandora music app we've grown to love in the iPhone and Android phones are also available as a free BlackBerry App. This radio app offers personalization features. It lets you enter any of your favorite songs or artists and then the app will create your personalized radio. What's good about Pandora is that it plays your current and old favorite songs while at the same time introducing you to new songs that you might actually like. It also allows you to rate songs as they play and consists of various music genres from Latin to rock, country to classical, hip-hop to jazz, and more. Get the Pandora application on your BlackBerry® phone, and be prepared to fall in love with music all over again.
2. UberTwitter (5 out of 5)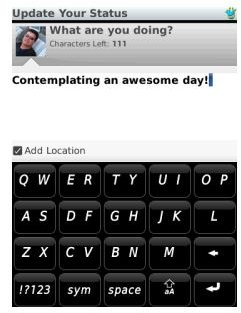 If you're a heavy Twitter user, this app is a must-have for your BlackBerry devices. True to the simplicity of the Twitter web application, UberTwitter is also a full featured Twitter client. It features photo integration, embedded videos in tweets, tweet shrinking, URL shortening, twitter lists, twitter avatar and other features.
3. Dictionary.com (3 out of 5)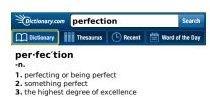 I love the Dictionary.com apps for the iPhone. And I was glad that it recently made its way to the BlackBerry App World. The app features more than 500,000 words, definitions, and synonyms. It also has phonetic and audio pronunciations, and spelling suggestions. The popular word of the day was also brought to this BlackBerry app.
4. The Weather Channel (3 out of 5)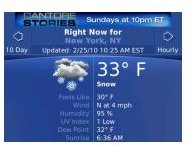 The Weather Channel app gives you detailed conditions and weather forecasts, radar maps, local and national severe weather alerts, airport delays and more. It also lets you access the weather from your calendar or address book and allow you to forward alerts to friends and family.
5. Drive Safely (5 out of 5)

To avoid accidents when you receive text messages or emails, this app reads them for you so you don't have to check them out while driving. It would even send a response to whoever was trying to contact you. Drive Safely is a very timely app since; some countries are starting to prohibit using phones while driving. A paid version with other nice features is also available.
6. Poynt (3 out of 5)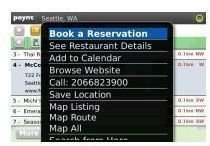 This app lets you find people, businesses, movie theaters, retailers and restaurants near your places. Using GPS or cell-site locations, it pinpoints your current location and delivers the information you need whenever or wherever you need it. You can use Poynt to find phone numbers, book movie tickets and dinner reservations, add listings to your Address Book, and add movie and restaurant events and other useful features.
7. Score Mobile (4 out of 5)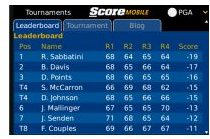 Score Mobile gives you up-to-the-minute sports scores, box scores, player stats, betting odds, game previews, recaps, top stories and league standings. You can also read live blogs for major game events. The app covers NFL, MLB, NBA, NHL, PGA, NASCAR, and other sports leagues.
8. Facebook (5 out of 5)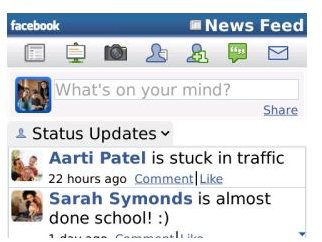 Do I still need to tell you why you should install this app on your BlackBerry? It's Facebook, what else can you expect? No matter what platform you use it, Facebook is Facebook. This app lets you send messages, poke friends, write on walls, invite friends, upload photos, and more.
9. FourSquare (5 out of 5)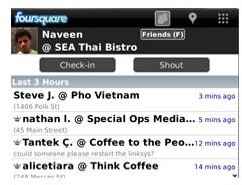 FourSquare is everywhere. Be it on the web, on the iPhone or Android phones, FourSquare sure have its apps on these platform. To cap its conquest, FourSquare for BlackBerry has just been made available. And it's a pretty robust mobile app that lets you post check-in as well as post shout-outs to your friends. Its interface is simple as well as its features.
10. BBNotepad (4 out of 5)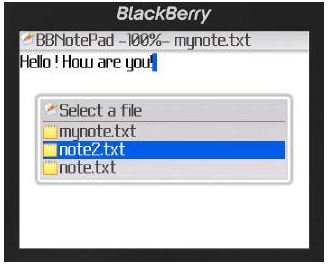 I really don't understand why the default notepad apps of smartphones fail in comparison with third-party note apps. The same is true with the BlackBerry. Fortunately, there's BBNotePad, a very nice note app that lets you write full-length documents. It supports .txt files so that you can quickly open your notes on your computer. It also lets you send notes and memos through Bluetooth to other devices.