Mobile Auction Manager for eBay. Bid From Your Blackberry Smartphone
Introduction
Now that Christmas is just round the corner, it is always a good idea to scrounge eBay for killer deals. However let's face it, most of us cannot be in front of our computers 24/7 and therefore it becomes much easier to lose an auction and miss out on all those fantastic deals.
The Mobile Auction Manager helps you out of the conundrum explained above by allowing users to manage all their eBay auctions from their device. It is also fully eBay certified and is listed on the eBay partner's site so you know it's a safe app to use. Mobile Auction Manager not only lets you bid on your auctions directly from your BlackBerry device it also sends notification alerts (these can be configured in profiles) when you have been outbid.
Usage (4 out of 5)
As soon as I accessed the Mobile Auction Manager app in my Downloads folder, I was taken to the User Settings. There I configured the app according to my likes, selected my country specific eBay site, Alert settings, which listed options like "Outbid Alert", "Won Alert", "Loss Alert" and son.
I was then directed to the mobileauctionmanager.co.uk. Here I had to authorize the app to integrate into my eBay account. You can also sign up using your desktop browser as its faster and more convenient.
After registering at the homepage, I then filled in my eBay details. Mobile Auction Manager says that it doesn't store any of your private eBay details, which I found reassuring.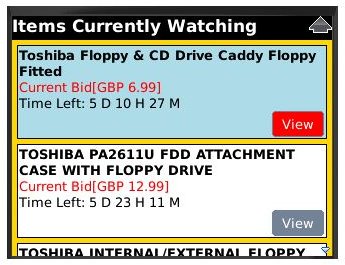 After I got connected, I was impressed to see all my auctions listed in a simplified form. I had bid on a pair of UGGS whose progress I was able to track on my BlackBerry now.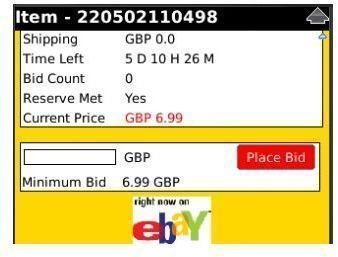 Below the details, there is a "place bid" option, where I entered a number and clicked on "place bid". In a few seconds Ebay noted the bid, which means I can bid on the go whenever, wherever.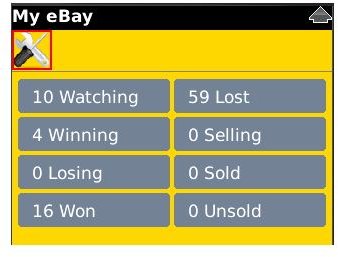 The interface is the app is quite simple and the page is broken down into categories like "Winning", "Losing", and "Won", "Loss" etc. Clicking on the appropriate category gives you your entire eBay record!
After 15 minutes, I was outbid and as expected the app alerted me! I then reopened the app and increased my bid. The application works like a charm and is a great way to keep track of your bid. The various configuration options ensure that you cover all your bases.
Final Thoughts (4 out of 5)
If you are a regular eBay shopper then we recommend the Mobile Auction Manager app. Not only is it quick and simple to use, it is also absolutely free and while you can't search for items on Ebay it's still an effective little app.