Yippidu WorldNews App. World News At Your Fingertips
Introduction
I have to admit, I'm a HUGE news junkie. Yes folks, when it comes to being kept in the loop, I make sure I always have all information at my fingertips. Now that we live in a completely tech infested world, gone are the days when we use to get our news from the morning paper or the news channels. RSS readers, Internet Headlines and Google are just some of the tools, which keep us informed. And those who want to be informed on the go should check out the Yippidu WorldNews application for BlackBerry.
The Yippidu WorldNews app covers news for countries that include the United States of America, United Kingdom, Germany, Spain, Australia Canada, Australia/New Zealand, India and China. The program aggregates news stories from leading news providers and streams them to your BlackBerry in less than 200 characters.
The latest version also supports Twitter, which lets you post snippets of articles directly to your Twitter profile.
Overall Usage (4 out of 5)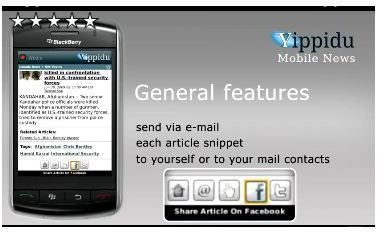 As soon as I accessed the app I was struck by its simple interface. There are no fancy images or cool graphics here. The app is all about news and news only.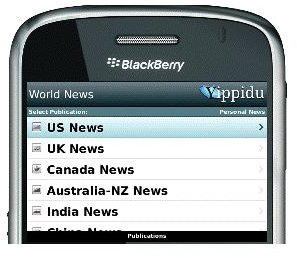 The menu may be simple but I found it quite intuitive. The menu is broken into countries that include; United States of America, United Kingdom, Canada, Australia/New Zealand, India and China. The countries are further divided into categories that include "Hot Topics", "Politics", "Headlines", "World News", "Political News" etc.
I chose United States, clicked on categories like "Hot Topics" and "World News" and was able to see all the headlines that were dominating the US. At this point I must mention that the loading was extremely fast and it was fun viewing the article snippets with images. To read the full article, I just clicked on them and my browser transferred me in a few seconds in most cases.
Another category I came across is "Personal News" where I could save and access all my starred items, my bookmarks, etc. There I also came across the "Monitor" option, which monitors news according to your preferences. I entered a set of keywords like music; business, etc. and the app saved only those articles that matched those keywords. This worked quite brilliantly and was done unobtrusively.
To save some of the news items for later, I clicked on the star icon on the top right side and was able to flag it in seconds. These articles can also be shared with your Address Book Contacts by just selecting on the 'send email' option
In fact, emailing is not the only option. Apart from the email icon, I also came across icons for Twitter and Facebook. I made use of both these options by signing into my Twitter and Facebook account. I then posted the snippets to my profile without any hassles.
Final Thoughts (5 out of 5)
The Yippidu WorldNews app is a must have application for anyone who likes being aware of the world around them. The fact that all this information is offered for free doesn't hurt either.
The interface is simple and the functionality was impressive with a comprehensive feature set.
At times I did experience some lags but that was only when I was redirected to another browser page to read the full article. However that lag was more because of the Internet connection than the program.