ActionPad BlackBerry App Review
ActionPad offers the standard ability to enter in notes for browsing at a later time, however, the program also extends those capabilities by offering categorized notes, memo encryption with 128 bit protection and even full network synchronization.
Want to learn more? Keep reading for some screenshots and application usage.
Overall Use (4 out of 5)
The basic screen on ActionPad is your standard memo pad screen, the main display features a title entry area, a category to put the memo into, such as business or personal and the actual memo screen. Simply type in a note and click "Save" or "Encrypt and save" if you have private password protected notes to create.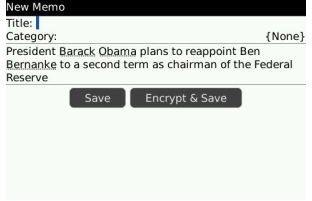 As I mentioned the program allows for "category" sorting which can be accessed by clicking on that area and choosing the category you want to place the note into.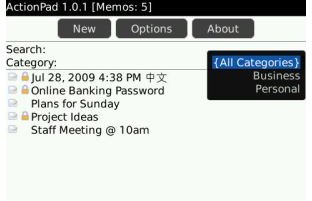 Once a note is created and it's placed in a category the program then allows users to find those categories. As the screenshot above shows you simply enter the search screen and then choose a category. Any password protected notes show a lock, while normal notes are displayed alongside those password protected notes.
As I mentioned in the intro, this program uses 128 bit encryption (powerful password protection). If a password is needed the password screen will be displayed when creating notes, wihle opening notes will require that password to be entered once again.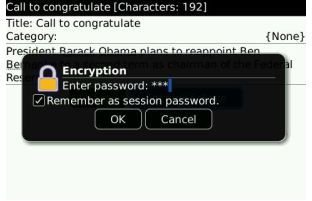 The main search menu also allowed me to easily open and edit files, delete memos, create new memos and send those notes via email or SMS. Again this program is simple to use with a single keyboard/trackball optimized navigation menu.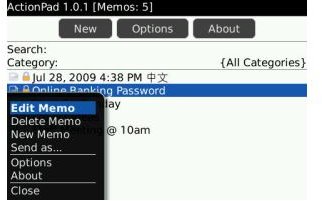 Next the program offered copy and paste and URL note creation processes. The first offering is a simple copy and past function. This can work by copying information out of a memo into a web page or by copying a webpages text and pasting it into ActionPad. Simply highlight the text you want to copy, then from the menu option choose copy, then paste, it couldn't be any easier.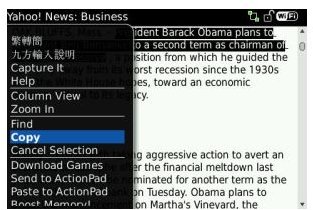 Then to copy a webpages url into the title section of a memo you just open the menu and then choose "Send To ActionPad"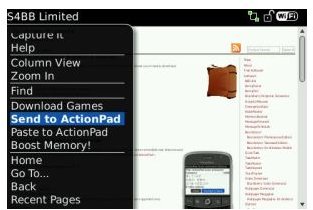 The program also offered a "hotkey" function which made it simple to jump from the top to bottom of pages, to copy and paste more quickly and to handle the programs other main functions with just a few taps of the screen.
Users can also synchronize their ActionPad app with Microsoft Outlook, Entourage, Entrouage 2008 and even Mac's Apple OS X Mail Notes, Stickies Notes and various other programs for both PC and MAC users. Just install the Blackberry Desktop Manager, MissingSync or PocketMac and you're ready to easily move your notes as required. I tested the syncing capabilities of the program on my Macbook Pro and Windows Vista with no issues, although it was much easier to simply email myself the notes and then transfer them to my PC.
I also liked the 1-Click Category Switch option which allowed me to hit the space button to pull up my memo's categories and switch them easily for quicker categorization and category rotation.
Finally, I liked that I could quickly grab my notes and send them by SMS and EMAIL by just using the options screen and clicking on one of the options, the memo and title are then imported to the built-in Blackberry messaging program of choice and then sent from those programs.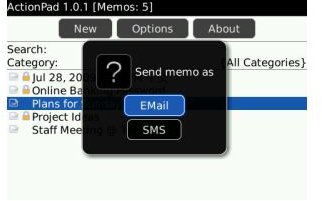 Conclusion
ActionPad is a simple to use Notepad application that offers excellent encryption abilities and quick navigation and use functions thanks to simple screens and hotkey capabilities. Whether I wanted to protect my notes or send them as an SMS or email to friends or co-workers the program made it possible and made all of the functions avialable simple to use.
For $4.99 from the BlackBerry App World the program supports all BlackBerry smartphones and worked as advertised with ease of use and great file protection.
References
BlackBerry App World, https://appworld.blackberry.com/webstore/content/1963?lang=en