White Noise App for BlackBerry Smartphones: Soothing Sounds That Can Help You Relax
The White Noise application is available from the Blackberry App World and much like the machines you buy in the store the application is simple to use, allowing users to quickly choose different sounds they'd like to relax or fall asleep with while listening. The application costs a reasonable $2.99 and the company claims that it's compatible with all Blackberry devices currently on the market.
Keep reading to learn what White Noise offers so you can determine if it's right for you.
Overall Use (4 out of 5)
The White Noise application is extremely simplistic in its nature. Users choose which sound they want to listen too based on 8 noises including: Air Conditioner, Beach Shore, Clock Ticking, Crickets Chirping, Oscillating Fan, Rainfall, Running Stream, and White Noise. These choices are easily navigated by simply clicking on the previous and next buttons at the top left and top right parts of the display.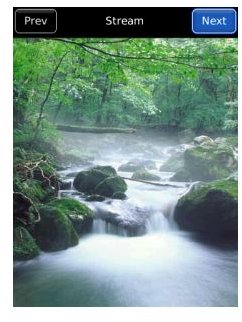 As you'll notice each of the sounds also feature their own screen themes. In the case of the "Stream" feature for example you will see a stream. Whereas the crickets show a picture of the night: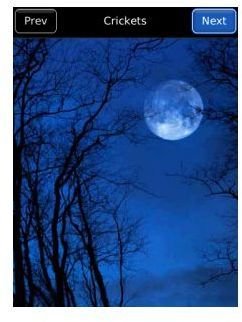 Aside from the various sounds and themes the program also offers some very useful functions. For example I was able to easily set a "sleep timer" which turns off the sounds at the desired time. The timer also fades out the sound slowly over the last minute which alerts the person trying to sleep or relax that the application is about to turn off. I personally liked the fade function as it allowed me to keep the ambient sounds around me going when I realized they were coming to an end.
The program also allows calls to be taken while pausing the application and it's respective timers. Although the "ambient" nature is definitely ruined when receiving a call.
Finally, the program offers nice keyboard shortcuts that makes it easy to keep the sounds going. The shortcuts includes N for next sound, P for previous sound, T for Timer toggle, M for More time (5 minutes), L for Less time (5 minutes) and S for Speaker. Using these shortcut keys makes it simple to change options even in the dark if your keyboard is backlit or if like me you've memorized where each key is placed on your keyboard.
Conclusion
White Noise is a simplistic application and I haven't even mentioned the best part, the sounds actually sound realistic. The crickets sound like crickets, the fan sounds like a fan, and white noise sounds like white noise.
If you use a white noise machine to sleep and you need to travel this application is a great alternative to toting around a clunky device.
Sure it's a simplistic application, but it does what it promises and it does so very well. Give it a try today you won't be disappointed.