How to Block Calls on Your BlackBerry with BuzzOff
Examining BuzzOff
If you've been searching for a call blocking application you've no doubt found plenty of applications with that ability for Blackberry phones, among them is BuzzOff a mobile app which proves to be tough competition when it comes to affordability and ease of use. It not only blocks unwanted calls effectively but also allows you to restrict the caller from sending voice mails when they fail to reach you. In fact, the manufacturer claims that no caller ID blocking application other than BuzzOff has the ability to restrict voice mails because of the integrated pick and hangup feature. Keep in mind that you will need to pay for this app after the free trial runs out. If you're looking for a completely free call blocker, I suggest CallsBlocker even though its features are not up to par with BuzzOff.
Blocking Unwanted Calls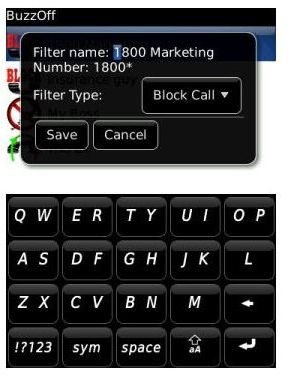 How it works is simple, it sends a busy tone whenever you receive a call from an unwanted or unknown number. You can block any number from your call or message log or choose to block contacts from your address book so that you are never disturbed when you're busy concentrating on something. But the most promising aspect of this application is that it allows you to match and block marketing or promotional calls starting from numbers like 1800, 1866, 1877, 1888 etc. and even allows you to match the last 3 to 10 digits to make sure that you never receive a call from a certain location.
BuzzOff is developed by ToySoft Development Inc and you can purchase the full version from its website by providing some basic information and your Blackberry PIN number. The manufacturer also provides a trial version on its website if you want to test the software before buying the final product. The setup file is in .JAD format and is approximately 746KB in size and downloads within a flick of a second. I installed the application on my Smartphone easily by using Blackberry Desktop Manager and started the application from my phone's main menu.
I could then easily import contact numbers from my call and message log to the application's blocking list and it worked nicely with Blackberry's address book where I was able to pick up contact numbers that I wanted to block. I quickly navigated to the preferences menu and the first option allowed me to configure the pick and hangup feature for unknown numbers. Here I was also able to match and block marketing calls starting from 1800 and the next option allowed me to match the last 3 to 10 digits of a contact number so that every call within that matching number is permanently blocked.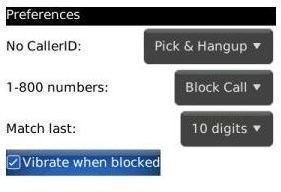 The last option is a checkbox that allows you to enable/disable the vibration feature while blocking calls so that you are notified by a vibration alert every time a call is blocked. After I had configured my settings I closed the application and waited for the results. The application worked in the exact same manner as claimed by the manufacturer and I faced no difficulty while blocking the configured unwanted calls on my Blackberry Smartphone. It is quite easy to configure and compact enough so that it occupies a negligible space on your system memory.
Finally, this application is compatible with all Blackberry models having operating system 4.2 or higher and you can verify the list of compatible devices at the bottom of developer's website.
Final Verdict
BuzzOff is a very promising application when it comes to effectively blocking unwanted calls on your Blackberry smartphone. It has an easy to navigate user interface and it took me only a few seconds to configure the settings.
It is also very reasonably priced, I would suggest that it's even the most affordable call blocking application in the market while compromising nothing on features and usability.
So, if you are frustrated with loads of unwanted incoming calls and are looking for an effective remedy, BuzzOff is highly recommended. You can even try and test the application yourself by installing the free trial version before buying the final product.
References