StopTilt Review for BlackBerry Storm: Stop Auto-Rotate on Your Storm
Examining StopTilt
While a huge touch screen and auto-rotate features are the most flashy and most-noticed features of the BlackBerry Storm, the auto-rotate function can soon become a big source of annoyance because it won't disable, even when you don't need it. This can really become a nuisance sometimes because you might not want a certain application to run in a specific mode. For example I don't like to see my home screen in landscape mode. But the auto rotate feature won't allow me to lock the screen orientation and my wallpaper looks like a mess.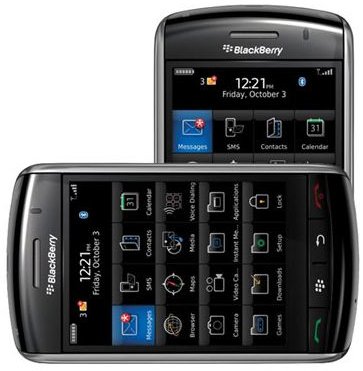 This is where StopTilt comes into the picture. It is a small application that allows you to disable the accelerometer on your Blackberry Storm. Not only this, it even allows you to select preferred screen orientations for different applications so that you can enjoy looking at the screen according to your own comfort. The good thing is that this application remembers these screen preferences even after you have restarted your phone.
StopTilt is developed by Ajani Infotech and since they don't seem to have a domain of their own you can buy this application for $2.99 by clicking on this link here. You can also download the trial version from the same link if you want to try and test the application before you finally decide to buy it. The setup file for trial version is only 13KB and downloads within a flick of the second if you have a good Internet connection. Since my BB Storm is synchronized with my desktop PC, I was able to easily install the application by using Blackberry Desktop Manager.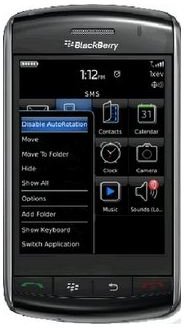 After I had finished with the installation, I discovered that opening the menu of any individual application displayed an added option that asked me whether I wanted to disable or enable the autorotation features on that application. You just have to select this option and configure the autorotation according to your requirements. It is as simple as that.
After I had finished configuring the autorotation feature for the SMS application, I received an instant pop-up that asked me whether I wanted to save these settings or not. This pop-up appeared each time I configured autorotation feature for an application allowing me to save the settings. I locked up my home screen in landscape mode and after I had finished saving my settings, I decided to give it a try and see if it worked or not.
The results were positive and my home screen always appeared in landscape mode even after I rotated my phone. This convinced me about the usability of the application and I decided to configure it for other applications. I got the same positive results for almost all the applications.
Final Verdict
StopTilt is a great application and I must admit that I developed an instant liking for it when I used it for the first time. It really works the way the manufacturer claims by allowing you to lock screen orientations for selected applications. I was able to configure my desired screen orientation for almost all applications.
However, I did face some minor issues with third-party applications like Google Maps. I also discovered that the application needed to be customized again after pulling the battery out of the phone but worked fine after a quick restart.
This application is very reasonably priced and definitely a must-have for every Blackberry Storm. I highly recommend it to all my readers.