CallsBlocker for BlackBerry Stops Unwanted Calls From Withheld, Private and Unknown Numbers
Block Nuisance Calls
Unsoliticited phone calls and nuisance sales calls from companies you once dealt with five years previously can be a terrible annoyance and distraction from the matter in hand - not to mention frustrating.
CallsBlocker is designed to stop at least some of these calls (after all, you never know who is going to call) and can be configured to block unknown, private and withheld numbers.
It's simple to configure and setup to treat incoming calls to your specification and new numbers can easily be added, entered either from your address book, call history or manually.
Compatibility and Installation
Available from everythingberry.com, CallsBlocker is available as an OTA (Over-the-Air) installation via email or SMS, or a desktop installation to be carried out via BlackBerry Desktop Manager.
Designed only for use with the BlackBerry Storm and 9630 (Tour), CallsBlocker nevertheless installs quickly and is ready to use within a couple of minutes.
This low level of compatibility is unfortunate, but there is the hope that the list of supported devices is increased over the coming months to at least include all of the business-use BlackBerrys.
CallsBlocker Screenshots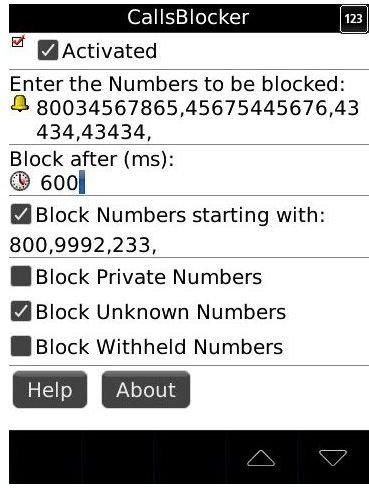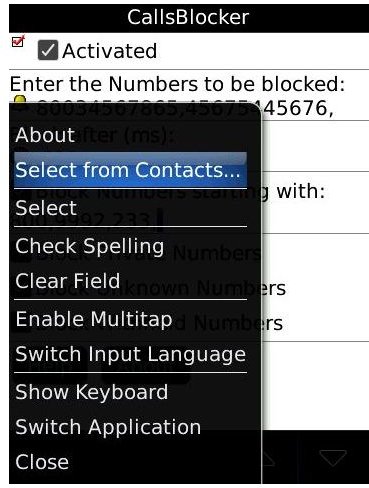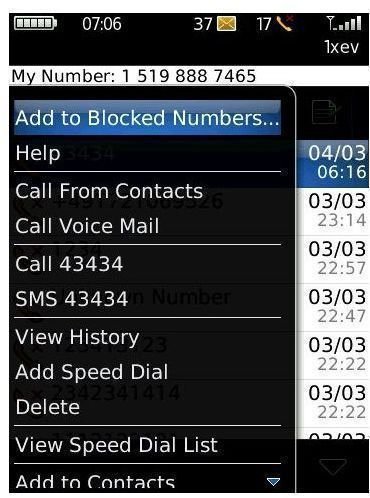 CallsBlocker Features
CallsBlocker can be setup to block numbers that start with specific digits - so if you're regularly getting calls from numbers beginning "190" then you can block these. Other numbers can be imported from your address book, call history - an option called Add Number to blocked List is added into the menu, so you can quickly run through any recent calls and block them.
If there is a possibility you've blocked the wrong numbers or a chance you might want to answer the phone, CallsBlocker allows you to set a delay in milliseconds between the phone ringing and CallsBlocker discarding the call.
The configuration screen includes the option to block private numbers, unknown numbers and withheld numbers - each of these can be applied individually or together.
Great Free App (4 out of 5)
The layer of security - effectively firewalling unwanted phonecalls - offered by CallsBlocker is excellent, and as a free application cannot be recommended enough.
Do beware though it is easy to get carried away with call blocking applications. You certainly don't want to be blocking withheld numbers if your boss or loved ones dial out from such numbers, while many institutions dial from unknown numbers more and more as VOIP (woice over IP) becomes a popular telephony solution.
So if you do choose CallsBlocker, make sure you're not blocking all calls!