LogicMail. Free BlackBerry IMAP POP And SMTP E-Mail Client
POP and IMAP for Free
BlackBerry purists might mock - but there is a strong case for the ultimate push email platform to also provide standard, old fashioned POP3 and IMAP email to its users.
While business users might fancy getting their domestic email on their BlackBerry as well as their work related messages, many standard users - such as those that have purchased the more recent devices targeted at the consumer smartphone market - don't have push email accounts.
LogicMail is therefore a great way for users to get their domestic email via their BlackBerry internet connection.
Installation Requirements
There are three ways to get hold of LogicMail - two Over the Air (OTA) installation methods via either email address (which seems superfluous) or SMS, and a third standard download for installation via BlackBerry Desktop Manager. Visit everythingberry.com for the download options.
LogicMail is compatible with all BlackBerry models to date, and will run on all OS from 4.1 onwards - it also meets all device display dimensions, and is truly an application for all users.
Running LogicMail on the BlackBerry Storm however requires the device to launch the application in compatibility mode. This is due to the touch screen user interface on the Storm being otherwise incompatible with the roller or pearl-controlled interface of non touch screen BlackBerry phones.
LogicMail Screenshots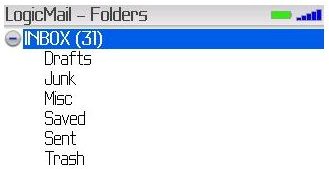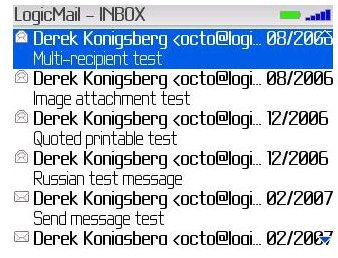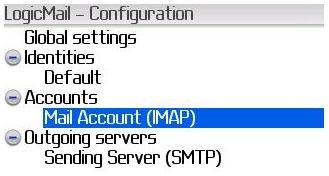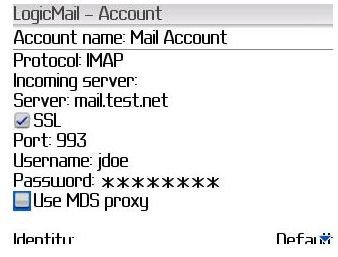 Threefold Email
Installing LogicMail means that potentially you can have three types of email account on your BlackBerry - push, IMAP and POP.
At the very least, this application allows you to connect to a POP3 or IMAP mail box - with full support for IMAP folders - and send email using SMTP and its various authentication methods.
LogicMail also supports multiple accounts, will display attachments and allow configuration of attachment download sizes.
WiFi enabled phones can take advantage of this connection to connect LogicMail to the internet - other uses may find that they require a generous data tariff with their network/carrier, however.
Fantastic and Free! (4 out of 5)
This is a much-needed application and it is something I've long considered unusual that a device heralded for its email capabilities should be unable to access standard email accounts.
LogicMail puts this right and to top it all off the application is free!
Depending on your device, sending and receiving messages can seem a little slow compared to push email, but this is largely due to the app utilising the standard internet connection.
All in all LogicMail is a great free BlackBerry app that is both compact and useful and certainly worth adding to your repository of BlackBerry apps.