Listen to 250 American Radio Stations with Iheartradio for BlackBerry!
250 Free Radio Stations!
Having the best of 250 radio stations nationwide at your fingertips is no bad thing, and iheartradio brings that very power to the BlackBerry platform.
Available free directly from the iheartradio.com website, this lightweight BlackBerry app has one of the biggest choices of music available to American listeners all accessible from one device. In anyone's book, that is remarkable - but with such a massive choice of musical styles, personalities and program styles iheartradio could quickly become a must-have application.
System Requirements
If you're using a 7130 BlackBerry device or later, your handset will run iheartradio as long as you're on OS version 4.2 or greater (Storm users will need OS 4.7).
Available for free via direct download or email, you can get iheartradio on your BlackBerry by either browsing to www.iheartradio.com from your device or get an SMS or email installation link sent to your device via everythingberry.com.
OTA installation is quick and painless, and it isn't long before iheartradio is ready for use on your device.
Iheartradio screenshots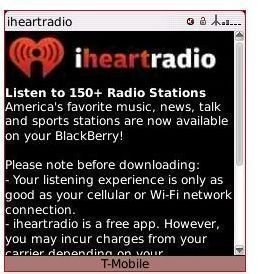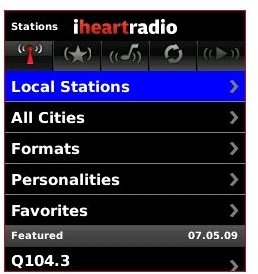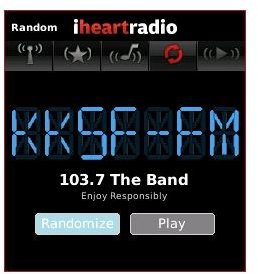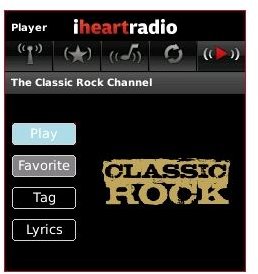 Using and Listening
The iheartradio interface is sensibly organised into a list of genres which is then subdivided into a list of available stations. There is also the favourites list and the tagged list (based on tags defined on the main iheartradio.com website), as well as the randomizer option which chooses a radio station completely at random.
Choosing a radio station to listen to is straightforward and simple, although for best results you'll need a strong GSM signal for your BlackBerry or a WiFi enabled device.
Many of the radio stations featured on iheartradio.com have their own streams - but this service gives them a superb central, single click access point, perfect for users of mobile devices that might not have the capability to browse for streamed media on their devices under usual circumstances.
Quality Sound (4 out of 5)
Under the best conditions, the sound quality from iheartradio.com is superb - top CD quality stereo sound with a crisp and pleasing warmth.
BlackBerry phones used in areas with a weaker signal will naturally suffer of course - this is nothing new for users of streamed content however and will be the case until network carriers begin to improve signals or free WiFi is made available in public places by city and county authorities. As always with streaming software, if you're using in an area without WiFi remember to make sure your carrier charges aren't prohibitive or you could end up with a huge bill!
In the meantime, if you've got an urge to listen to the greatest selection of radio stations in the world, iheartradio is a must!