Stream MP3s to Your BlackBerry with Legal DRM Free MP3 Streaming from Didiom
DRM Free MP3s
Didiom is an amazing new web-based application for mobile platforms that allows you to stream music directly from your PC to your BlackBerry as well as make online music purchases to listen to straightaway on your device.
Available for free, the streaming content nature of Didiom is perfect for BlackBerry users, especially those whose RAM spec is a bit on the light side and whose handset doesn't have any expansion cards.
There's even the opportunity to make an MP3 purchase at a price of your own choosing as well as sharing previews with friends. With a choice from 1.5 million DRM-free songs added to your own music collection, the sky is the limit for users of Didiom!
Over the Air Installation
Didiom is available for BlackBerry devices via the services homepage at www.didiom.com. The download page allows you to choose from a range of BlackBerry handsets:
BlackBerry 8800 series
BlackBerry Bold
BlackBerry Curve 8300 series
BlackBerry Curve 8900
BlackBerry Pearl 8100 series
Once you have chosen your phone, it's time to setup an account. This can be done quickly but requires credit card information—an aspect that might put off some users. You can choose from a pay per download model or the prepaid model, which offers a cash bonus.
With account setup complete, Didiom will then provide an opportunity to have an Over the Air (OTA) installation link sent to your BlackBerry. This can be quickly installed with Didiom leaving a shortcut in the main menu.
Didiom Screenshots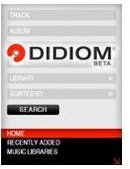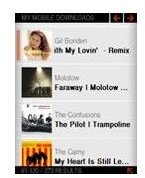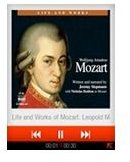 Using Didiom
The 1.5 million songs available via Didiom's marketplace all come DRM free, meaning that they can be moved to any device without restriction. One hundred percent legal, the tracks come from a range of genres as diverse as blues, classical, country, avant garde, easy listening, electronic, folk, jazz, Latin, metal, punk, hip-hop, rap, spiritual, new age, pop, reggae, rock, spoken word, family-oriented content, urban, and even world music.
Dual download formats are available, meaning a CD quality version is available for PC download and a standard compressed MP3 is sent to your BlackBerry. Mac users aren't currently supported by Didiom, so, if you sync your BlackBerry with a Mac, you might have problems.
Obvious Drawback (2 out of 5)
Didiom is a great, modern Web 2.0 application that supports a large number of BlackBerry applications. As such it is one that cannot be missed.
However there is an obvious drawback—withholding access to the software until after pre-payment or credit card information has been shared.
Of course Didiom is a business, but this single element of their transaction model rings alarm bells. There should be another, better way to stream your own MP3s to your own BlackBerry.
If you're planning to utilize Didiom as a service providing streamed MP3 purchases however, it's certainly worth trying out.