Get Streamed and Personalised Music Straight to Your BlackBerry with Pandora
Specialised BlackBerry App
The success of the Pandora music service – which selects artists and songs based around a small selection of songs that you choose to listen to on the website – has lead to a wide range of social music sites springing up. With its unique method of selecting records that you might like however, Pandora remains the best of these services, offering music based on similarities in style, genre, rhythm and melody.
Pandora now provides a specialised BlackBerry app, meaning that there is now no need to be without a selection of the world's best tunes, mathematically selected for your musical tastes!
OTA Installation
As with many web services that provide applications for BlackBerry, Pandora for BlackBerry can only be acquired via an OTA (over the air) installation.
There are two ways in which this can be done.
Visit www.pandora.com/blackberry from your BlackBerry browser, and agree to the installation prompt. This should take just a few minutes to complete at the most.
Visit www.pandora.com/blackberry from your PC, and enter your mobile number and select your network provider. This will prompt a text message to be sent to your device with a link and instructions for downloading and installing the application.
Screenshots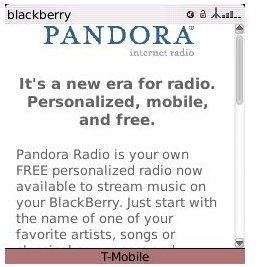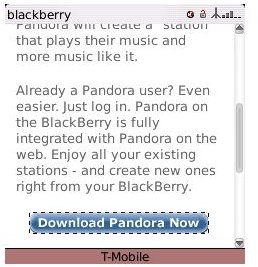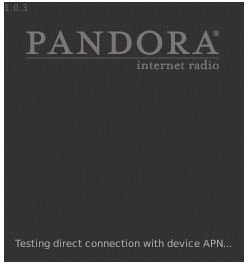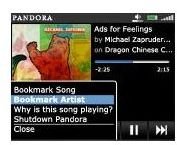 Desktop Functionality
Once installed, run the application and sign in with your usual Pandora credentials. If you don't have a Pandora account, there is an option to sign up via the application.
Note that the Pandora for BlackBerry application will alert you to the fact that a generous data plan must be available to you and applied to your current network contract – otherwise high charges will be incurred for use of Pandora.
Once you've signed in and have agreed to the warning, you're ready to start listening to Pandora's selection of tailor made tunes, selected just for you! As with the desktop version you can skip tunes, give them the thumbs up or thumbs down to assist the service in choosing the right songs, and even create a new station, just as you can from your desktop PC!
International Restrictions (4 out of 5)
The Pandora for BlackBerry application is absolutely must-have software for any BlackBerry user, particularly those with limited RAM who crave musical entertainment on the move..
There is one drawback however. Due to the recent royalty payments disagreement, Pandora for BlackBerry, like its desktop cousin, is unavailable for use outside of the USA. This limitation is enforced via IP address, so there are few ways to get around it.
For users in the USA, however, there's no reason to ignore this great little application.