WhereRYu? Review For Blackberry Smartphones
Setup (5 out of 5)
WhereRYu? is one of the easiest Blackberry Apps you'll ever setup. First you'll need email setup on your Blackberry as all user location information is emailed to users when they request your information. Simply install the single file .Cab file by placing it on your Blackberry and clicking on the CAB. Once installed users simply go to the contacts in their address book that they would like to allow access to the application to and click on "Add to WhereRYu" at which point that user can now ask for your location. It's that simple to setup and start using WhereRYu? It took me about 10 minutes to setup this app, test it and review it opposed to a day or two for most apps, it's really that quick and easy to use.
Check out the quick user add screen: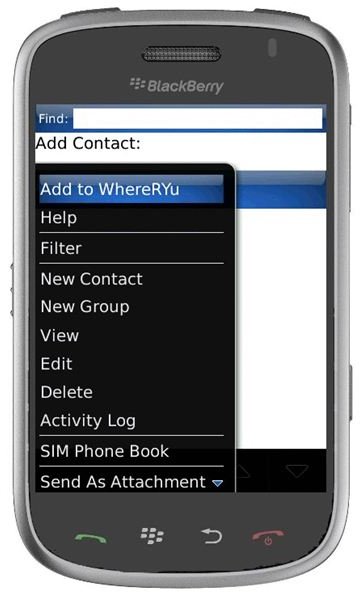 Features (4 out of 5)
Users will enjoy the features found on WhereRYu? For instance even users of non-GPS devices can use the application as long as they are on a GSM network such as AT&T and T-Mobile. Basically with a GSM network your phone can use triangulation between cell towers to give a good approx. location.
Once a user requests your information an email is then sent to that person as long as you have added them as a trust contact, the email sent includes a Google Map link that then shows your location using the Google Maps thumbtack output.
You can also choose to add your own email to this app which is great if you lose your cellphone and you need to find it, simply send the request from your own approved email and you'll receive an email back with your devices location.
WhereRYu? will also send you an email every time a user requests your location, this email will include a message telling you who requested where you are. This is a great way for bosses to let their employees know they are requesting their location and for users of the apps to see when someone from their accepted list is trying to find them. Install this on your childrens device and they'll always know that you know where they are, since they get an email you are not "snooping" behind their backs, instead letting them know you know where they are, while I find that a little intrusive its still better than backend hidden GPS software in my opinion.
Finally you can easily choose to make an certain location set to private and only allow certain people to find you at your choosing, this is great if you only want certain people to know where you are at any given time.
Conclusion
WhereRYu? only works on GSM devices, which is fine for most users worldwide. I was impressed with the ease of use that this application offered and with the ability to auto send emails with Google Maps to any contact I chose. Whether you need to find a lost phone or you're a social butterfly and you want your friends to know where you are at any given time this is a fun and even a productive application for personal and business use. At only $9.99 from Mobihand this application is definitely worth the download.