Review: BeeJive BlackBerry Instant Messaging
Installation (5 out of 5)
Beejive supports a wide range of Blackberry Smartphones running on Blackberry OS versions 4.0 through 4.6 which essentially means it will install and work properly on any modern device from the Curve series all the way up to the Blackberry Bold (No Blackberry Storm Support at the time of this article).
To download and install the application all you need to do is go to your Blackberry Browser and type in www.beejive.com/download then follow the on screen directions and you'll be up and running in a matter of minutes.
Finally choose the free 30 day trial option or pay the $19.95 one-time fee and you're ready to go!
Like most mobile applications these days the program is easy to install and works on a large variety of devices.
Connectivity (5 out of 5)
My favorite part of using Beejive is that the program connects via my mobile data connection, not through SMS, this means I can send an unlimited number of IM's at no cost, while also receiving faster responses from my friends who may be on their mobile devices or possibly on their PC's. The application also allows users to connect via WiFi connections for added user connectivity.
The Beejive program works off a well maintained server side solution that ensures multiple connections can stay online without any hiccups, while 128-bit encryption for all over the air connections means your messages will be delivered safely to their final destination.
Overall the ability to connect to various networks and protect your data on those networks makes this a great option for any Blackberry user.
File Management (5 out of 5)
There are plenty of Mobile IM applications, but not many that offer the type of file management found on BeeJive, aside from simple messaging users can also transfer files directly from their device to other users (PC And Device Users). The program uses available WiFi and your carriers data network and protects your files using 128-bit encryption to ensure your files are sent over a secure network.
Files are transferred using the "Best Network" principal which means BES/MDS, BIS-B, and Direct TCP networks are checked and the best available connection is utilized, this ensures the fastest and most secure transfer takes place. Just as on your standard AIM and MSN Messenger apps the program shows file progress and allows for file transfer cancels to occur.
If you need to transfer files over your mobile device BeeJive gets my highest marks, 4 files of 1-10MB each and I must admit I have been pleasantly surprised with the applications overall file management between devices and device to PC transactions.
Chatting (5 out of 5)
BeeJive is that rare Mobile IM application that makes you feel like your in front of your PC. The screen layouts remind me of Meebo in which all of your mobile IM apps are tied into one screen, however one big benefit applies, each user name shows the messenger icon for the program they are running. To see what I mean take a look at this screenshot: (Click To Enlarge)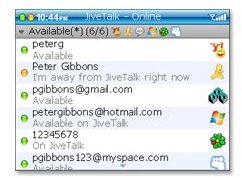 Just as you can from your PC you can set Away Messages, including custom messages (Not just a standard set), you can go invisible, and even change your privacy controls to only allow certain users to contact you and more! I felt like I was truly using a PC version of an IM program which added to my overall Mobile IM experience.
Users can also access chatting history directly from their mobile device which means you always have a record of your conversations, a great option for finding past information that may be important for whatever reason.
Finally users can customize their skins to make their screens truly their own while the ever important Emoticon support is present and in full force.
Overall chatting is friendly thanks to the intuitive and well laid out chat screens, while personal optimization is only a few clicks away in any direction.
Conclusion
BeeJive is a very competent Mobile IM application for the Blackberry line of devices, its quick, offers customization and is brilliant in terms of file management. If you want to stay fully connected with your friends while taking advantage of a very intuitive mobile IM application that won't run up your SMS use I highly recommend downloading and using BeeJive for all your Mobile IM needs.