Convert Your Voice Mail to Text with PhoneTag
PhoneTag, formerly known as Simulscribe, is a "read your voice mail service". The service converts voice mails into text and sends them an email address or text message along with an audio file of the original voice mail.
PhoneTag also has a web-based application for reviewing your voice mails and changing options. The web-based application contains five tabs as shown below. The Messages tab, as the following image shows, displays all voice messages along with the transcription and attached audio file.
PhoneTag Main Page

PhoneTag Main Page
The Accounts Settings tab displays your profile, PIN number (the password that lets you access your online account), billing information and delivery options. You can select one of three audio file types to receive. These include WAV, MP3 and GSM. The delivery options also allow you to turn on / off the ability to receive messages by email and SMS. You can do one or the other, both or neither (this kind of defeats the purpose).
Although you can forward your messages to others, you can't do this from the web-based application. You can forward the messages delivered to your email account or by SMS. When you sign up for the service, it will send transcriptions to your email by default. You need to turn on delivery to SMS in the Account Settings.
The Billing portion of Account Settings displays how many messages you've received for the selected month along with the rate.
Account Settings page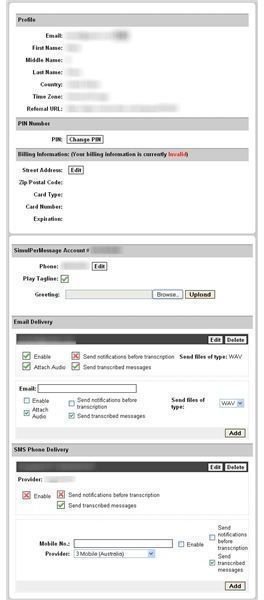 Contacts and other Features
You can upload your contacts exported from Microsoft Outlook in CSV, Apple Address Book VCard files, Gmail, Yahoo Mail, or Hotmail/Windows Live Mail in the My Contacts tab. The interface comes with instructions for exporting a file and then uploading the imported contacts file into PhoneTag. Although you can't do anything with importing contacts, it lets you look up phone numbers and it changes the FROM in the subject to the person's name if the phone number appears in your contact list.
For example, my husband left me a message before I imported my contacts list. FROM showed his phone number. After I imported the contacts, it changed to show his name.
Special note for Gmail. Gmail offers to export to Google's CSV format, Outlook's CSV format and vCard format. Use the vCard option per PhoneTag's instructions. CSV doesn't work.
The Self Service tab lets you request receiving set up instructions by email based on your phone's service provider. Referrals tab simply lets you tell others about the service in exchange for receiving free PhoneTag service as the site explains, "For each friend you refer who successfully pays their first monthly invoice, you will get credited 30 days of free service. In addition they will get 30 days free to try our service."
The turnaround time between the voice mail and the transcription is one to five minutes, but could be higher during times of high volume. The service keeps things simple by giving you exactly what you need without a lot of frills. PhoneTag works as promised and gives you all the tools to get going quickly.
Price
The service has three pricing options:
TagUnlimited: Offers unlimited number of messages at $29.95 per month. Callers have 45 seconds to leave a voice mail.
Tag40: 40 messages per month for $9.95 per month. If you go over 40, it's $0.25 per message. Callers have 60 seconds to leave a voice mail.
TagPerMessage: Straight plan that charges you per message at $0.35 per message.
The service include the web-based application, unlimited voice mail box storage, email and text delivery, dial-in voice mail management and 24/7 customer service and support. You can get more questions answered on the FAQ page. These plans should cover most everyone's needs at the standard rate.