Blackberry Pearl Flip 8220 Review: Phone Specifications, Looks, Design, Build Quality and Ergonomics
Main Specifications of Blackberry Pearl Flip 8220
Screen: 2.6 inch TFT screen with 65k colors at a resolution of 240 x 320 pixels
GPS: No, but has pre-loaded Blackberry Maps
Wi-Fi: Yes
Bluetooth: Yes
Dimensions: 101 x 50 x 18 mm
Weight: 102 grams
Price: Approximately USD 300.00
Image of Blackberry Pearl Flip 8220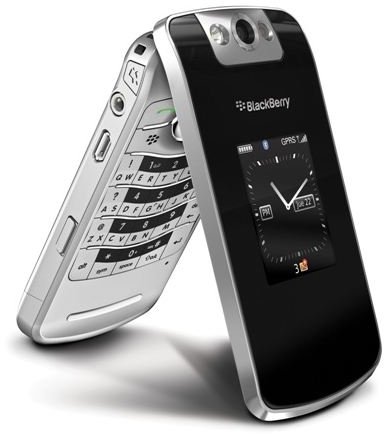 Looks, Design, Build Quality and Ergonomics (5 out of 5)
For those of us who have a fascination with flip phones or clamshell desings the Blackberry Pearl Flip 8220 is a delight to hold in our hands. Unlike all the older versions of Blackberry phones this phone has a very sleek clamshell form factor. RIM definitely scores full points with this new undertaking as far as the looks are concerned. The phone comes in a hard and flexible black plastic body and has chrome trimmings at some areas giving it the same royal look for which Blackberry phones are famous. When the flip is closed you will see the front panel of the phone has a small secondary display screen that shows you the status of the battery, clock, date, incoming calls, any unread messages or e-mails, signal strength and most of the alerts so that you have an idea of whats going on without opening the clamshell.
On the top of the front panel you will find a 2 mega-pixel camera on a chrome rectangle that is surrounded by an LED flash on one side and an LED indicator on the other that lets you know if you have any newly received messages or if you are low on battery or if your battery is fully charged. On the left and right panels of the phone you will find a microSD card slot, a volume rocker keys, two convenience keys, a USB charging port that can also be used to connect to other computers and devices via a USB cable and a 3.5 mm headphone jack.
One nice addition to the Blackberry family is that you don't have to press any buttons to receive a call, you can do that by just opening the flip. Once opened the clamshell divides the phone into two parts displaying the 2.6 inch TFT main display screen at the top and a half QWERTY keyboard at the bottom. The 2.6 inch screen has 65k colors at a resolution of 240 x 320 pixels and is not as large as you may have seen on the latest Smartphone models; still it is large enough to provide a pleasurable display for the user. The full QWERTY keyboard that you may have seen on the Blackberry Bold and Blackberry Curve is divided into half and the result is the half QWERTY keyboard that you will see built into the Pearl Flip 8220. Basically two keys from full keyboard are assigned to a single key making the keyboard almost half the size and therefore much more compact in size. But don't get any wrong messages because using this keyboard is in my opinion just as easy as using a full QWERTY keyboard and with a little getting use to it the user can type almost with the same speed and the same level of comfort. Just above the keyboard is the trackball that has become a symbol of Blackberry phones now. It is very neatly placed between the screen and the QWERTY keyboard and you will feel its presence only when you have to use it.
Main Features and Performance (4 out of 5)
The Blackberry Pearl Flip 8220 has the same 4.6 Blackberry operating system as the one used by yjr Blackberry Bold. The main menu of the phone is easy to browse displaying all the main functions of the device and if you are familiar with the menu interface found on the Bold you will get used to the 8220's menu in no time. The phone can also store an unlimited number of contacts thanks to the microSD card slot that can be expanded by up to 8 GB. The phonebook supports Photocall and you can view call history of several days. The phone also features an in-built Blackberry browser which is much improved than the ones you will find on previous versions. In terms of calling connectivity the Pearl Flip 8220 is a quad-band phone and is 2G compatible while the phone browser shows better support for java and there is a major improvement in page rendering but the browser was not able to open web pages with flash content.
Surfing the internet via Wi-Fi, GPRS and Bluetooth is also quite easy, however the absence of 3G is deeply missed. Like every Blackberry this phone is also designed keeping the view that it should come in handy to business users who are constantly on the move. You will find that the sending and receiving of e-mails is also quite easy making the phone useful for business users once again. The phone is fully loaded with other business applications like a scheduler, calendar, voice dialing, calculator, password protection and much more. The phone also has good compatibility with office suites like MS Word, Excel and is even able to read PDF documents easily.
While making calls you will also notice that voice reception is also very clear without any ambient noise or distortion interference. There is also a facility for call conferencing so that you can talk to multiple users just like the way you do in a meeting room. The phone can be used in speaker mode and I found the sound output of the speakers to be load and clear. The phone unfortunately does not have a GPS receiver but it does includepre-loaded Blackberry Maps that will guide your way when you are lost. You can also download Google maps for free via the Internet. The phone supports polyphonic and MP3 ring tones and you can download your favorite tones from the Internet. The phone also has a Media player that can play a wide range of audio and video formats from. However, the absence of an FM radio is really missed, while the phones voice and video recorders are a nice touch. You will also find some exciting new games and your old favorite Blackberry classic games via the phone menu that has been modified to adjust to Pearl Flip 8220's interface.
The 2 mega-pixel camera will unfortunately disappoint most veteran users especially compared to the high-end camera phones currently on the market such as the 8.1 mega-pixel cameras like the Samsung Pixon and Sony Cybershot C905. The images clicked with this camera are of average quality and there is a lot of scope for improvement. Same is the case with videos that are of poor quality and incomparable with the latest multimedia phones. Another drawback of the camera is the absence of xenon flash and the phone comes with an LED flash that is useless in dark areas. The camera also does not have features like auto-focus or face recognition, which is a shame.
The phone has a standard Lithium-Ion 900 mAh battery which has a talk-time up to 4 hours and a stand-by-time of 14 days which is quite disappointing when considering that Blackberry phones are known for their great battery back up.
Overall the Blackberry Pearl Flip 8220 has a mind blowing design, some good features like an improved Operating system and a good browser that also is an excellent performer.
Value for money (4 out of 5)
Many websites are currently features great deals on the Blackberry Pearl Flip 8220 such as Amazon where it is priced approximately at USD 300.00, which is a quite an affordable amount. If you compare this phone with other higher Blackberry models I'm sure you will find the price quite tempting.
Conclusion (4 out of 5)
The Blackberry Pearl Flip 8220 will lure users who want a great looking phone with good features. The phone has some drawbacks like a poor camera, absence of GPS and 3G, and poor battery back up, but overall it's a great performer like all Blackberry phones are and it won't disappoint users who have loved and trusted RIM phones over the time.
I would recommend this phone to all my readers who want an excellent looking phone that makes a fashion statement and is also a great performer for business and personal use.
SOURCE: Blackberry