Blackberry Bold 9000 Review - Specifications, Looks, Features and Performance
Specifications
Screen: 480 x 320 pixels, 16 million colors
GPS: Built-in GPS
Wi-Fi: 802.11a/b/g
Bluetooth: Yes
Dimensions: 114x66x15 mm
Weight: 136 grams
Looks, Design, Build Quality and Ergonomics (5 out of 5)
'Rich and Royal' are the first words that will come to your mind when you first place your eyes on this smart phone. The Blackberry Bold has a black leather like look with a compact glossy screen and a glowing scroll key like trackball at the center.
This Blackberry is lighter and thinner than its predecessors but a little bit wider. With a glossy screen and black body made of hard plastic, it's the proud owner of an attractive yet durable design that will fit comfortably in your pockets as well as your palm.
The back-lit keyboard is the usual Blackberry style QWERTY design with large keys that are beveled and banked at the sides to provide an easy user interface for typing. The keyboard is surprisingly comfortable to use and once you get used to it you can type really fast with it.
Image of Blackberry Bold 9000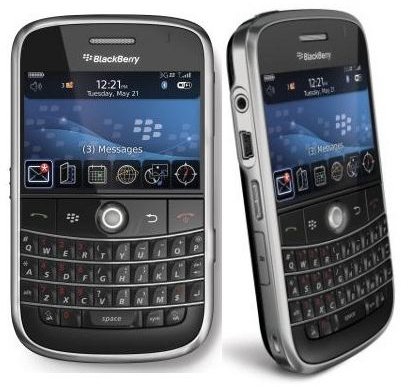 Features (5 out of 5)
There are a lot of features and menus in this 3rd generation smartphone and you will enjoy browsing between applications that run considerably well. With a screen resolution of 480x320 with 16 million colors, the screen is really bright, eye-catching and ideal for watching videos and playing built-in games while you are waiting at the airport or elsewhere.
The device has 128 MB of internal memory and uses an Intel PXA270 processor running at 624 MHz with a microSD slot fitted with 1 GB of external memory, qualifying this device to run any business application with ease. This Java enabled phone has its own in-built web browser and sending and receiving mails is easy with Wi-Fi and Bluetooth connectivity that provides fast wireless internet data transfer to this device.
This Blackberry is loaded with a 2 mega-pixel camera with 5x digital zoom and video capture with flashlight making it a rich multimedia device. The smartphone is also compatible with GSM 900, GSM 1800, GSM 1900, UMTS 850, and UMTS 2100 networks. There is one USB 2.0 port included in the phone to connect to other devices or computers. A built-in GPS receiver will guide you with the maps if you are lost. However, the preloaded maps are not very impressive.
As mentioned above the QWERTY keyboard is an absolute delight to use and comes very handy while sending and receiving SMS, MMS, E-mail, push E-mail and Instant Messaging. Blackberry Bold can be setup with polyphonic as well as MP3 ringtones and supports formats like AAC, MIDI, MP3. This device supports JPG format for viewing image files and also supports MS office and PDF formats.
With a talk time of 5 hours and a standby time of 310 hours, this smart phone becomes a very useful device for all businessmen who are constantly on the move and cannot recharge their phone batteries again and again.
Performance (5 out of 5)
The Blackberry Bold is fast, accurate and carries on the Blackberry legacy even further and proves to be good performer. Loaded with rich features and applications this smart phone is a true performer in every field, whether it is multimedia or ergonomics or looks or browsing the internet. With a wide range of connectivity features this phone is very fast in internet browsing and sending emails and SMS was a piece of cake. However there is scope for improvement within the web browser, GPS maps and some application included with the phone. I faced problems opening the battery lid, but this can be ignored keeping in mind that the battery lid doesn't need to be opened many times by most users. This multimedia rich phone proved to be a winner as far as battery life is concerned, by providing 5 hours of talk time and 310 hours of standby time. Overall, powered by a 624 MHz processor with 128 MB internal memory, Blackberry Bold runs even heavy applications like video playback and Web page rendering with ease and without extended pauses, making it a true performer all the way.
Value For Your Money (4 out of 5)
Blackberry products are expensive and out of reach for many of us, but these phones are specially built for businessmen who refuse to compromise on features and are willing to pay any price. The price of USD 249.98 for Blackberry Bold 9000 might be too much for some of us, but this phone makes your life simpler and easier and is worth every single penny spent on it. The $250 range is also fairly cheap when compared to past devices with less features as well.
Conclusion (5 out of 5)
The Blackberry Bold 9000 is a true business phone power packed with features, internet browsing and multimedia. This is a fast and accurate device for businessmen who need to be in touch with their colleagues and clients while they are on the move. For those who just want big screens and portable multimedia players along with a phone, there are other cheaper options available in the market. Despite carrying a heavy price with it, this phone proves to be a true performer and is highly recommended and a must-have for every businessman.