Is Newer Better? The BlackBerry Torch 9860 Review
Design (5 out of 5)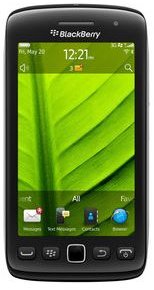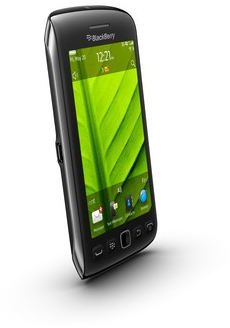 The BlackBerry Torch 9860 is by far one of the largest RIM devices ever manufactured measuring 4.72 x 2.44 x 0.45 inches (120 x 62 x 11.5mm) in height, width and depth, respectively. But at only 4.76 oz (135 grams) the new Torch is not as heavy as other smartphone heavyweights. One notable change in this new model is its large 3.7 inch touch screen. Again, this is another RIM first. Combining a 480 by 800 pixel resolution and the BlackBerry OS 7, the BlackBerry Torch 9860 is a handset of firsts for the popular phone manufacturer.
Thanks to the removal of the clunky slide-out keyboard seen in the first Torch model, the 9860 has a fresh design face. Frankly, this new device is as far removed in terms of design as possible, when compared with older models. The phone is only 0.45 inches thick and while not as slim as other mobile devices it does feel very slender. The BlackBerry Torch 9860 features curved and rounded edges. On the back of the device is a flashy, but elegant, thin chrome strip. Each element of this design adds a level of class to the new device.
The touch screen of the new Torch is a thing of beauty. RIM has nixed the usual BlackBerry design and replaced it with a large touch-screen display boasting TFT technology and bright and sharp images. Beneath the display are five physical buttons – Call, Menu, Select, Escape and the End/Power Button. The Select button or middle key is the all too familiar optical trackpad and while the phone is an all touch device there is a use for it. Along the sides of the device are more physical controls such as the volume rocker, micro USB port, mute key, convenience key and 3.5 mm headphone jack. On the top is the lock button and status light.
User Interface (5 out of 5)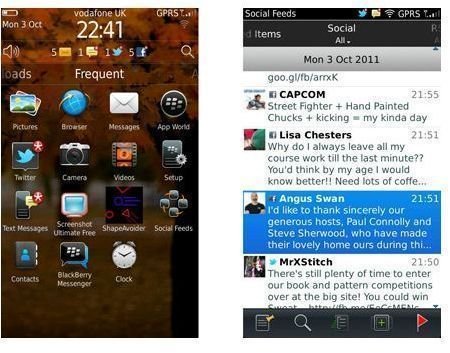 RIM again has completely upgraded, not only the design of the Torch 9860, but also the operating system. True BlackBerry users will be surprised to see the change from a black professional looking interface to one of color, texture and vibrancy. Apart from the changes in color and icon design, the home screen stays the same. Icons are listed in a grid format. The status bar which includes the time, network, Wi-Fi, date and signal strength still remains on the top of the device. One great new feature of this interface is when tapped the status bar brings up options for alarms, shortcuts and switching Wi-Fi networks.
The interface has been intuitively adapted for the modern world exceptionally well by RIM. It is divided into three main sections. Above, as aforementioned, is the status bar, beneath that is a notification panel housing shortcut icons to Facebook, Twitter, messages, texts and emails. Within this panel you can also change the phone's current profile and perform a search. Beneath this panel is the usual app grid or drawer. You are able to customize this to your liking. The app drawer, when static shows about three quarters of its contents. You can swipe upwards to see the icons in the drawer that are currently off screen.
So why the optical trackpad? It's simple. Although this BlackBerry has completely taken on a touch-based and tactile interface that is simply for navigational purposes, you will still need to use the optical trackpad to choose specific options.
Features (4 out of 5)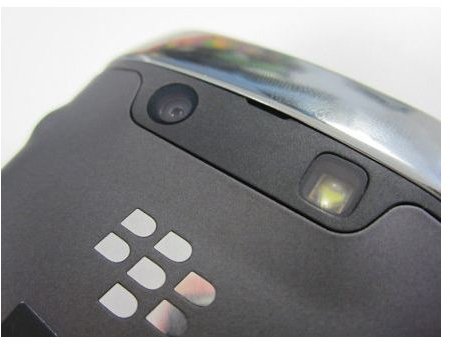 The Blackberry Torch 2 has a few new features and applications that almost everyone will love. Included is a list of its most standard applications such as applications to handle music, video playback etc. All other apps are downloadable via BlackBerry App World. However, not many of them currently work on OS 7 as yet.
One vast improvement is the 9860's newer and more importantly, faster Internet browser. Needless to say, pages load quicker and render well, and BlackBerry now supports 'pinch' gestures. However, watching online videos may be a chore seeing as Adobe Flash is not included.
The BlackBerry Torch 9860 features a 5 megapixel camera which boasts face detection, LED flash, auto-focus and comes with plenty of scene modes. Photo quality is a vast improvement from older models. Photographs come out with more vibrancy and sharpness. The camera also takes 720p videos. The phone also comes with 4G of internal storage and the capability to add up to 32 GB with a microSD card. Both Wi-Fi and Bluetooth are also available.
Performance (4 out of 5)
The BlackBerry Torch 2 is equipped with a single core 1.2 GHz CPU which makes it much faster than older models. Call quality is fairly decent although still lacking true call clarity. In terms of battery life, the BlackBerry Torch 9860 lasts for approximately one day depending on usage.
Verdict (4 out of 5)
The best aspects of the new BlackBerry Torch 9860 are its faster processing speed and large 3.7 inch touch-screen display. In addition, it features an entirely newly designed operating system which is much more vivid and more user-friendly that the previous versions. Unfortunately, although the phone is sleek, slender and classy it's still not a model that I would choose, but it may be good for other BlackBerry lovers.
References