Photo Booth App for BlackBerry: Your Own Photo Booth in Your Pocket
Recreating the Magic of those Public Photo Booths
I'm someone who loves to take pictures. Sometimes I take them for documentary purposes but often times I do it for fun. Though I don't own the best DSLR in the world, I manage to create decent pics with my BlackBerry Torch. Recently, I downloaded a new photo app from the App World that has enhanced this fun. It's PhotoBooth by S4BB and it tries to imitate the public photo booths that we see at malls.
I love photo booths and can't seem to pass by one without taking some quick photos. We all know how photo booths operate. We go in, alone or with a friend, give the machine money, and it clicks four quick photos and creates a vertical strip of those photos. The Photo Booth app promises to offer the same experience on your BlackBerry, however, we cannot print out those photos on the spot, but we can easily share them online. The app automatically takes the pictures in the same style as the public photo booth does. All you have to do is hold up your BlackBerry and focus it on something.
Key Features
Captures four photographs in a row.

The app automatically takes the pictures, just hold your BlackBerry still and pose.

Images are saved in Photo Booth style vertical strips.

Auto flash.

Comes with a zoom and quick overview mode.

Offers six frame colors.

Auto recognition of portrait/landscape mode.

BBM integration allows you to directly share photos.

The product offers 30 day value back guarantee.
Performance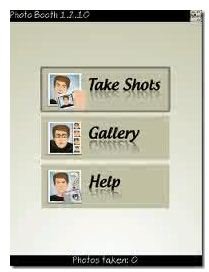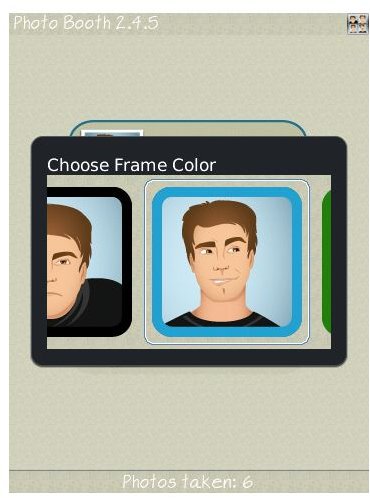 Photo Booth by S4BB Limited is really easy to use. Simply launch the application and choose the 'Take Shots' button from the menu on the screen. Then, you'll be prompted to select the frame color for your photos. Once you have selected the frame, your BlackBerry's camera will get activated and take four consecutive photos, each with a second between them.
After all the pictures have been taken, the app combines them into a vertical strip, photo booth style. These pictures automatically get saved in the gallery within the app for viewing later on. You can also access these photos from your phone's media card, where they are saved in a folder named 'Photo Booth'. In case, you don't like any of the pictures you have taken, you can easily delete them from the media card's Photo Booth folder. Once you delete the pictures from the media card, the gallery within the app gets automatically refreshed.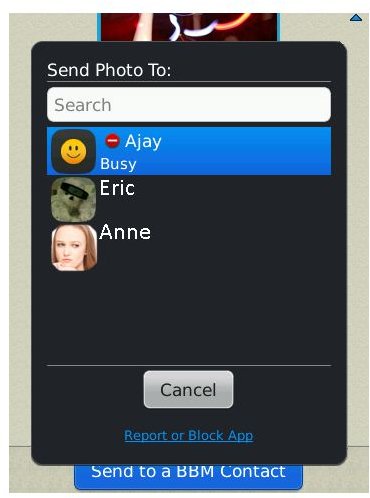 Photo Booth by S4BB has now been updated with BlackBerry Messenger integration, allowing you to share those photo strips with other BBM contacts. The only catch here is that the person you're sending the photo strip to must also have the Photo Booth app for BlackBerry installed, and they have to be on the BBM version 6.0. Besides the BBM integration, the app developers have also updated the menu layout of the app.
The complaint that I have with this app is that the interval time within each photo seems slow, despite the description saying that the photos are taken one second apart. You can adjust the time, but regardless of the setting, the app seems to work on its own. I hope it's a small bug that will be fixed soon. Another complaint that I have with this app is its shutter sound. Despite setting it off in the sound effect options, it kept making that annoying 4x shutter sound every time I took a shot.
Conclusion
It's a fun application. However, I would like to see improvement on the following things:
I would like to see an option that actually disables the shutter sound.
I would appreciate it if the app could directly share photo strips with social networking sites like, Facebook, Twitter etc. But for the time being, we can exit the app and upload or share the pictures with our social network from the media card folder.
I would like to be able to delete photos directly from the Gallery.
And, lastly an option to edit the pictures would be great.
Overall, it's a highly entertaining app and I would definitely recommend it. You can download it for $2.99 and it's compatible with the following devices:
BB 9570, BB Bold 9000, BB Bold 9650, BB Bold 9700, BB Bold 9780, BB Bold 9900, BB Bold 9930, BB Curve 8330, BB Curve 8350i, BB Curve 8520, BB Curve 8530, BB Curve 8900, BB Curve 8910, BB Curve 8930, BB Curve 8980, BB Curve 9300 3G, BB Curve 9330 3G, BB Pearl 9100 3G, BB Pearl 9105 3G, BB Pearl Flip 8220, BB Pearl Flip 8230, BB Storm 9500, BB Storm 9530/9530T, BB Storm2 9550/9520, BB Style 9670, BB Torch 2 9810 / 9850, BB Torch 9800, and BB Tour 9630.
References