A+ Picture Effects and Photo Editor App Review on BlackBerry

Adjust the brightness, contrast, color, hue or saturation and then crop, invert, scale, blur, twirl or stretch photos on your phone. These are some of the remarkable functions you can perform with this photo editing and effects app.
It is a sophisticated photo-editing tool for your BB that can enhance and rework pictures of all kinds, whether it is a shot of your pet, buildings, flowers or someone in particular. The app synchronizes with the picture files on your phone so you can select from the existing list of photos and start editing immediately.
Once you have decided on a particular photo that you would like to edit, you will find that there is an extensive list of editing features that you can use to modify your pictures in a professional way.
Features & Functions (5 out of 5)
Pictures appear the same way in the A+ Picture Effects and Photo Editing application as they do in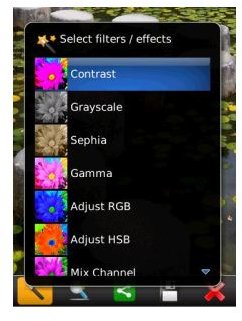 the media files on your phone. Along the bottom of the screen and picture, there are readily available icons to apply filters and effects; to zoom in/out; share and save pictures conveniently; plus you will see a handy delete button.
There is a large range of enhancement features to impress even the most meticulous user. If you browse through the filters and effects, you will see that you can rotate, scale, flip, crop, offset and tile any photo, plus much more. The functions extend so you can apply contrasts, grayscale, sepia, gamma, color gain, exposure and other color effects.
There are terrific distortion capabilities too, for instance you can twirl, stretch, mirror, squeeze, bulge, ripple, sphere and marble pictures. It doesn't end there, after performing a handful of those modifications you can do additional things like blur, add cartoon effects, mirror reflection, block pixels, crystallize and pointilize pictures.
Interface and Performance (3 out of 5)
There isn't anything special about the interface, but it looks good and the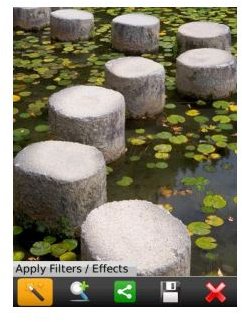 quality is nice. It details the color contrasts, brightness and such through emblematic images so you can see and imagine the effect it will have on your photos before editing them. This takes the hassle from blindly applying enhancements without having any idea of what the outcome will look like.
The functions are easily accessible; however initiating them may take some time. Scanning through the app is effortless and straightforward for the most part. Sourcing files is also a simple process; the app intelligently makes all the media files available for the user so they can instantly edit specific photos.
Limitations (3 out of 5)
With a wealth of terrific features, unfortunately this app has a few limitations worth mentioning. It can take an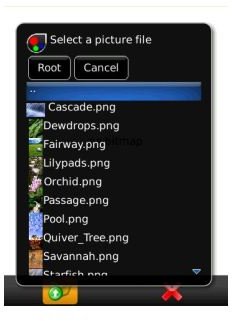 annoying amount of time to perform certain functions; for example, rotating a photo can take a couple seconds way too long. Rotating not only takes a long time, but it's quite confusing to the user what direction the app will position the photo. There are too many rotation settings and trying out each reverts right back to that lengthy process we just mentioned – quite frustrating.
Also, when using this Photo Editor app, you will find that it is a little more tedious to identify photos in the app, as the thumbnails are quite tiny. Plus it lists the files in different order, which makes them harder to find.
In addition, you need to mindful that once you edit a photo in your picture file, that's the end of that. You will lose the original quality of the photo, so you may want to duplicate and save a copy of the original just in case you ever want to use it for another purpose.
Final Thoughts (5 out of 5)
Despite a few drawbacks this app has proven to be a comprehensive photo-editing tool for your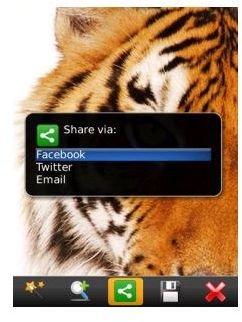 BlackBerry. It has more editing features than most digital cameras and generic PC photo-editing programs. Additionally, with the dynamics of this app in combination with your BlackBerry, you will be able to share and send photos that were edited via email, BB messenger, Facebook, Twitter and so on.
It integrates itself in a very resourceful way on the phone, the A+ Picture Effects and Photo Editor icon is conveniently situated on the home screen and is also easily accessible through the media picture files as well as the camera. When using your camera, simply snap a picture, press the menu button and you will see the option to edit the photo with the app.
A definite thumbs-up with this one; the inclusive list of features supersedes the flaws by far. Users may not expect as many benefits from an app than they are getting, and as such will be happy to look pass minor hindrances, since ultimately in the end, the app does what it says and in high quality.
References
A+ Picture Effects and Photo Editor, https://appworld.blackberry.com/webstore/content/screenshots/45439?lang=en
BlackBerry App World, https://appworld.blackberry.com/webstore/
Image Credit – Screenshots courtesy of the respective app developer.