Audible for BlackBerry: Listen to & Download Discount Audio Books
What is It?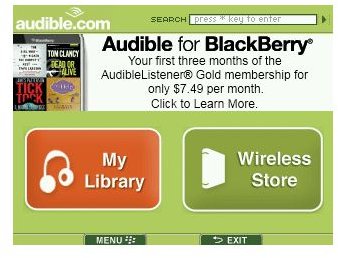 Audible for BlackBerry is an application that lets individuals access thousands of books and magazines in a convenient audio format. It was designed for busy professionals who enjoy reading but simply do not have the extra time.
Powered by the successful online company known as Amazon, users can choose from over 85,000 different audio books, magazines, and even radio shows to download. These digital files are immediately added into the user's private library. In addition to books on tapes there is a wide selection of radio shows, stand-up comedy, and speeches from various entrepreneurs or political figures available for instant download.
Unabridged Audio Books of Bestsellers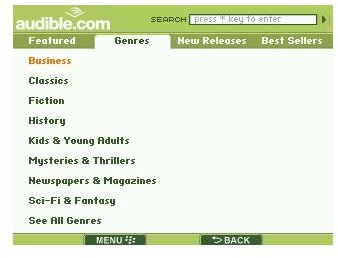 One of the best features in this application is its extensive catalog. Audible has books divided by genre along with a few special categories as well. Browse through New Releases, New York Times Bestsellers, Oprah's Book Club Selection, Featured Narrators, and Audible Originals.
Titles are available Abridged or Unabridged. Listen to well narrated titles from Dale Carnegie, David J. Schwartz, Jim Rohn, Seth Godin, and Dave Ramsey. Purchase periodicals from Harvard Business. Fans of Comedy Central's Colbert Report can listen to Stephen Colbert's latest humorous rants on culture, politics, and faith. Experience the whirlwind romance stories of bestselling authors such as Nora Roberts, Danielle Steel, or Stephanie Myers. Topics on personal finance to relationships and more are covered.
The radio shows and periodicals often feature a 1-month subscription allowing subscribers to stay up-to-date with their favorite personalities or subjects. It's possible to spend hours browsing through the app's massive selection.
App User Interface and Controls (4 out of 5)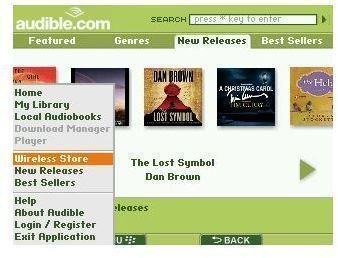 The sign-up procedure can be easy or tedious depending on whether or not the BB owner already has an active Amazon account. Users with an Amazon account are able to use Audible with their same login information. Those who are unfamiliar with Amazon, or who wish to keep their accounts separate, have to create a username, provide an email, and fill out other necessary information. It's a somewhat time consuming process, especially if you're attempting to establish a new account.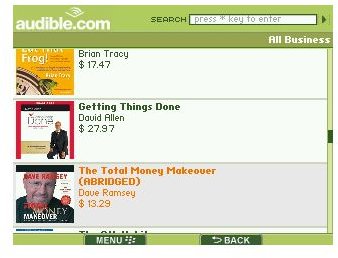 The interface and controls in this application are very smooth. Once logged in BB users are presented with large tabs for access to the wireless store or their library. In the wireless store customers can scroll through the catalog of audio books on sale, alternate between the genres listed, or press the BlackBerry Menu key for other options.
The box at the top of screen allows individuals to perform a quick search for a particular author or title. Clicking on a book will display the narrator, audio length, brief description, and price. There is also a sample button that plays a short snippet of the dialogue. The audio is crisp and clear.
The My Library Feature (4 out of 5)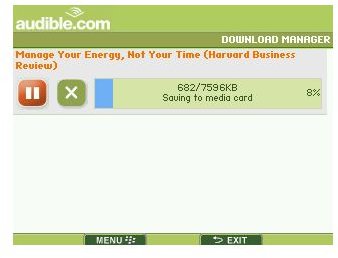 The My Library feature in this app gives BlackBerry users a personal online bookshelf built directly into their phone. Every audio book purchase is stored in the My Library section. Scrolling up and clicking prompts a list of current titles. Files can be streamed or downloaded.
Streaming relies on your phone's Internet connection. This option is great for models with lightning speed Internet. The second option is downloading. Clicking automatically enters users into the Download Manager area. Downloading usually takes a few minutes, but all audio books are saved to your BB's installed media card. The cool factor in Audible is the ability to accumulate a noteworthy collection of interesting digital books that can be listened to or used as reference while out and about.
Membership Plans (4 out of 5)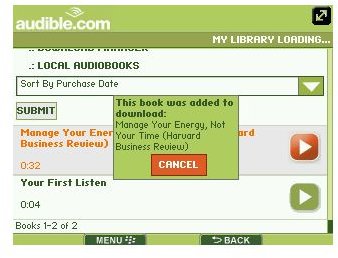 There are two available membership plans to help regular users save money. Credits are provided that can be exchanged for downloads. One credit is usually enough to purchase one of their many digital files. Both plans feature a monthly or annual payment option.
The Audible Listener Gold Plan is set at $7.49 for the first three consecutive months and then switches to a permanent $14.95 USD rate. Members get 1 credit per month or 12 all at once if they pay annually.
In the Platinum Plan users receive 2 credits or 24 instantly. In comparison to the somewhat high price of book downloads the credit exchange system is reasonable.
The only negative when taking advantage of these plans is that occasionally newer or more popular titles will cost more than a single credit. Once a member's credits have been used they continue to receive special benefits including 30% off of all purchases.
Overall Rating (4 out of 5)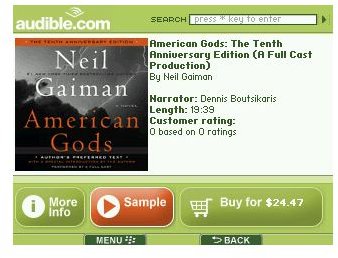 Overall this is an excellent app for avid readers. The extensive catalog of downloadable digitized books and the easy to use interface makes Audible for BlackBerry a must have. Find motivation or the best financial tips for your business from innovative leaders and strategists. Catch up on scientific theories and technological breakthroughs by listening to the latest journals. Take a break with a quick mystery or steamy Harlequin romance while on the go. The possibilities are endless.
The integrated My Library feature enables BB users to easily listen to their favorite works of literature or entertaining radio right from their smartphone. If you're looking for a convenient way to read more this free application is definitely worth checking out.
References
Source: Author's own experience.
All screenshots taken by Ange P.