Make Free Voip Calls on BlackBerry Smartphones with the TringMe BlackBerry App
Have you ever heard of the TringMe BlackBerry application? It's a fairly new app that allows you to make VoIP (Voice Over Internet Protocol) calls on your BlackBerry for free. This article will tell you more about it and how it works.
The Application that Allows Free BB VoIP Calls
About a month ago, I received a BBM with a link to download an application that would allow me to make VoIP calls from my BB. I received the message from a trusted source so I decided to get the app to see if it works. I will provide you with the link later down in the article.
The name of the app is TringMe. It is considered to be the first "real" VoIP app for BlackBerry phones and claims that it offers free P2P calls over Wi-Fi and 3G. It also offers worldwide calls and SMS, but that does not fall under the "free" umbrella. You would need to buy TringMe credit to do that, similar to Skype.
Installing and Setting Up

Upon downloading the TringMe for BB app, you will automatically go through the setup process. If the setup does not start automatically, you can always locate the TringMe app in your download folder. The icon is a white square with 3 blue lines that are curved to the lower left corner. Select the icon and TringMe will open.
At the beginning, you will be greeted with their list of features which I highlighted in the previous paragraph, then you will select "next" to move on to the actual setup process. The next page will ask you to select one of your existing email addresses to use with the TringMe app and then you will be asked to enter your country code (sometimes it will automatically detect it). It is pretty much referring to the area code for your cell number. You will also input your cell number without the area code in the next field, then select next to move on.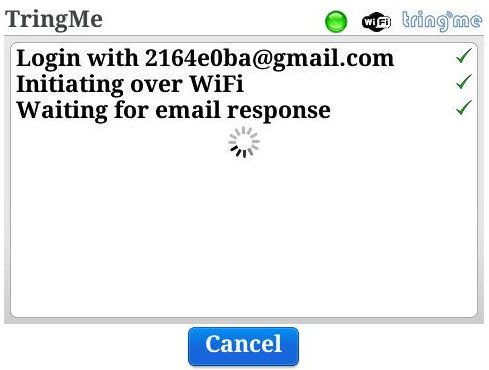 The next page will carry you to their ToS (Terms of Service), wherein, you select next if you agree or exit the application if you don't. If you agree, just select next and move on to the final step. It will automatically log in using the email address that you selected and will check your radio connection for Wi-Fi or 3G. Then setup is complete and you are also logged in!
Here's the link to Download TringMe for Blackberry from your BB smartphone.
How It Works
Now you are ready to make free VoIP calls on BlackBerry. The first thing that you should probably know is that the application will generate a unique TringMe number for you. It will be similar to a regular phone number and that is the actual number that will be used to receive TringMe calls and to make TringMe calls to your TringMe contacts. In essence, you and all your friends or family that you plan to get in touch with via TringMe, should download and install the app, then share your unique TringMe numbers with each other. Another thing that you should be aware of is that the app will essentially copy your address book, which makes it easy to dial your TringMe colleagues straight from your address book or using the app.
Making Calls is Easy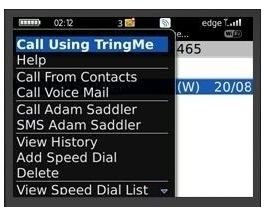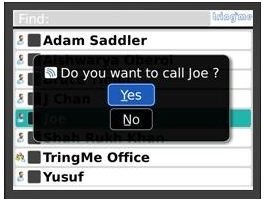 When the application is open, it will look similar to your address book. You can select any one of your TringMe contacts and press the call button (by TringMe contacts, I am referring to those people whose names you saved with their TringMe phone number). If you happen to be in your regular address book and decide to call one of your TringMe contacts from there you can simply select that contact and press the call button as well. Don't worry, you will be asked whether you want to call them with TringMe or with your regular credit, so you won't have to guess what's happening. If you do not have your friend's or family's TringMe number stored in your contacts, you can dial it straight from your main screen.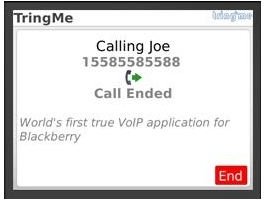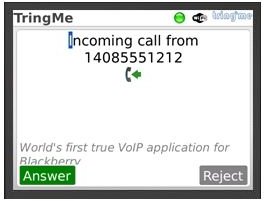 You will see the name and number of the person that you are calling pop up with "calling" or "connecting" above it. If the person also has their TringMe on, then they should see your incoming call and answer, then both of you should be able to speak to each other. However, if the person that you are calling does not have their TringMe application on, then you will receive a response that the person is offline.
Does TringMe Really Work? Here's My Experience
If somebody told you that you could make free VoIP calls on BlackBerry smartphones using an app, you would jump at the opportunity right? But what if it doesn't work? After installing the TringMe app and exchanging TringMe numbers with my cousin in another country, we proceeded to try the app. I called him and the call connected, but I could not hear a word. It was complete dead air. I then sent him a BBM to let him know that I couldn't hear him, but he said that he could hear me, so we decided to try again. Before I called him,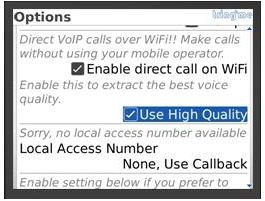 I decided to check my settings to see if anything was not set properly. I made a few adjustments, but I must honestly say that I don't remember what I changed and if it actually helped or not. I re-dialed my cousin twice and on the third try, we connected; I could hear him and he could hear me. That was our confirmation that it works and we passed it on to more of our BB friends.
The second person I attempted to connect with had more problems than the first. I could hear him, but he couldn't hear me. I went through all my settings with him, just to ensure that we were on the same page, but the same thing kept happening. We decided to try it vice versa, where he would call me instead, but he could not get the calls to come through. I tried calling him again and we connected and spoke using the TringMe app for a while.
In essence, the TringMe app does provide you with free VoIP calls via your BB, but the app may take a little getting used to for it to work properly. Then again, you can always get support at https://tringme.com/.
Note: For those of you with BlackBerry phones that do not support 3G, such as the Curve 8520 (which is what I own) You will always need to be in range of an active Wi-Fi connection to use the app.
Remember you can always find your TringMe number in "options" from the TringMe screen.
If you have any questions, I will be happy to help with what I know and have learned from my own experiences so post a comment.
References
TringMe, https://tringme.com/blackberry.html