WeightWatchers Mobile App for BlackBerry Reviewed
WeightWatchers has been around for nearly forty years, helping its members watch their weight and keep healthy. The program has gotten attention from several celebrities such as actress Jenny McCarthy, actress Tina Fey, former Duchess of York Sarah Ferguson, and current spokeswoman, actress and singer Jennifer Hudson.
For members of the program, keeping a check on what you eat and how you're working out can be a hassle when not in front of your computer. Well, now you can check on the go with this mobile app. WeightWatchers for BlackBerry users could be just what you are looking for. Let's find out in our review.
Ease of Download (4 out of 5)

Getting the WeightWatchers mobile app for BlackBerry is quite easy. Members can get the app on their BlackBerry by going to the mobile site for WeightWatchers and downloading from their phone. The link is located here and will need to be accessed from your BlackBerry mobile phone.
The app can be used by most BlackBerry phones and should be easy to download. Issues involved with downloading the app are usually due to the link location, but removing the standard www prefix solves the problem.
Point Calculator (5 out of 5)
The most important aspect of any weight calculating app is for the user to be able to use it to keep track of what they are eating,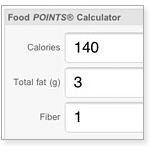 how much the caloric intake is, and what healthy foods they can pick up.
For WeightWatchers members, this app is the perfect bite size portion of how they normally keep track of their program plan or points. These points help members keep track of what to pick up at the supermarket when they go shopping, as well as which foods are the best for keeping that weight down.
With this BlackBerry weight loss app, you can keep track of your points as you head out to restock your fridge, placing in the caloric intake, the fat, the fiber, and all of the other nutritional values that can help you with weight loss. Along with keeping track of points while at the store, you can also use the app to decide on which foods should be tracked, so that you can account for points during your meals.
Food & Gym Tracker (5 out of 5)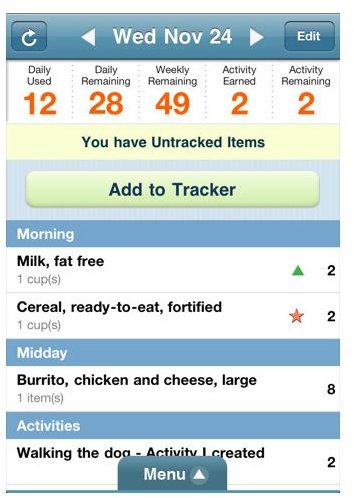 The best way of losing weight is keeping track of the food that you eat and the activities that you do throughout the day. The WeightWatchers mobile app for BlackBerry is great at this. The food tracker portion alerts you to how many points you have for the week, how many you have used for the day, and how many you have left. Best of all, it lets the member input what meals they had during the day so they can better keep track of their points and goals.
The gym portion - along with the food tracker - alerts you to how many activity points you've achieved and how many you have left, along with letting you pick activities that you will enjoy doing, or putting in your own, and adding them to your favorites.
Bottom Line (5 out of 5)
For BlackBerry carriers who are also WeightWatchers members, there couldn't be a better app for you to keep track of what you eat, what you're doing, and how those points are getting spent. This official app gives a boost to those who are always on the go or out and about. Featuring everything that you would expect from your online area, the only downside could be for those users of older BlackBerry devices; the app may run, but the support may not be there in the case that something goes wrong.
For now, however, this app is the best for BlackBerry users watching their weight.
References
WeightWatchers, https://www.weightwatchers.com/templates/Marketing/Marketing_Utool_1col.aspx?pageid=1092821
Image content via WeightWatchers, AppStore, https://itunes.apple.com/app/weight-watchers-mobile/id331308914?mt=8