Sirius App for Blackberry
What is Sirius Radio?
Sirius Radio belongs to the Satellite radio distribution environment. It is available wherever you are, wherever you go. In other words you don't lose your radio signal because you are "out of range." You are never out of range. There are over 180 channels to choose from, and there are even some controversial DJ's like Howard Stern to entice listeners. He is on Sirius Radio, but not on the app, because of contractual issues. But Oprah, and Jamie Foxx are there. There is a monthly service fee that starts as $12.95 and there are other subscription plans available also.
Sirius Radio BlackBerry App
Like most mobile devices, BlackBerry has an app that will allow listeners to access the satellite in order to hear their radio shows. There are two basic subscription services, Sirius and XM Premium, and both are available on the BlackBerry app. This means access to exclusive sports talk or entertainment programming. Exclusive sports programming lets you listen to Football with Sirius NFL Radio, or baseball with MLB Home Plate, hockey with NHL Home Ice, and golf with the PGA Tour. If you are not into sports you can pick up other popular radio shows like Mad Dog Radio, CNN, Fox News Talk, NPR,and a host of other radio shows.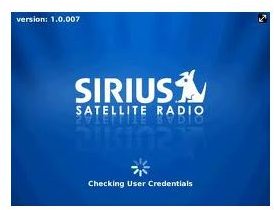 For other radio apps for BlackBerry see Slacker Streaming Music App is the Best Radio App for BlackBerry.
Detail Features
So what do you get with the Sirius BlackBerry app? For starters, you can surf through over 120 channels of SIRIUS XM Premium Online programming on the go. You can use the "Favorites" bookmark function so you have fast and easy channel access. The lookaround function lets you view the current channel plus whatever is playing on other channels. There are eight BlackBerry models that can support the app: Storm(TM) 9530, Storm2(TM) 9550, Bold(TM) 9000, Bold(TM) 9700, Tour(TM)9630, Curve(TM)8900, Curve(TM) 8520, Curve(TM) 8530. You must have a Sirius XM Subscription to run the app and you must have the additional online streaming feature, which costs $3 per month.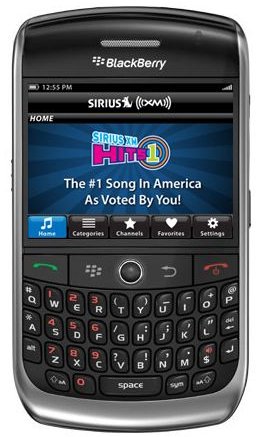 The Premium Channel
If you are a Premium Online subscriber there are additional benefits that you can get. These include the artist-branded music channels such as The Grateful Dead Channel, Eminem's Shade 45, Jimmy Buffett's Radio Margaritaville; there is even the classical music Metropolitan Opera Radio channel. Besides this there is also access to many commercial-free music channels.
If you are looking for more BlackBerry radio apps check out: Top BlackBerry Radio Apps.
Summary
Streaming audio via satellite is not new but the Sirius satellite service is now expanding to mobile devices. This will make your listening channel experience constant because you can hear the radio show from any location. The variety of channels that you get from Sirius lets you experience music, entertainment, talk radio, there are even special channels run by celebrities or special DJ's and dedicated to their own form of entertainment.
All in all Sirius for BlackBerry is a great radio app.
References