Sioux City Journal BlackBerry App – High School Sports Websites & Schedules on the Go
Sioux City Journal BlackBerry App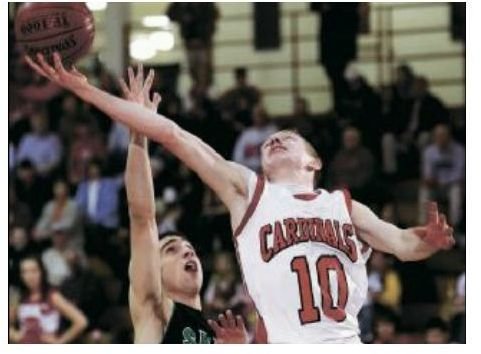 There are multiple reasons why people enjoy following high school sports. Some believe it's better than professional because money or ego isn't involved. Others admire the sheer camaraderie of the young players on the court or field showcasing their talents. If you're like thousands of sports fans it's always about the love of the game. BB owners can take that passion with them wherever they go in a free app called Siouxland Preps. Based on the popular Sioux City news website users can access complete coverage of the latest games via their mobile phone. Browse through an extensive photo gallery, read editorials on skilled athletes, player stats, scores, and rankings with the Sioux City Journal BlackBerry app.
Functionality (4 out of 5)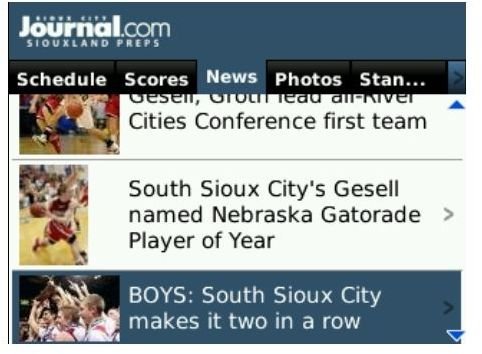 Although some applications have a tedious sign-up procedure SCJ Preps allows BB users to access the site's content in a matter of seconds. To set up a mobile account owners simply enter their e-mail and choose their favorite team. Select Dakota Valley High School, East High School, North High School, Sergeant Bluff-Luton High School, Sioux City Bishop Heelan High School, South Sioux City High School, or West High School. The clean, minimalist interface is also easy to use. Sports aficionados can browse different sections by scrolling the trackball from left to right. Check the latest scores or read an article from one of Sioux City Journal's top columnist.
Features (3 out of 5)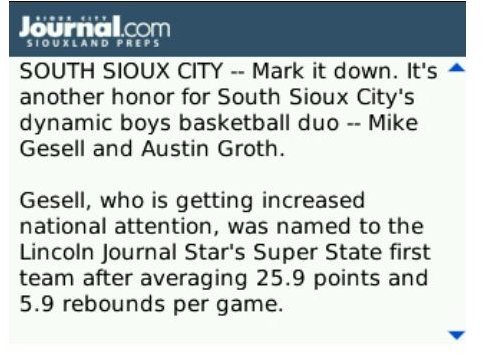 There are several noteworthy features in this app. You can read various player interviews or game coverage pieces and then share them on popular social networking websites. At the bottom of each article are options to post on Facebook, Twitter, or e-mail to a specific friend that might be interested in the article. In the photo section BB owners have complete access to the full gallery where you can view close-ups of game-day action along with insightful commentary. You can scroll through dozens of photos. Schedules, latest scores, news, and conference standings are also available. Almost identical to the Sioux City Journal it's updated regularly keeping mobile users informed on the go.
Overall Rating: (4 out of 5)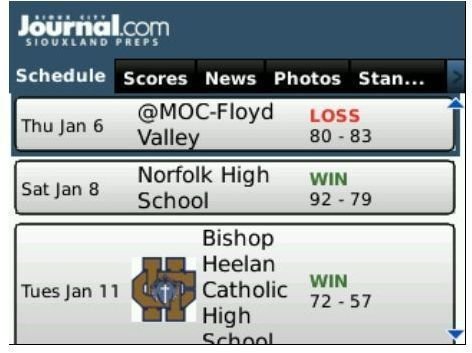 If you're obsessed with high school sports and follow Sioux City's Tri-State athletics then this application is for you. The interface is basic, the features are decent, and the information is in-depth. Users have the ability to access stories about player's struggles, info on all-state team roosters, rankings, and game highlights. The Sioux City Journal BlackBerry app allows BB owners to view all the information from the original website except video. Like many other free BlackBerry apps there are ads located at the top and in a separate category titled More Apps. The ads are not overbearing or in pop-up form to distract readers. This is a no-frills application for prep sports in Siouxland. Most fans will find it entertaining and useful. It's definitely worth checking out.
References