PdaNet for BlackBerry: Click and Go
What's PdaNet?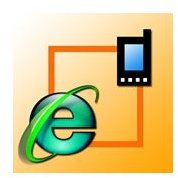 PdaNet is an application that allows smartphone users to use their smartphone as a wireless modem and connect to the internet at 3G speed. Other tethering software similar to PdaNet only supports proxy connections or connections through a third party server. However, PdaNet provides you direct and full internet access without any hassle. Simply, if you want to go online at broadband speed, PdaNet is the best option. Now it supports all major smartphones including iPhone, BlackBerry, Android, and Windows Mobile. Since we are interested in PdaNet for BlackBerry, let's see what this version of PdaNet has to offer.
Image Credit: Junefabrics.com
How to Get It?
First you need to download and install the PdaNet software on your computer. Visit Junefabrics.com and download the trial version of PdaNet for BlackBerry 2.01. The full version is $29 with unlimited upgrades. If you haven't installed BlackBerry desktop software, you have to download and install it from the BlackBerry downloads website.
The latest version of PdaNet supports Windows 7, Vista and XP. Once installation is completed, you should see a PdaNet icon under "Downloads". Tap it and turn on either USB Tether or Bluetooth DUN to start the wireless internet for your smartphone.
Getting Started with PdaNet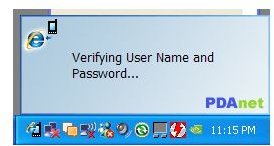 Connecting to the internet is a horrible experience when you have to deal with "settings". That's not the case with PdaNet. Once you install the software and connect the BlackBerry smartphone to your computer, just click a button and you are ready to go. That's why PdaNet is so different and such a popular tool among thousands of users. Even if you start right from the beginning, you can set up everything from buying the software to connecting to the internet in less than five minutes.
Is It Free?
The BlackBerry version of PdaNet, just like the other versions, doesn't provide free wireless internet access. You have to get a separate data plan from your wireless carrier. Data connections carry different rates and you have to be aware of that. Otherwise you may end up with a large bill at the end of the month. No need to say that usual laptop data packages are very expensive and an "unlimited smartphone data connection" would be a real money saver. With a standard unlimited smartphone data plan, you can easily cover the cost of this software in a couple of months. However, there are limits, even if you are given an unlimited data plan. If you are a passionate downloader, be prepared to get cut off.
Why Buy PdaNet for Your Blackberry?
PdaNet has been improved with more powerful features in a short time and the trend is expected to continue. It already supports all the mainstream smartphones and PdaNet for BlackBerry also does the job without any hassle. Actually the price tag is higher compared to many smartphone apps. However, we can't underestimate the convenience it offers when most of us aren't familiar with boring technical stuff.
This post is part of the series: PdaNet for BlackBerry
PdaNet is a useful application for your smartphone that lets you to connect to internet in a time efficient manner. If you have never heard of it, these articles about PdaNet for BlackBerry might be very useful for you.