Xobni with Outlook BlackBerry Application
Xobni for BlackBerry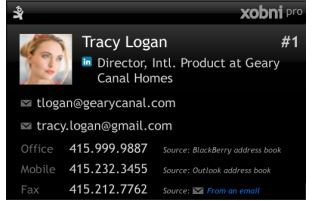 Xobni for BlackBerry is an application that is necessary for business people who tend to communicate with their clients and partners predominantly through their BlackBerry. The Xobni app will comb through the traffic of messages and emails to build a contact list for every contact with information. Once the information is stored, you can easily send a contact an SMS, MMS, email message or even make a phone call from within the app. In addition, you can use the app to view past emails and messages that have been recently sent. Another great thing about this app is that you may get even more information about your contacts through social networks like Facebook or LinkedIn. When you want to search for a contact, you can easily do it via phone number, email address or the name of the contact and you can share your contacts via email if you wish. If you are already at the BlackBerry compose screen, you can easily access the Xobni contact list with a simple scroll.
Xobni Mobile Free and Pro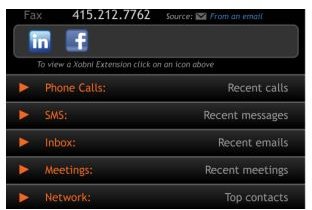 Xobni mobile is now available in a free version, but at the time of writing this review, the premium version is also on sale at a low price of $1.99 marked down from $9.99. The free version is a great way to get yourself familiar with the features that Xobni has to offer, but there will obviously be limitations, and with the sale going on, it may be best to just get the pro version now.
Xobni for Outlook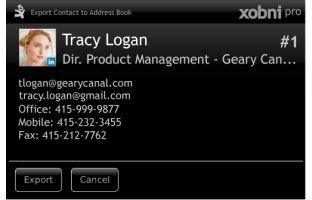 Xobni for Outlook is free and can be integrated with your Xobni Mobile to import and sync your Outlook contacts. Now you can find your email and attachments, contact info and conversations a lot quicker. With the Xobni for Outlook app, your search results will start to return before you have even finished typing the search word or phrase. This will save you a lot of time especially now that the Xobni app returns the results much faster than Outlook on its own. You can choose to search for an email or people, because sometimes it is easier to remember the name of the person who sent you the mail than the email address or words within the email. You can simply enter the person's name and all email conversation with that person will appear as soon as you select people search. The best part about Xobni search for business people, is the fact that they can do a company search via domain name. You can type in a web address and everyone you have communicated with from that company via their company email will pop up.
Xobni Plus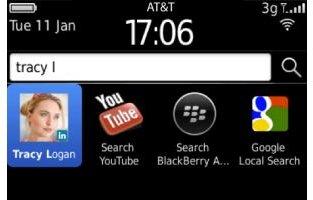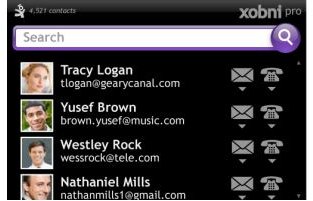 Xobni Plus is an upgrade to Xobni Outlook. It is Xobni Outlook along with all the premium features such as Advanced Search and Auto Suggest powered by Xobni Rank. You will now have advanced filters, where you are able to not only narrow the results down to conversations with one person, but also to narrow down those conversations to ones that include a particular topic. Other features include unlimited PSTs and the appearance of links and calendar events in search results and profiles. The Xobni Plus app is currently at a sale price of $29.95 down from $49.95.
The Xobni application is more than just an address or contacts book, it's a complete organizer, planner and data centre that is efficient and judicious. All the above versions of the app can be obtained at www.xobni.com or at BlackBerry App World under the name of Super Address Book.